Steven Yeun plays both sides of his heritage for the unsettling 'Burning'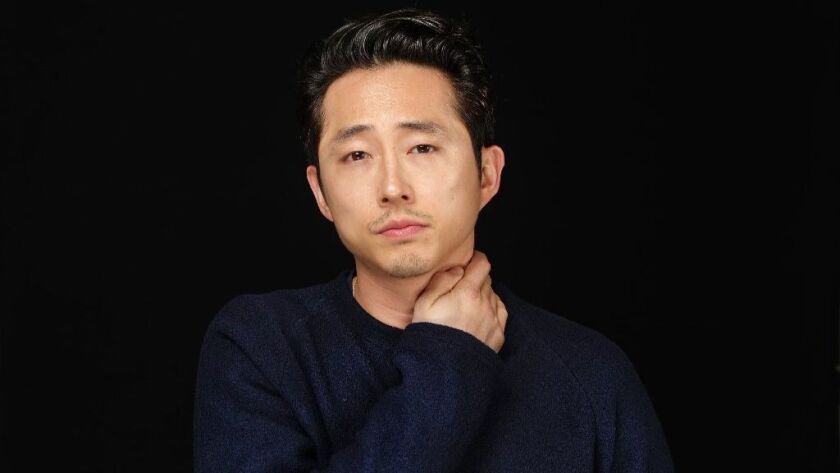 Millions last saw Steven Yeun being gruesomely dispatched on "The Walking Dead," but here he is, in the flesh, hale and hearty in this Los Feliz ristorante. In real life a cross between earnest, solid Glenn of "TWD" and smooth, cool guy Ben of his new South Korean noir, "Burning," the actor is friendly and comfortable in his own skin. And busy.
"I've been very fortunate," he says. "I wish I could say it was some conscious choice to choose these four films, but really they were just the best opportunities that came my way.
"The reality is there's not a vast, open landscape for someone like myself, even after something as successful as that show. But I'm lucky to be born in this era, when Asian American actors who came before me never even had a shot to do something as off-kilter or maybe not-so obvious" as his last several films.
Since "TWD," Yeun has been moving from one intriguing project to another. Apart from voice gigs on animated series, he had his first feature starring role in "Mayhem," as a corporate lawyer exacting revenge. He followed that with "Okja" for celebrated South Korean auteur Bong Joon Ho, then appeared in this year's buzzy "Sorry to Bother You" for Boots Riley.
The Oscar-contending "Burning," based on a Haruki Murakami story, is an unsettling mystery in which Yeun's Ben could be a Korean Jay Gatsby … or "American Psycho's" Patrick Bateman. In it, Young Jong-su (Yoo Ah-In) falls for old classmate Hae-mi (Jeon Jong-seo); she, in turn, falls for the enigmatic Ben — wealthy, detached, confident, handsome. Ben befriends Jong-su almost against Jong-su's will. Then, Hae-mi disappears.
Steven Yeun describes why working on "Burning" was so personally meaningful to him as a Korean American and his transition coming off of "The Walking Dead."
Yeun won the Los Angeles Film Critics Assn. supporting actor honor for the role earlier this week, while the film took the top Korean Grand Bell prize and the FIPRESCI Prize at Cannes for venerated director Lee Chang-dong. It's Lee's second win.
"He shows you what it is, rather than telling you what it is," Yeun says of "Director Lee." "He leaves it to you to reflect on what you just saw. You look at 'Peppermint Candy,' you look at 'Secret Sunshine' or 'Oasis' or 'Poetry'; those were never tales of morality. He was just showing you … as long as there's black, there's white, and this gray in between."
By now, it's out there that the ending of "Burning" is ambiguous. Yeun can argue persuasively for multiple interpretations, and clearly enjoys doing so. The actor's choices, known only to him, had to be subtle enough to serve several possibilities. He says multiple viewings of the film can add layers of understanding.
"How Ben views the world doesn't change, based on the decision I made for him," Yeun says. "Nature just is. It doesn't care who it takes out … it just does what it does. That's the nature of nature. It's man's struggle with something he can never control."
While there's a visceral, beating heart to "Burning" — Jong-su's desire, jealousy and desperation; Hae-mi's touching search for meaning — Ben is unnervingly aloof.
You can lean very much into complete nihilism: Everything is meaningless. Or you can flip it to the other side.
Steven Yuen
Yeun says, "You can lean very much into complete nihilism: Everything is meaningless. Or you can flip it to the other side: If everything is meaningless, I imbue it all with meaning. I am my own God. I can do what I want with purpose, with a nihilistic optimism. In his mind, there is no good and bad. It is just what is."
That Yeun speaks fluent Korean in the film may surprise even his fans; he was born in Seoul but grew up in Saskatchewan and Michigan. He says he worked hard to eliminate his American accent for "Burning": "If there is any other-ness in the way Ben speaks, it's from what he says. He's speaking very poetically or literarily. It could easily be perceived as pretension, but Ben executes it with such effortlessness, it's like, 'Oh, that's just how he talks.' He's … weird."
In other ways, Lee embraced the Yankee in Yeun.
"What does a person who doesn't adhere to the social system of Korea move like? That's Ben: His carefree attitude of 'I'll be respectful when I want to be respectful. I don't play the games of this society; I'm me wherever I am.' And that is jarring, especially when you're in a society that's very predicated on — You're supposed to talk this way to your elders and you're supposed to talk this way to people below you. So for someone to do it without feeling like they're forced to do it, but they're just operating within their own narrative, is scary. 'Whoa — that guy's so free, I don't like it.' Or 'I love it!' It's an attractive quality or a jarring quality, depending on who you are.
"But Ben's trapped too. If you're alone in your ivory tower, you're alone. It's not a great feeling to be alone. You still want to be part of the ocean; you don't want to be this singular wave that's just [moving] in nothing."
FULL COVERAGE: Get the latest on awards season from The Envelope »
---
From the Emmys to the Oscars.
Get our revamped Envelope newsletter for exclusive awards season coverage, behind-the-scenes insights and columnist Glenn Whipp's commentary.
You may occasionally receive promotional content from the Los Angeles Times.