Many of this year's Oscar nominees spotlight struggling working-class heroes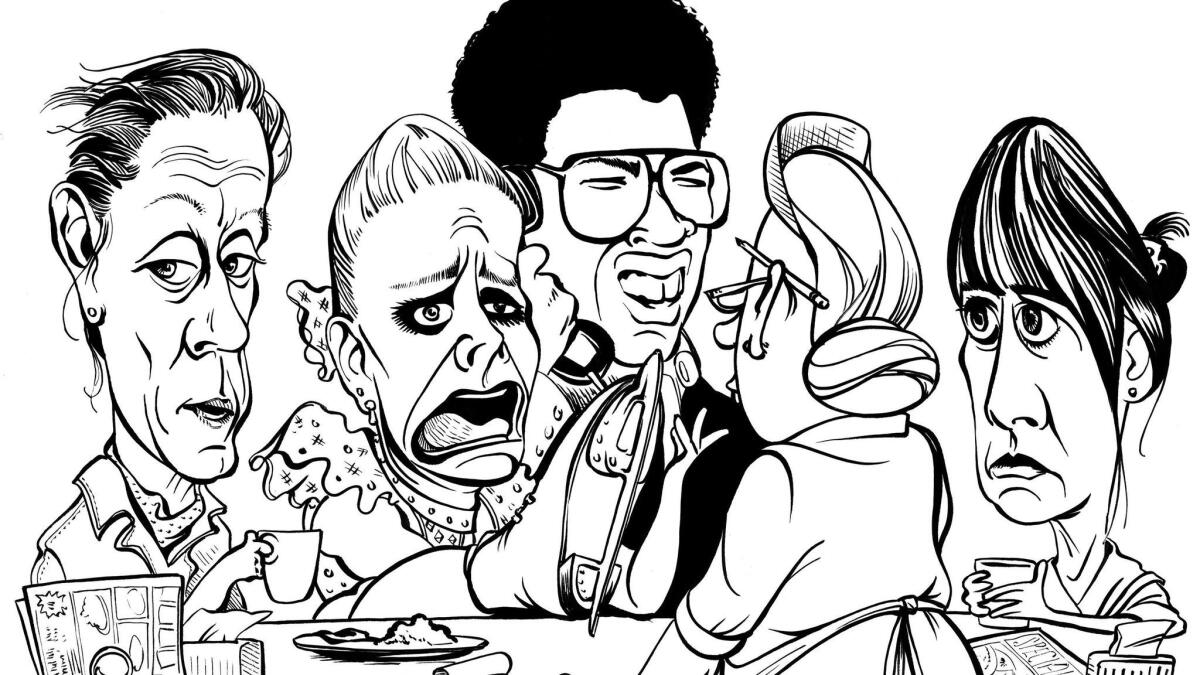 We've seen "The Grapes of Wrath," "Slumdog Millionaire" and even the poverty of this season's "Mudbound," films in which the main characters struggle simply to survive financially. But Hollywood rarely shines a more nuanced light on the experience of being broke in America, the lower-middle class, struggling not for survival so much as to keep its heads above water financially.
As film producer Eli Bush says, "Although it's largely absent in most movies, class in America is incredibly important in how we define our identity, how we see ourselves, how we see each other."
This Oscar season, Hollywood hasn't turned away from those distinctions. Filmmakers have conjured a rich array of working-class heroes for whom every buck counts. Consider, Marion McPherson (Oscar-nominated Laurie Metcalf) in "Lady Bird," who works double shifts as a nurse to keep her Sacramento family afloat and who shops at thrift stores for her daughter's fancy gown. From sea to shining sea, economic malaise also co-stars in "The Florida Project," "I, Tonya," "Roman J. Israel, Esq." and "Three Billboards Outside Ebbing, Missouri."
"Lady Bird"
The declining fortunes of America's middle class get powerfully personalized in the mother-daughter dynamic driving Greta Gerwig's "Lady Bird." Metcalf's perpetually stressed Sacramento mom struggles to pay the bills while status-conscious daughter (Oscar-nominated Saoirse Ronan) becomes so embarrassed by her own modest home that she pretends to live in a rich classmate's house. Bush says, "It was really important to Greta to have these characters navigate money and class issues. For better or worse, material things matter."
"I, Tonya"
In "I, Tonya," Tonya Harding's financially tight upbringing in Washington state speaks volumes about the scrappy Olympic skater (Oscar-nominated Margot Robbie). "The reason they hated Tonya Harding so much was that she was poor," contends Steven Rogers, who wrote the screenplay. "That was her big crime, and it's also part of what attracted me to the story. I wanted to talk about class in America and Tonya's life in particular." Perpetually short on money, Harding dropped out of high school at age 15 and wore home-made skating outfits because she couldn't afford professional costumes. Until she won over critics with her sheer athleticism, judges were not impressed. "In the skating world," Rogers says, "they were looking for the princess, and Tonya was the maid."
WATCH: Video Q&A's from this season's hottest contenders »
Harding's bitter mother, LaVona (Oscar-nominated Allison Janney), struggles to get by on a waitress' wages, regularly unloading her resentments on the young Tonya. "I have Tonya's mother saying she's up at 5 in the morning, and every penny went to skating," Rogers says. "It was important to show LaVona's point of view to sort of soften her rough edges."
"Three Billboards Outside Ebbing, Missouri"
In "Billboards," angry mother Mildred (Oscar-nominated Frances McDormand) sells souvenirs at a gift shop that once catered to a tourism industry now evidently gone bust. Blunt, acerbic and strapped for cash, Mildred has to sell the family tractor to pay for her cop-shaming outdoor advertising campaign. "Three Billboards" writer-director Martin McDonagh says, "When I started writing the script, Frances was the only woman in my head for a bunch of reasons. But the main one, I'd say, is her integrity. I knew she wouldn't patronize Mildred's working-class aspects. Frances' background is working class, as is mine. We wanted to be truthful about that and not sentimentalize Mildred."
"The Florida Project"
Edging back into the realm of dirt poor, another fierce single mom, Halley (newcomer Bria Vinaite), tries to care for her mischievous 6-year-old daughter, Moonee in "The Florida Project." Filmmaker Sean Baker and cowriter-producer Chris Bergoch became fascinated with the cheap motels near Walt Disney World that attracted borderline-homeless tenants after the 2008-09 housing bubble burst. "We saw 6- and 7-year-old kids who'd spent their entire lives growing up in these motels," Baker says. "They didn't have iPads or smart phones. Since they didn't have the means to be part of the digital world, they rode around on their tricycles and bikes, playing in the parking lots of these motels."
Inspired by Depression-era "Our Gang" comedy shorts featuring Spanky and friends, Baker says, "We realized our 'Florida Project' could be a modern day 'Little Rascals' [as "Our Gang" was also called]. I didn't want to make a heavy-handed melodrama. I wanted audiences to have fun." At the same time, he observes, "There's this hidden homeless situation going on nationwide where a lot of families do whatever they can to keep a roof above their heads. I hope people who see our movie might go home and start thinking about the real Moonees and the real Halleys in our country."
"Roman J. Israel, Esq."
Here, Oscar nominee Denzel Washington's L.A. activist lawyer pays the price for his ideals: no car, and peanut butter sandwiches for dinner. Writer-director Dan Gilroy says, "Denzel's character is being paid with coin from another realm, let's call it a spiritual payment. Roman believes in something bigger than himself, and that's great, but there's a financial burden that comes with that. The [plot] turn comes when Roman says, 'Screw this, I don't want to be a working-class hero any more. I'm 60 years old. I'm sick of not having any money. I want the shiny things in life.'"
From the Oscars to the Emmys.
Get the Envelope newsletter for exclusive awards season coverage, behind-the-scenes stories from the Envelope podcast and columnist Glenn Whipp's must-read analysis.
You may occasionally receive promotional content from the Los Angeles Times.