Q&A: Alison Brie's 'GLOW' wrestler's #MeToo moment takes her out of the ring into more serious territory
Wrestling has been very good to Alison Brie. The South Pasadena-raised actress, whose portrayal of the hardworking wrestling star Ruth Wilder anchors Netflix's "GLOW," has received SAG Award and Golden Globe nominations for the second year in a row. For the past few years, Brie has moved easily from high-profile TV projects ("Mad Men," "Community") to film work ("The Post," "The Disaster Artist") and even animated voice parts (Diane in "BoJack Horseman" and Unikitty in the "LEGO" movies).
During a short break from shooting the third season of "GLOW," the easy-to-like performer, who trains with a wrestling coach for a month before each season begins, spoke about everything that has happened to her character this past year. "It's been a very emotional season for a lot of the characters on the show, but Ruth takes a lot of crap," Brie says.
"She tries to make up with her friend Debbie [Betty Gilpin] to no avail and attempts to navigate her way through this tough business. I think we're still exploring whether she can just let herself be happy or not, and whether she can be in a relationship after this horrible thing she did to her friend. That's something we're still exploring throughout the season."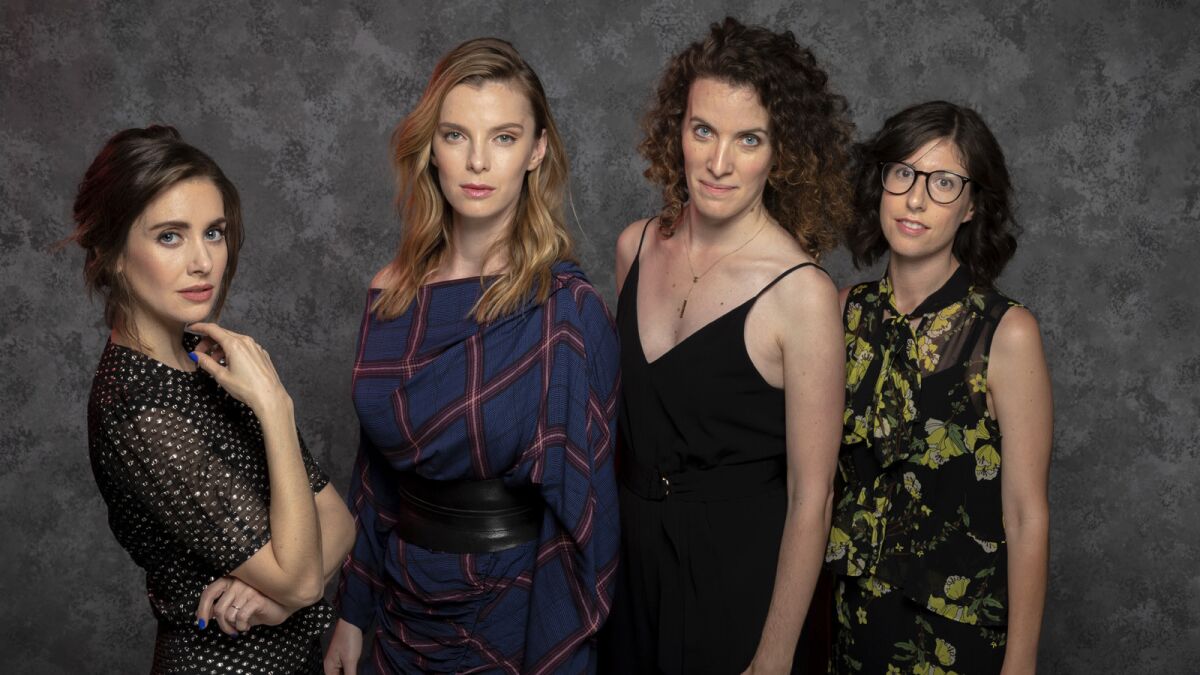 Ruth tries to have more creative input in the wrestling show this year, but she also experienced sexual harassment. What was it like to work on that in the #MeToo era?
It's really interesting because our writers had written most of the second season material before this major wave of exposure and the #MeToo movement really happened. But by the time we were shooting it, all the stories were already in the media. I am so grateful to be working on our show right now, at a time when people are letting themselves be very vulnerable and talk about themselves in ways that are more candid than ever before.
You have worked on other series, which were created and run by men. Did you experience anything like what Ruth had to go through this season?
I have certainly been very lucky to have worked for some great men — and there a lot of men in this industry that I consider great mentors, like the Russo brothers on "Community." But our show certainly feels different. The experience of working on "GLOW" feels very transparent. It is a show created and run by women [Liz Flahive and Carly Mensch], and it is a very open set where people feel very comfortable discussing things that they are not comfortable with. We put our bodies on the line in a very literal way.
What was the most challenging aspect of the second season?
One of the trickiest scenes was the one at the end of the fifth episode. After Ruth has this interaction with the head of the network, she has this very tough scene with Debbie. We see Debbie's reaction to what Ruth tells her and acknowledges that this is something that's been going on for a long time. We're not trying to villainize Debbie, but it's a stark reality that women have a hard time sharing this stuff because everyone was under the impression that was how the business worked. So many women were brainwashed into thinking that they had to act a certain way … they had to justify the things that they had done for jobs. It's a very sad, harsh look at the psychology of Debbie. You have to understand what she must have put herself through to get as far as she has come in the industry — which is actually not that far.
What do you love about Ruth's character?
What is fun about working on this show is that we all get to play these different parts on the show. I do get to play Ruth Wilder and also her wrestling alter ego, Zoya the Destroyer, which allows me to exercise every part of my range. We have small, intimate emotional scenes and then we have really broad, comedic scenes in the wrestling ring. She stumbles a lot, and despite her best intentions, she still rubs people the wrong way.
"GLOW" has reached such a level of popularity that fans can buy those little Funko action dolls of Ruth and Debbie. Does the reaction to the show still surprise you?
I actually own a Ruth doll, and now I need a Debbie doll. It's so exciting to see the vast array of fans and to experience the love they have for the series. I think it's most validating when real wrestling fans love the show because we put a lot of work into making it look authentic. We all obviously learned to wrestle and do our own stunts on the show. It was also so amazing to see all the "GLOW" costumes the fans had created for Halloween: They were identical [to], if not better than, the ones we have on the show.
---
Get our L.A. Goes Out newsletter, with the week's best events, to help you explore and experience our city.
You may occasionally receive promotional content from the Los Angeles Times.