If the name Ann Dowd doesn't ring bells for you, just turn on the TV: She's a veteran character actress who happened to score her first two acting Emmy nominations this year, one for taskmistress Aunt Lydia in "The Handmaid's Tale" (supporting) and one for "The Leftovers" as Patti Levin (guest actress). And while she has a way of scaring audiences straight with her dour, stern looks it never takes long for Dowd's nuanced performances to reveal there's a beating heart under that strict surface. She met with The Envelope recently at the Beekman hotel in New York and spoke about finding herself in both roles, and learning to know when to let go.
Two nominations in one Emmy cycle is pretty extraordinary; that said, it strikes me that both Patti and Lydia have common roots. Is that a fair assessment?
We know how Patti evolves, though we're at the beginning with Lydia. Patti was attached to a creep, and she had no confidence or agency. But then she realizes, I am smart, I am a born leader. So, when she kills herself in the first season – it's a beautiful follow-through on her beliefs. Then she comes back. With Lydia, I asked ["Handmaid's" showrunner] Bruce Miller what her life was like beforehand – because you wonder what causes such a hugely narrow view of the world. He said she was probably a teacher. I could imagine her in an all-girls school watching the world go to hell in a handbasket. The girls mean the world to her: She is the shepherd who will take them to where they need to be to survive.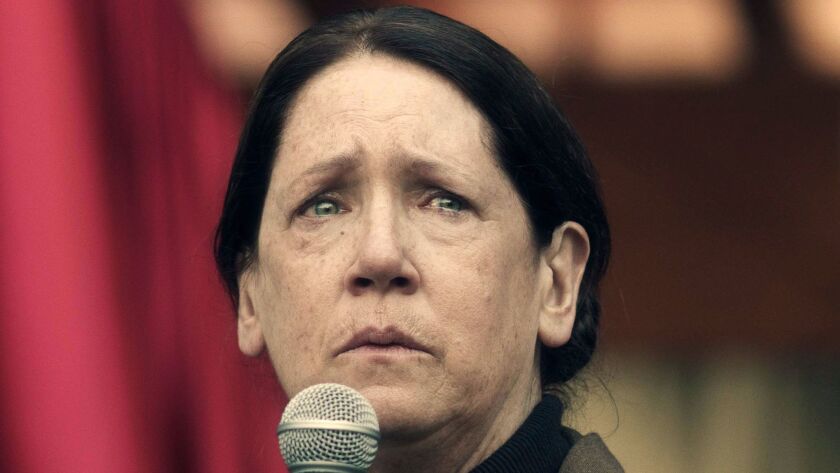 Do you feel a kinship with either of them?
The roles make sense to me. I've always been drawn to the outsider – the one that doesn't fit, the one who would choose her own company over friendships. The one who always felt from Day 1 that, "I have something off here, and I don't know what it is, but I'll move forward on my own and figure it out."
Do you feel like an outsider, too?
It could be; I always assume everyone has those feelings in varying degrees. I'm one of seven children and loved my siblings, so I was never lonely. But I have always felt outside it, not quite getting the picture the way others did. I'm a mother of three children, which is a blessing beyond description. To be playing roles where these women are not attached to a family is a fascinating shift; it's like they took a fantastic solitary ride. They don't rely on anyone else to bring them satisfaction and meaning.
In storytelling and in real life often the loner woman is revolutionary.
I was raised in a conservative Irish-Catholic family. Full of love, but the church was big. You take the anti-sex pill as a young Catholic – and there's always that voice in your head saying, "Watch it, be careful." I didn't feel comfortable in a dating situation, not at all. I looked at that world and said, 'I don't understand that world, I'll just go about my business.' I met my husband [actor Lawrence Arancio] in acting school and had boyfriends prior – but it was never my focus. That comes to mind when we're talking about Patti and Lydia, who really set their own course.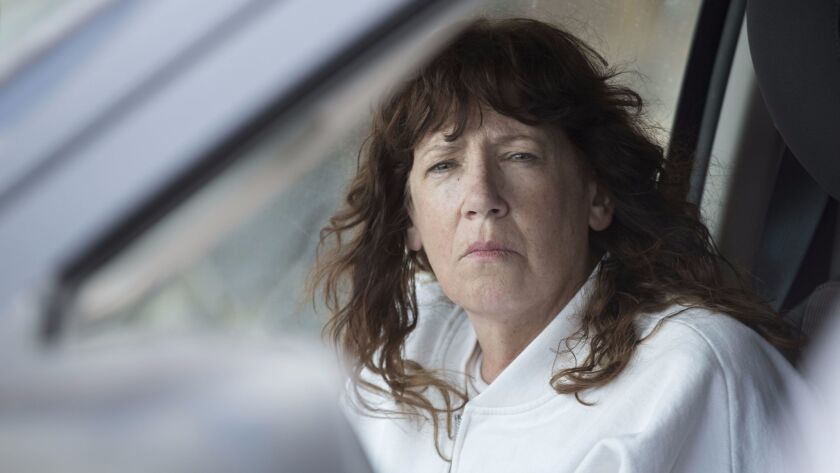 You've been working since the mid-1980s, and you spent your early years working in New York. But based on your IMDb resume you seem to have dodged that New York actor staple, the soap opera. Or did you?
I got a soap opera role for a day. It's like going to the amusement park, and not necessarily your favorite one. I played a doctor – I don't even remember which soap opera it was – and a regular actress comes over to me in character with her daughter [in character], whose prom dress is ripped to shreds, with blood everywhere. I had to say, "It's nothing but a left ankle sprain." I could not figure out what the heck: This girl is bloodied head to toe and I'm discussing a sprain. So, I wondered about that to the director and he said, "You don't see the blood." He said, "If you're looking for your motivation, it's your paycheck." And we proceeded. Then I went home and put my head under the pillow for a long time.
You've learned a bit about the whole game since then, I imagine.
That's the great thing about aging [Dowd is 61]. You get perspective, you relax, you take your hands off the controls. You have to accept that in a given day you've done the best you can – and let it go. You might have done it differently with more time, but you did the best you could, and let's move on to the next thing.
See the most read stories this hour »
ALSO:
Emmy-nominated Pamela Adlon lifts the veil from single motherhood with 'Better Things'
For Susan Sarandon to play Bette Davis, it helped knowing Ryan Murphy was as scared as she was
Riz Ahmed tackles roles that offer 'novelty and adventure' — and the fear of failing — with 'Night Of' and 'Girls'
---