Carol Burnett still brings the magic 50 years on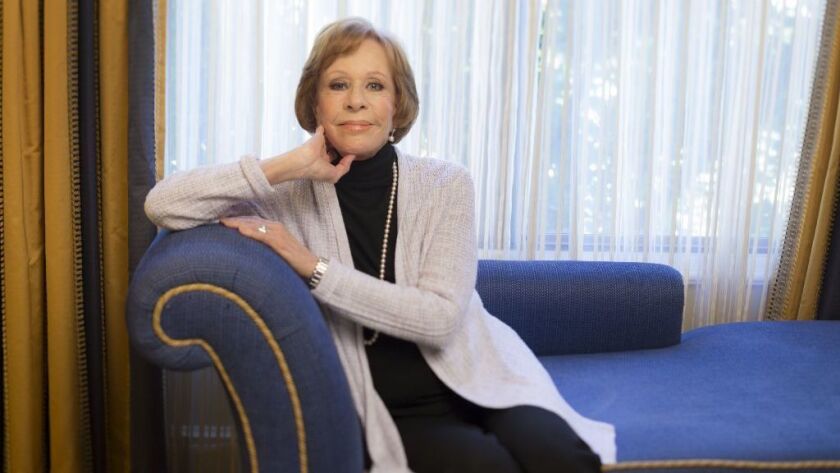 Was it really over 50 years ago that "The Carol Burnett Show" roared into America's homes? Carol Burnett couldn't believe it herself when her husband, Brian Miller, made note of the half-century mark last year. It was his idea to put together an anniversary celebration, and Burnett's old home network, CBS, jumped to air it. The resulting show — filmed on the same stage as the original — garnered two Emmy nods, one each for variety special and production design.
Packed with stars who had worked on the show, and a stream of famous fans eager to join the party — including Amy Poehler, Bernadette Peters, Jim Carrey, Maya Rudolph, Stephen Colbert and Steve Martin — the special combined onstage conversation with memorable clips. And of course, that Tarzan yell. By phone, Burnett chatted warmly about the evening, and the 50 years of memories that preceded it.
WATCH: Video Q&A's from this season's hottest contenders »
How did you assemble that cast of thousands of stars for the special?
I can't remember who came up with the idea, but they started asking people if they would come and help us celebrate — and everybody said yes! I said, "Oh my gosh, how are we going to do this?" Show the clips, of course, that's the meat of the show but then how do we take care of all the nice people who said yes? It was touch and go, I must say. Fortunately, CBS gave us two hours, so that helped a whole lot.
It's impossible to explain to people who weren't born yet that pretty much the entire country watched the show every Saturday night.
We would have 30 million, 35 million people every week because there were only three channels. We mounted a musical comedy review every week that was, I think, as good as any Broadway show when you have all those elements and all those fantastic musical numbers — and those costumes! Bob Mackie designed over 17,000 costumes in 11 years.
And he came up with the show's most famous visual joke – the curtain rod dress in the "Went With the Wind" sketch.
That was Bob! He's got a comedy mind. The things he loved doing the most were the silly outfits that he would put me in, like Mrs. Wiggins or Norma Desmond. Sometimes I didn't know how I was going to play a character until I saw what I was going to be wearing.
One big difference from Broadway – the audience loved it when you guys cracked up.
We didn't break up as often as people think we did, it just stands out when we did. Usually it was Tim's fault. Tim [Conway] wasn't in every show. He was a semi-regular the first eight years. He became a regular the ninth year.
There's something about that mirth that's irresistible.
It's folks laughing in church. Or the library — wherever you're not supposed to — when you got the giggles as a kid. At least I know I did. And it's that delicious thing when you just can't help it.
And it made everyone feel part of the family.
I always said I didn't want to stop for any reason, unless the C-rigs fell down and knocked us in the head. I wanted that live feeling, like doing a Broadway show. It's dangerous. So that's what we did. We would just go with it. We never did it on purpose.
The anniversary show had a bittersweet edge as well, with the homage to Harvey Korman, and the reference to friends you've lost. By the time Harry Connick Jr. came out to play the show's theme song with you, you cried.
I did. When Harry started doing it, my mind just started tumbling over and over about all the years and all the people that we were so fortunate to work with, and so many we've lost … I'm really fortunate because I had such a good time, and the relationships that were formed in doing the show, there wasn't a rotten apple in the barrel. It was a family.
During the show, Jim Carrey told you, "Love is a vibration. You're more than Carol Burnett. You're the space in which a huge amount of love happened." It was very beautiful and kind of trippy.
It was. He's out there, and I'm saying that in a good way. He's very spiritual. So when he got onto that, I thought, "How am I going to get out of this?" That's why I said, "That's sweet, he said it just the way I wrote it," to take the onus off it. I didn't want people to say that was scripted.
You have countless Emmys and nominations. How does this one feel?
The fact that it's about a show that's 50 years old is kind of wonderful — the fact that it has legs.
---
From the Oscars to the Emmys.
Get the Envelope newsletter for exclusive awards season coverage, behind-the-scenes stories from the Envelope podcast and columnist Glenn Whipp's must-read analysis.
You may occasionally receive promotional content from the Los Angeles Times.