Christopher Abbott brings an old-school vibe to his 'Catch-22' hero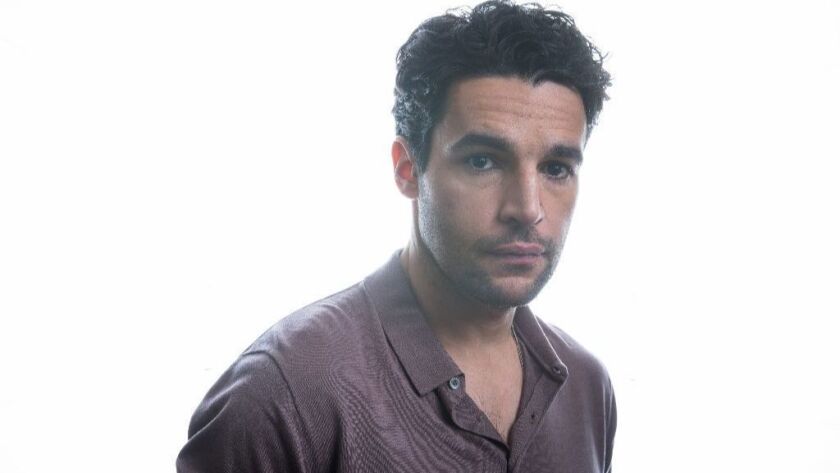 Reporting from New York —
If Christopher Abbott looks like he's acting, then he's not doing it right. At least, according to Abbott.
"Peter Falk is someone I could watch for hours on end, because watching him is electric," says the Brooklyn-based star of Hulu's new adaptation of "Catch-22." "A certain kind of filmmaking that was being done in the '70s with John Cassavetes and Falk and Gena Rowlands — it doesn't feel like acting. I'm drawn to that. As an audience, it's scary to watch because of how real it feels, and that's always the goal."
As John "Yo Yo" Yossarian, the focal point of "Catch-22," Abbott does have to do a certain amount of acting; the camera almost never leaves him alone. But there's an intensity to his performance that also feels like part of his personality: Abbott is a lover of old-school-style acting that starts on the stage and rarely stays in one place.
"I'm not a fan of doing something for a long time," he says, explaining why he left his role on HBO's "Girls" as Allison Williams' faltering boyfriend Charlie after two seasons (he came back briefly in the penultimate season). "Once I do it, I want to be done. I made a check in the box in terms of that with 'Girls,' and I was finished."
"Catch-22," meanwhile, gave him another box to tick by walking a satirical line between absurd comedy and hard-to-watch war drama. "Reading that script felt like a play," he says. "I was intrigued right off the bat. But it's not completely antiwar; it's more anti-bureaucracy. Yossarian is asking a completely legitimate question: If you're going to put your life at risk, you deserve to know why."
It's a big question that makes Yossarian relatable across the generations. "Maybe not everyone can relate to his specific scenario — but everyone can relate to the question of existence," he says. "Period."
FULL COVERAGE: Get the latest on awards season from The Envelope »
---
From the Oscars to the Emmys.
Get the Envelope newsletter for exclusive awards season coverage, behind-the-scenes stories from the Envelope podcast and columnist Glenn Whipp's must-read analysis.
You may occasionally receive promotional content from the Los Angeles Times.