Daniel and Eugene Levy are up 'Schitt's Creek' in the best of ways
The name of the show requires clearance to be spoken aloud on some outlets. It's such a self-aware joke that one of the sitcom's main characters, former soap star Moira Rose (Catherine O'Hara) won't even say it, even with her tortured faux-highfalutin pronunciations that can extend words for many … many syllables.
"She would never say it, actually," says Daniel Levy, co-creator, costar and showrunner of "Schitt's Creek." "Never has and never will. So one can only assume" what it would sound like if she tried.
Levy and his real-life and show father, co-creator, costar, and longtime comic actor Eugene Levy, are quick to assure the surname in question is a real one. "It's an Irish last name," says Daniel. The two dropped by the Los Angeles Times video studio for an Envelope Emmy Contenders chat.
WATCH: 2019 Emmy Contenders video chats »
The show, about a wealthy family swindled by a business partner, has racked up a host of awards and nominations in Canada, including what is apparently the first time a father and son have both been nominated in the best actor category for the same show by any major awards body (in this case, the Canadian Screen Awards). Eugene won in the comedy's first season (2015), prompting the actor's typically low-key assessment: "I'm supposed to be the straight man in this show, and I'm winning best comedy actor, so I'm doing something definitely wrong in my performance."
Eugene Levy said the show went through different incarnations, including with his character in mind. Despite his disorientation, sharp-dressed patriarch Johnny Rose is solid, calm and competent in the face of disaster — as opposed to the lovable nebbishes we've become accustomed to the actor playing.
"Originally, it was … a different family and Johnny was one of three brothers involved in that thing, kind of the incompetent brother. It morphed into what it is now, that Johnny ran a very successful video rental chain, the second-largest video chain in North America. It was quite major, so there had to be some credibility with Johnny," he says. "And more so than that, his executive skills had to seep into his personal life as well in terms of what do you do to handle a crisis, this crisis of losing everything and having to move your family to kind of a small-town motel."
Ironically, while the Roses' business may have been killed anyway by today's digital platforms, it's juggernaut streamer Netflix that gave the show a bigger life in the U.S.: Once the service started carrying its first four seasons, it began receiving acclaim and nominations (including a Critics' Choice Television Award nom last year) from the Yanks.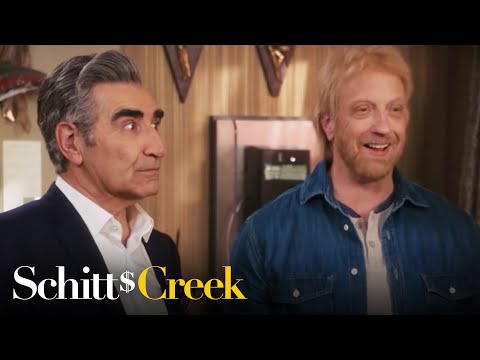 "Schitt's Creek" is a town the wealthy Rose family bought years ago as a joke because of its name. When the clan is swindled out of its assets, however, it finds the place is its only remaining refuge; Johnny (Eugene Levy), wife Moira (O'Hara), son David (Daniel Levy), and daughter Alexis Claire (Annie Murphy) pack themselves into residence in two adjoining motel rooms.
Daniel says, "The first season and a half was about really perpetuating this strange fish-out-of-water world and realizing that this family is so out of touch and so inept when it comes to basic life skills. Once the groundwork for that was laid, then we could start slowly but surely sort of tentpoling these emotional moments for this family, as any family would experience when they went through a situation like this."
By the end of the second season, the Roses had settled into town and their relationships began to deepen. Moira's idiosyncratic faux sophistication aside, the family has all but integrated into their surroundings by the current season (No. 5). Johnny is helping run the motel, Alexis is in love with the local vet, and David is in the first significant relationship of his life — he's engaged to local nice guy Patrick. It's quite a change for David, who initially read as an ultra-shallow party boy and still exhibits outrageous behaviors.
Daniel says, "I think [David] came from a life that was not settled and wasn't safe, and his relationships were not stable. It was a slow and gradual realization for him that he could open up and be himself, and allow people in, and allow love in, and allow himself to love. That kind of revelation in a character, particularly one that was so rooted in an affectation … took quite a long time to earn."
And for Eugene Levy, there's the experience of extensively working with his son for the first time, and with daughter Sarah Levy as well (she has the small role of waitress Twyla, and steals many of her scenes with a kind of sunny dismay).
"The experience of working with both Dan and Sarah on the show has always been a bit surreal for me, especially in the first couple of seasons," said the Emmy and Grammy winner. "I'm in a scene and I keep on thinking, 'I can't believe I'm in a scene with my kids.' That's while I'm working. Shows you how unprofessional I am on set."
Watch the video below for the whole conversation.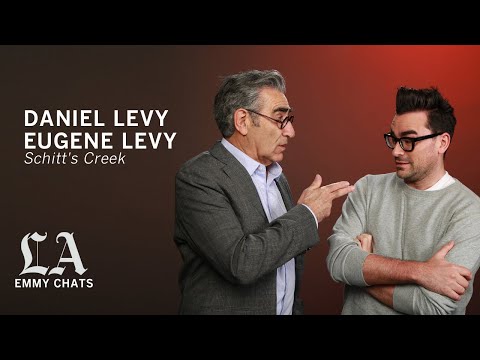 From the Oscars to the Emmys.
Get the Envelope newsletter for exclusive awards season coverage, behind-the-scenes stories from the Envelope podcast and columnist Glenn Whipp's must-read analysis.
You may occasionally receive promotional content from the Los Angeles Times.