'Howards End' star Hayley Atwell was drawn to the vitality of the story exploring class differences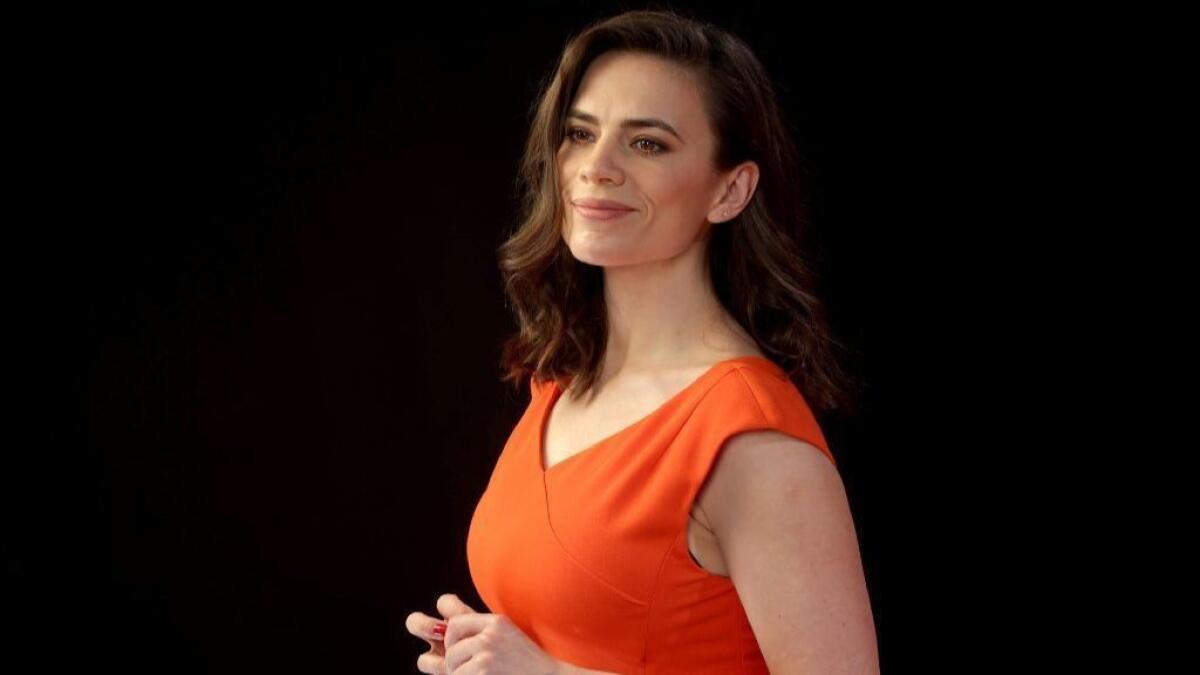 The 1992 Merchant Ivory film "Howards End," adapted from the E.M. Forster novel, won three Oscars, including one for leading lady Emma Thompson. So pity the actress who would attempt to tackle the same role a quarter-century later, right? Not necessarily. When "Howards End" returned on the Starz channel as a four-part miniseries adapted by filmmaker Kenneth Lonergan earlier this year, it featured Hayley Atwell as the bright, upper-middle-class Margaret Schlegel, in a story about the intersecting fortunes of three families in 1910 London. Was she daunted by the prospect of following such a celebrated performance? Not at all. Atwell calls Thompson a mentor — they've worked together — and says the Oscar-winning actress told her, "Don't watch what I did." So she didn't. "I think that's kind of a general rule for all actors, is to not get so focused on what someone else has done with it that you don't end up making your own choices," Atwell says.
Atwell stopped by The Times recently for a video interview to talk about the tale of class and morality, and how little some things have changed since Edwardian times. Here are excerpts from that conversation.
So, "Howards End" sort of marks your return to British TV, right?
I got the call about "Howards End," and the idea that Kenny Lonergan would be attached to doing something like this, a classic, very English-sounding book, felt really exciting. Because, I thought, he's a modern-day, very beloved American playwright and writer known for things like "Manchester by the Sea" and very kind of nuanced characterization and realism. So reading his script, it didn't feel like a period drama. It felt like just characters and human beings talking to each other. So there was this vitality behind it that was wonderful to play.
WATCH: Video Q&A's from this season's hottest contenders »
How familiar were you with the book before?
I hadn't read the book. I read the book, obviously, when we started the adaptation as the source material. So the art department would say things like, if there are things in the book, descriptions of what you have in your living room or your drawing room, that you want to be able to play with in terms of props, we'll make sure they're there.
What were some of them?
So for Margaret Schlegel, I wanted letters and stationery and photographs and books. And [her sister] Helen, played by Pippa Coulthard, wanted watercolors, and shawls, and kind of more of an artistic side. And then the actor playing Tibby, Alex Lawther, wanted Tibby's fossil collection. Tibby was very into that in the book, so that's present, with his microscope. And so you already feel that you're inhabiting a little world. And I would open up desk drawers and find the art department had written letters from, like, Margaret to Aunt Julie, and Aunt Julie to Tibby. And you could read them. And they're letters, you know, that they made up.
When was the last time you wrote a letter?
I wrote a letter this morning.
Really?
I wrote a letter to my friend back in the U.K. I'm staying in a hotel, and in the hotel drawer, they give you a little stationery. So although he'll get it after I've returned … it's the thought that counts. Also, one of my best friends, who still lives in Kansas City where my father's side of the family are from, we've been writing letters to each other since we were about 12.
So the story is set in 1910, but how has it been looking at that through the lens of the current cultural climate?
Well, not much has changed, which is in some ways comforting and in some ways terrifying. So you have two girls who, it's very much about how the socioeconomic situation that you are born into dictates the likelihood about certain opportunities that you will have, and therefore, the chances that you will have to do certain things. That is what life is today.
There are greater opportunities now for women than there were back then, but the system and the structure still exists that there will be things that are open to certain people because of the setting that they're born into, what their last name is, their level of education that they are able to get based on their privilege, or, you know, all those sorts of things. And what the story is, is three different families from different aspects, different socioeconomic backgrounds, and how they affect each other in ways that they didn't realize. I think it's kind of about the responsibility that we have, really, to each other.
With this role, you're stepping into one made famous by Emma Thompson. How intimidating was that for you?
It's weird, I didn't feel intimidated. I grew up watching British theater and these amazing women on stage playing these kind of classical roles for women. As an actor, you go, "I would love a bash at that." I spoke to Em about it. She's a mentor to me — she played my mom in something 10 years ago. And she was just so delighted. She was, like, "You're going to have such fun playing her."
From the Oscars to the Emmys.
Get the Envelope newsletter for exclusive awards season coverage, behind-the-scenes stories from the Envelope podcast and columnist Glenn Whipp's must-read analysis.
You may occasionally receive promotional content from the Los Angeles Times.