Henry Winkler finds a lot to relate to playing 'Barry's' tenacious but lovable acting teacher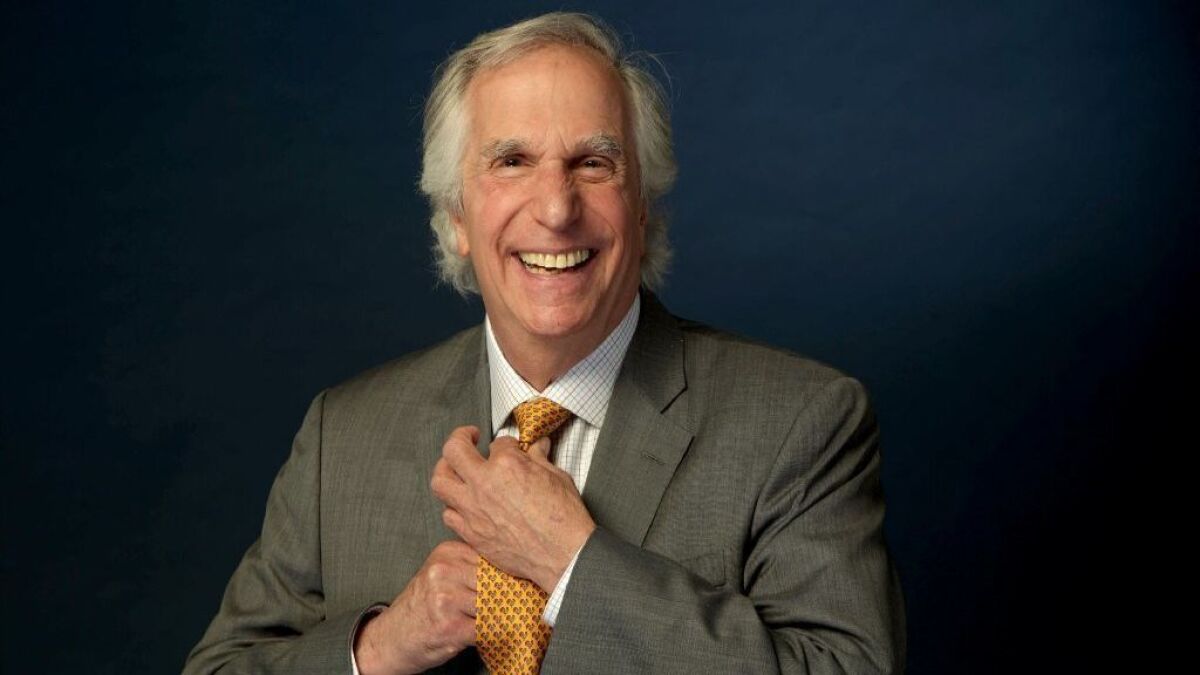 It's a cool time to be Henry Winkler.
"It's pretty amazing to be at this moment in my life," says the veteran actor, receiving honors and some of the best reviews of his career as Gene Cousineau, the very-hot-very-cold acting teacher/father figure on HBO's "Barry." Among those laurels: nominations from the Golden Globes, Critics' Choice Awards, and two from the SAGs. He also finally won his first Primetime Emmy, after five previous nominations. (He'd already collected two Daytime Emmys).
"I won a Golden Globe in 1977 [he has won two; in '77 and '78, both for 'Happy Days']. If I win it this year — I like to space it out — it would be a lovely thing. The SAG Award, by your peers … you don't know. I've sat in that chair [without getting called to the stage as a winner]. This September, I got out of the chair and won the Emmy. Many times, I've sat in that chair and never left it.
"It feels very good. People who say they use them as a doorstop are disingenuous."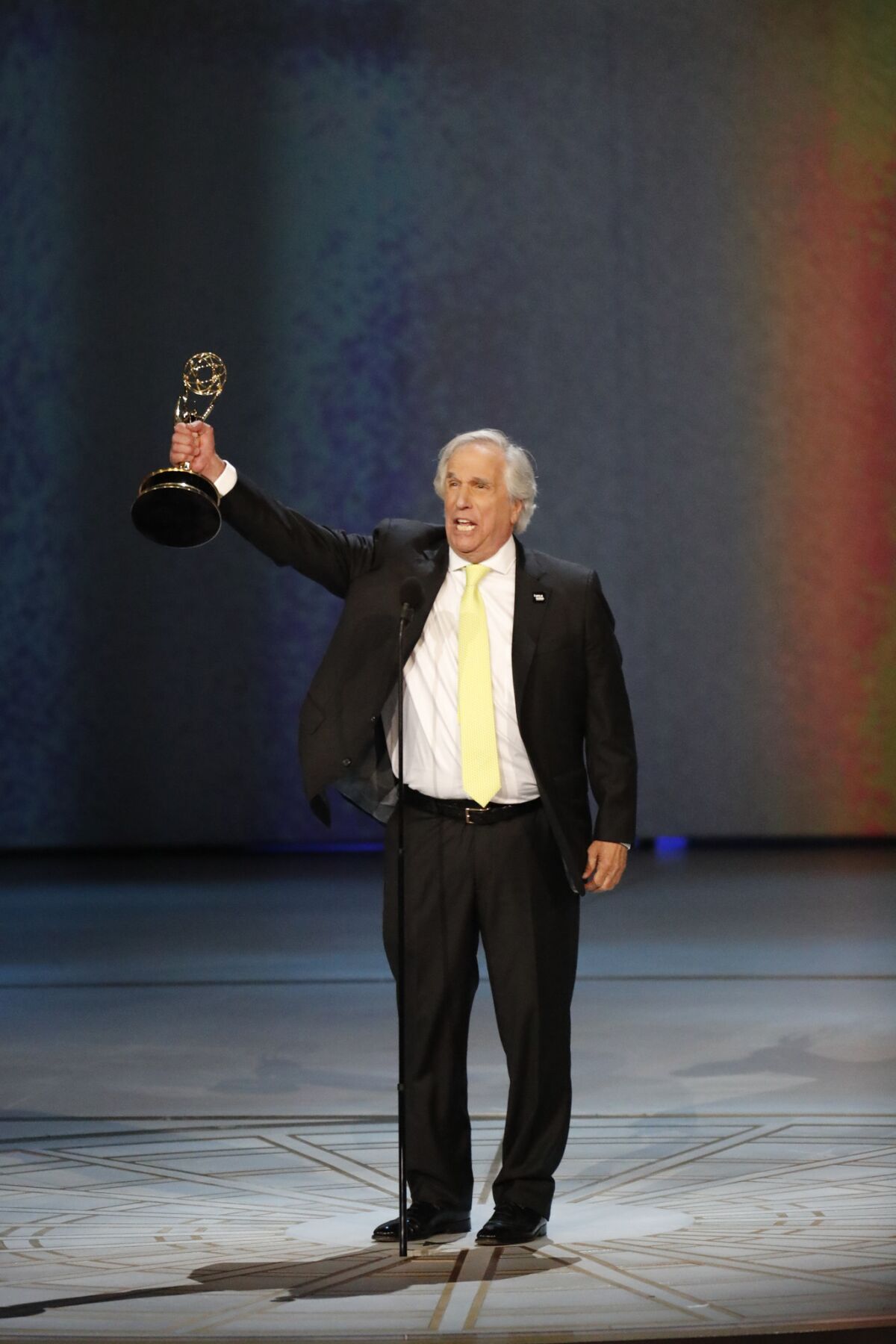 Cousineau is a wonderfully complex character on Bill Hader and Alec Berg's tightrope-walking suspense-comedy about a hit man who learns about himself in an acting class. There's a hustler element to Gene, hawking his books and preferring cash payments. He can be brutal with his students but then surprisingly caring. Over time, he's also revealed to be a true believer in the art and the craft. Largely through an unlikely romance with a tough female detective, he becomes one of the show's most sympathetic figures.
Winkler says Gene is an amalgam of teachers he's had and teachers he's heard of, including famed/infamous Beverly Hills Playhouse founder Milton Katselas. The original conception of the character was much colder and more cynical, but Hader and Berg have said the actor's warmth made them reconsider.
Winkler concedes that might be true. "When I traveled with Alec and Bill across several cities to promote 'Barry,' they said, 'We saw him one way. As we watched Henry, we realized, "Oh! We can write him this whole other way." ' That's all I know."
With Gene starting from such a hard place, Winkler says he "had no idea" the teacher would become lovable over the season. He found out "as the scripts started to come. We'd read them out loud for HBO, the writers and the department heads; then they'd be rewritten completely and we'd get them a week and a half before we shot them.
"As it progressed during the first year — and in the second year, he's the same, but goes to a whole other place out of his, I don't know, need? Experience? What he went through the first year? — you see the change."
"Barry" fans know what Winkler means by "what he went through," considering the jolting Season 1 finale. Gene is certainly set up for some rough times ahead. Winkler says he just wrapped his part of Season 2, but reveals no details beyond "My ties are great. Audrey Fisher, who is the designer, picked extraordinary ties, I think."
What makes the character so sympathetic is that the show allows him to be more than just an acting teacher. When he meets Det. Janice Moss (Paula Newsome), he's struck; he immediately goes after her, hard. What might seem at first just a sexual fixation turns out to be open-hearted love.
Winkler says he realized it was the latter "When he asked her out on a date. When we had the chicken à la king," referring to one of the series' most disarming scenes.
They make quite an odd couple, this tough-as-nails, beautiful, efficient cop and this sort-of shady, seemingly not-so pragmatic acting teacher. She certainly resists his charms initially, but he somehow wins her over. How does he do it?
"The way all things are won: With tenacity," says Winkler, settling into a cadence revealing he has given this topic much consideration.
"Tenacity is one of the main ingredients of being alive. It's as important as the food you eat, the sleep you get, the water you drink."
He knows of what he speaks. Although he famously hit it big with "Happy Days" within the one-month window the New York actor had given himself to make it in Hollywood, he had wrestled mightily with undiagnosed dyslexia growing up. After years of academic struggles, he went on to graduate from Emerson College and then earn an MFA from the Yale School of Drama. He has even gone on to write and co-write books — 19 of them — including a series of novels about a boy with dyslexia. In 2011, he received an OBE as an Honorary Officer of the Order of the British Empire for his "services to children with special educational needs and dyslexia." And here he is, he says, still working in the job he loves.
"I had this dream when I was 7," he says, "and now I'm 73 and I'm still living my dream."
FULL COVERAGE: Get the latest on awards season from The Envelope »
---
Get our L.A. Goes Out newsletter, with the week's best events, to help you explore and experience our city.
You may occasionally receive promotional content from the Los Angeles Times.