The horror genre is as popular as ever — just not with awards voters. Can new entries such as 'Haunting of Hill House' and 'The Terror' break through?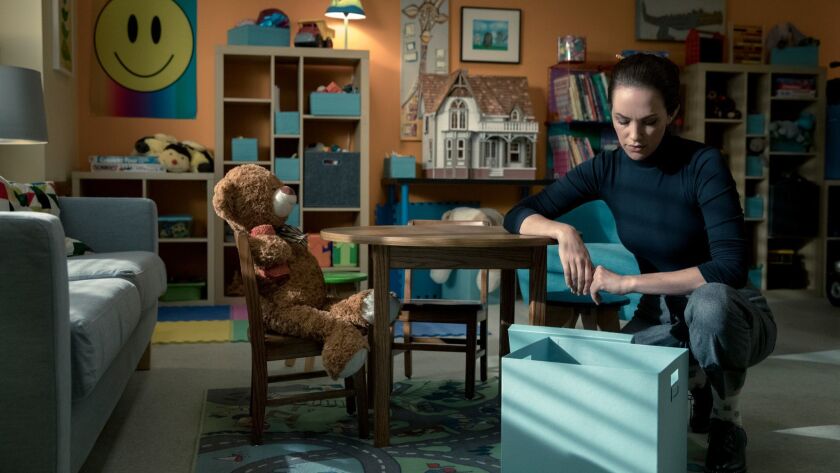 Creating a horror-themed TV show is kind of like creating Frankenstein's monster. What you produce will terrify all who see it. It will be a commentary on what it really means to be human. And in the end, it will still be an outlier whose existence earns more pitchforks than plaudits.
There's no doubt the genre is as popular as it's ever been on the small screen. Hordes of horror shows have invaded television for the last few years, from veterans such as "The Walking Dead," "American Horror Story," "Supernatural" and "Stranger Things" to newcomers such as "The Haunting of Hill House," "The Chilling Adventures of Sabrina" and "The Terror."
"Maybe it's because of the political tenor right now, which is scaring the hell out of so many people," says R. Lee Fleming Jr., creator and executive producer of Hulu's new series "Light as a Feather," the tale of a group of teen girls who get caught in a supernatural struggle after playing the game referenced in the title. "Maybe when we're being told we're on the brink of Civil War: Part 2 or whatever, there's something anxiety-defusing about watching stories about zombies and teenagers being impaled on stuff."
Still, despite the genre's timeliness and popularity, it's got merely a ghost of a chance when it comes to winning awards.
" 'The Terror' was dismissed by certain critics because it was horror. It had a monster. It had some gory bits," says David Kajganich, executive producer of the AMC series about an ill-fated British Navy expedition into the Northwest Passage in the 1800s. "Those reviews are hard to read because we were working very hard for many months to do something more complex, more intellectually and emotionally rigorous and more human than those critics expect from a 'monster show.' But those reviews matter. They have influence. And the fact that no one in our cast and crew has gotten any award nominations so far this year is incredibly hard for me to swallow."
Certainly, it's not like horror never gets any critical kudos. Netflix's "Stranger Things" has won Emmys in technical areas such as editing and title design and earned nominations for acting and series in 2018, to go along with a cast win at the 2017 SAG Awards. FX's "American Horror Story" has won plenty of acting trophies along with makeup, costume and hairstyle Emmys since it premiered in 2011. Still, for the most part, horror gets shut out of the top categories when it's time to honor TV's best.
Nobody knows this better than the creators of AMC's "The Walking Dead," which has been one of the most popular series on television since premiering in 2010 and has just one major award nomination to show for it (drama series at the 2011 Golden Globes).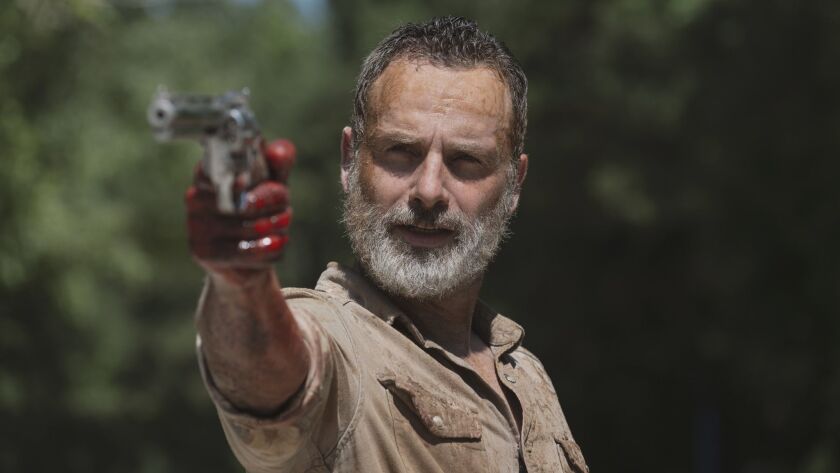 "We joked about it internally and I'm always saying, 'This is not a show you're going to win an Emmy on but we have to write as if we are," says "Dead" showrunner Angela Kang. "It's an accepted fact of life for people who like genre. Pulp entertainment has never been taken seriously in the same kind of way as other forms of entertainment. Still, we're telling stories that can really resonate with people. We tell stories about the human condition that can be really dramatic. We do things that are really intense emotionally that feel different than a straight character drama."
The main difference? Her show's characters are often forced to "make ugly moral choices while also wielding swords and hacking zombies." This cuts straight to the heart of the problem. It can sometimes be tough to see the deeper meanings in horror-themed shows because they're covered in blood and body parts. Which poses the creative challenge horror series face that their monster-free peers don't. They have to create compelling characters that stay alive (at least for a while) yet simultaneously scare the hell out of viewers over the course of multiple weeks.
Mike Flanagan, who directed and executive produced all 10 episodes of Netflix's "The Haunting of Hill House," notes "it's absolutely more challenging to sustain tension over a longer period of time with television." That's why he chose to see this story about the haunting aftereffects of one family's supernatural tragedy as "a 10-hour movie" that just happened to have some jump scares in it.
"People throw the term 'elevated horror' around quite a lot, but that itself implies that the genre exists on a lower plane than the rest of our filmed entertainment and needs to be 'lifted' into something resembling quality," Flanagan says. "That's just not the case. I never read a review talking about some new film 'elevating the comedy genre.' I never hear about 'elevated westerns.' There's a spectrum of quality in every genre and I don't know why people act so surprised when horror is good."
As much as making "Hill House" helped him appreciate the genre, he's adamantly opposed to adding any separate awards show categories to accommodate horror because "it would just separate it further from the vast collective of televised entertainment." Besides, adds writer-director Eli Roth, who hosts the AMC docu-series "Eli Roth's History of Horror," there's a bigger honor for horror than any critically acclaimed yet fright-free TV show could ever get.
"If you're doing it for some kind of award, you're doing it for the wrong reasons. Nobody sits down to watch horror to get the deep meaning of life. It's just great when that's in there," says Roth, whose credits include the fright films "Hostel" and "Cabin Fever" and the Netflix series "Hemlock Grove." "That's why you don't need any award. The award is someone saying, 'I had to watch between my fingers.'"
---
From the Emmys to the Oscars.
Get our revamped Envelope newsletter for exclusive awards season coverage, behind-the-scenes insights and columnist Glenn Whipp's commentary.
You may occasionally receive promotional content from the Los Angeles Times.