Through 'Feud,' Jessica Lange tapped into a universal need — to stay valued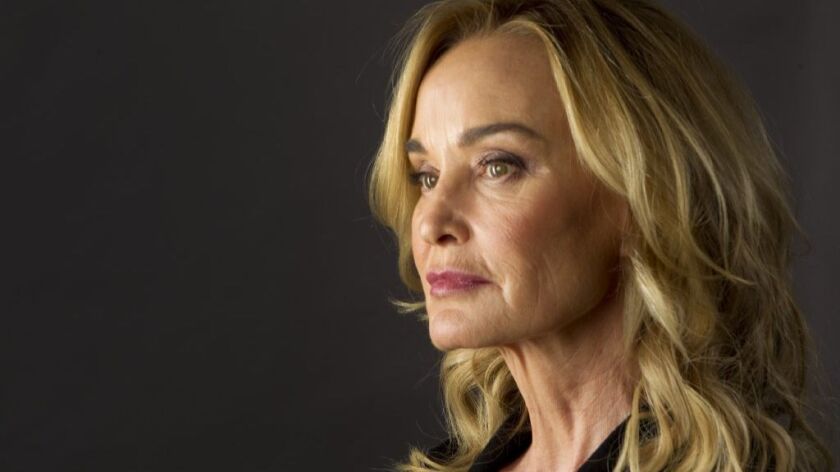 Before Jessica Lange played Joan Crawford in Ryan Murphy's critically acclaimed FX limited series "Feud: Bette and Joan," she knew as much about the MGM star as you did, and it all came from "Mommie Dearest," the 1981 Crawford takedown by her daughter Christina. But once Lange pulled back the curtain on the stunning silver screen sensation of the 1940s and '50s, what she found was much more than wire hangers and abusive tantrums. To Lange, Crawford was a woman of great complexity, a creation and a victim of Hollywood's brutal studio system that disregarded aging actresses with heartless regularity.
"It surprised me the depths of this character," said Lange, reached by phone at her cabin in Minnesota mere days before the death of her former longtime romantic partner, Sam Shepard, which left her too devastated to complete a scheduled photo shoot. "Joan Crawford has become one of the best roles I've ever had and certainly some of the best work I've done," she continued.
The television academy seems to agree, bestowing Lange with an Emmy nomination for a role that features the waning star grappling with her reduced status in Hollywood while finding a worthwhile adversary in her "What Ever Happened to Baby Jane?" costar Bette Davis, played by Susan Sarandon. Sarandon and Murphy and a slew of costars, including Stanley Tucci and Judy Davis, were also recognized among the project's 18 nominations.
Murphy approached Lange about playing Crawford when he originally conceived "Feud" as a feature film. But for myriad reasons the project never got off the ground. Instead, Lange and Murphy collaborated on four seasons of "American Horror Story," a partnership that generated Lange's career resurgence in television, four Emmy nominations and two wins. Then Murphy reconfigured "Feud," this time as an eight-part miniseries. Lange said yes immediately.
"Stretching this story over eight episodes allowed us to really dig into these characters in a way that doing it as a film would not time-wise allow," the 68-year-old actress said. "That became fascinating to me because I knew so little about Crawford going into this project. I was just amazed at what there was to do."
Lange discovered Crawford's true essence in the actress' troubled childhood — a poor Southern girl, raped by her stepfather, sent away by her withholding mother and forced to work at a very young age.
"She is Lucille LeSueur from San Antonio, Texas, born to a mother who didn't want her, a step-father who [had sex with her] at age 11," Lange said. "She was farmed out to work. There was physical abuse from the nuns in the boarding school. That was always the departure point." And the moment, as Lange saw it, when her quest to redefine herself calcified.
"She worked so hard to become Joan Crawford [a name given to her by MGM], learning the mid-Atlantic accent, how to move, and it motivated everything else in her life," she added. "Then that is threatened, everything she worked so hard to create. That lent itself to a tragic aspect to her character. And I found that was the most interesting part of her."
To embody that damaged psyche, Lange spent a lot of time watching Crawford both in her film roles and in interviews when she's "just being Joan Crawford." What she and Murphy discovered was Crawford's purposeful stillness, a control that both willed the creation of Joan Crawford while denying her past as Lucille.
My natural physical life is one of constant movement. My hands are never still. Ryan kept forcing me to be still.
— Jessica Lange on playing Joan Crawford
"My natural physical life is one of constant movement. My hands are never still," Lange said. "Ryan kept forcing me to be still. As soon as you make that kind of physical adjustment it just concentrates everything. She was always held in."
Of course, Lange's portrayal of Crawford is not only a cautionary tale of the profound sexism in Hollywood, something that has changed very little since her character's time in the spotlight. Through the eight episodes, Lange's portrayal of Crawford also transforms into a more universal commentary on the lack of respect American society pays to the aging, something Lange found audiences related to on an intimate level.
"We come into this story with their careers on a downward slide and there is a desperation to find some [work]," she said. "I was really taken with how people responded to that. It's not just Hollywood. It's not just women. When you become disposable and can no longer find the work, that's a universal thing."
See the most read stories this hour »
---
From the Oscars to the Emmys.
Get the Envelope newsletter for exclusive awards season coverage, behind-the-scenes stories from the Envelope podcast and columnist Glenn Whipp's must-read analysis.
You may occasionally receive promotional content from the Los Angeles Times.