'Kidding,' 'Maniac' and 'Lodge 49' marry the surreal with the heartbreaking to stand out in the crowd
Three of the best new shows this fall are also three of the most inventive — and heartbreaking. In "Lodge 49," "Maniac" and "Kidding," a primary character has lost a beloved family member and struggles to cope with the aftermath. In facing their loss, they find a world that doesn't quite make sense, and so do we, as we watch the surreal moments that dot each series. And while the shows are wrapped in grief, they're also suffused with humor.
'Kidding' (Showtime)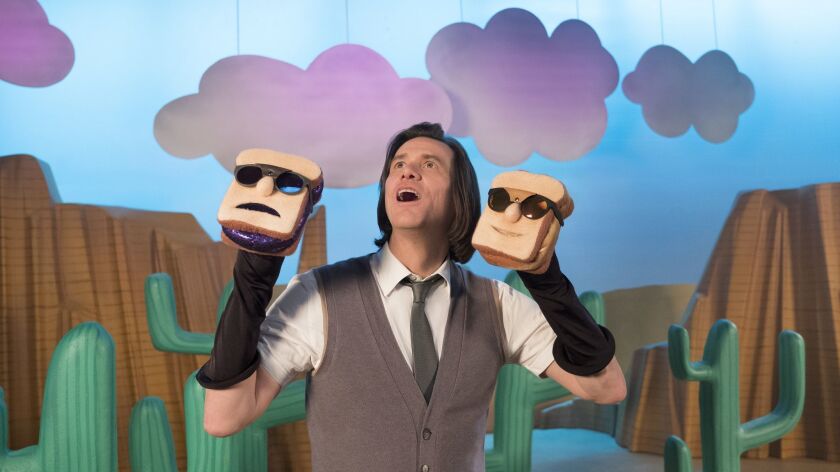 Creator Dave Holstein has fashioned a story about Jeff Piccirillo, a.k.a. Mr. Pickles (Jim Carrey), a performer in the Mister Rogers mold who is barely holding his world together a year after the death of his son. His efforts at dealing with grief are met with impatience from his show producer father, Seb (Frank Langella), anger from ex-wife Jill (Judy Greer) and patchy understanding from puppeteer sister Deirdre (Catherine Keener). Director and executive producer Michel Gondry ("Eternal Sunshine of the Spotless Mind") adds his signature melancholic whimsy to the proceedings.
The reviews: The Hollywood Reporter's Tim Goodman praises the show's originality, "keen self-awareness, exceptional writing and consistently great acting," which contributes to Showtime's "best and most binge-worthy series in a long time." But Variety's Caroline Framke is more equivocal. "It tries to capture the kind of strange and bruising tone that made 'Eternal Sunshine' so good; sometimes, it even succeeds. But more often than not, 'Kidding' feels caught between too many tones and ideas to become quite as distinctive as it could be."
The scoop: Gondry says his main contribution was "to ground the character and make sure that he was not too much outside reality, and make in a way a merging between Jim and his character." He also designed roughly half of Mr. Pickles' puppets. "I don't have this culture of the hand puppet because it was not really used in France," he notes, adding they didn't want any resemblance to "The Muppet Show." "We really wanted to create a unique universe, so the fact that I was not really exposed to this type of puppet when I was growing up helped with that."
'Maniac' (Netflix)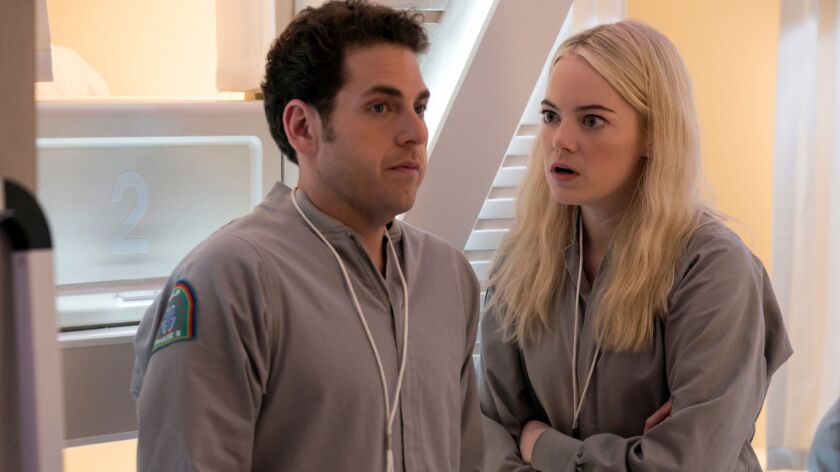 Patrick Somerville and Cary Fukunaga developed "Maniac" based on a Norwegian series. Emma Stone and Jonah Hill star as Annie and Owen, two deeply troubled souls who meet during an equally troubled drug trial, set in a recognizable yet slightly dystopian America. As they navigate the trial's dubious regimen, they are forced to revisit the damage in their pasts through induced hallucinations, in which they often end up together. But it's a lot stranger than that.
The reviews: Brian Tallerico from RogerEbert.com calls it "a fascinating, brilliant show," adding, "I needed 'Maniac' in ways I didn't even understand before watching it. You could say it was the perfect drug." But Collider's Allison Keene likens the show to "watching someone else's dream. That's both good and bad" because "some scenes are left mid-thought, while others take long detours that aren't particularly interesting."
The scoop: As director, Fukunaga ("True Detective") says that they didn't think of the show's surreal elements until later in the development process, "and it came out of the idea of normality," and what that entails. "The baseline reality needed to be somehow off kilter, one step away from our own. It wasn't just to be weird and futuristic, it was really just to create a shift," giving the audience a sense of being a stranger in a world that was a few degrees askew. Likewise, the myriad film genre settings for the hallucinations: "Everything had a seed somewhere in baseline reality, whether it was Cary Grant in 'To Catch a Thief' on screen in the background, or the idea of the mob mentality of Owen's family — it all kind of had ties to reality."
'Lodge 49' (AMC)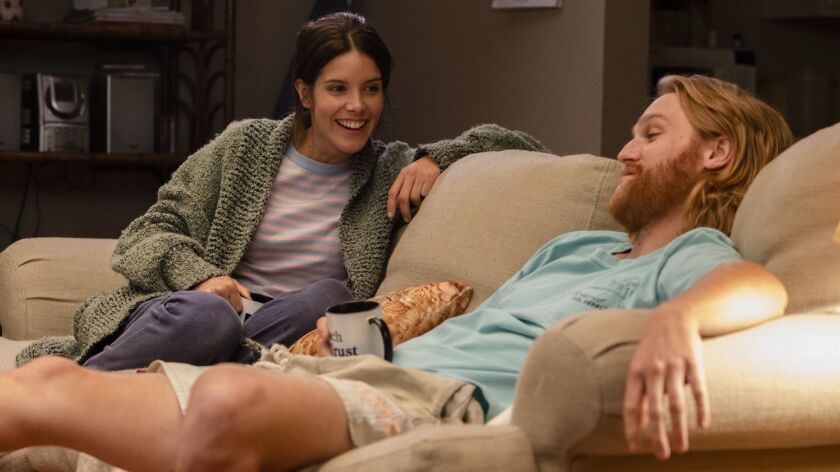 Created by Jim Gavin, "Lodge 49" centers on a sweet, slightly doofy former surfer named Dudley (Wyatt Russell), who goes by Dud and embodies the nickname. With no job or home, limping badly thanks to a deadly snake bite that managed not to kill him, and aching for the father he lost a year earlier to an apparent drowning, Dud is a lost soul — until he finds a ring from a local lodge, part of the Order of the Lynx. He believes that Lodge 49 and its inhabitants will give his life meaning. As he embarks on his quest, Dud is surrounded by other lost souls, including his sister Liz (Sonya Cassidy) and lodge member Ernie (Brent Jennings). The occasional hallucination is par for the course in this oddly timeless Long Beach setting.
The reviews: Hank Steuver of the Washington Post calls Lodge 49 "exactly the right kind of weird," noting that the supernatural moments "never get in the way of the show's essential and delightful magic." Indiewire's Ben Travers isn't as convinced: "While each hour can feel like a respite from dense dramas of overwhelming intensity, the Southern California story also feels minor to the point of being inconsequential."
The scoop: Russell plays the woebegone Dud with a heart as open as the ocean he's afraid to return to. "Very rarely do you get to be able to play a protagonist who leads with joy," he notes. "Normally, when it's some really difficult dilemma that they're in, you're always dealing with the negativity inside of the obstacle. With Dud, you get to deal with the joyful aspect of the obstacle, which is why I loved going to work every day."
---
From the Emmys to the Oscars.
Get our revamped Envelope newsletter, sent twice a week, for exclusive awards season coverage, behind-the-scenes insights and columnist Glenn Whipp's commentary.
You may occasionally receive promotional content from the Los Angeles Times.