Michael Douglas brushes up on his comedy skills with 'The Kominsky Method'
The first time he starred on television playing the swaggering young detective in "The Streets of San Francisco," Michael Douglas never would have imagined that 47 years later he'd be anchoring a TV series devoting two episodes to his character's enlarged prostate. But in the new Netflix black comedy "The Kominsky Method," Douglas delivers a Golden Globe-nominated performance as narcissistic acting teacher Sandy Kominsky. Alongside Alan Arkin as his death-obsessed agent, Norman, Sandy braves the indignities of aging armed with snappy patter crafted by the show's creator, Chuck Lorre of "Big Bang Theory" fame.
Speaking from a Santa Monica hotel the day after celebrating his father's 102nd birthday in Beverly Hills, Douglas says, "When Chuck came to me with his pilot script that finds the humor in getting old, I assumed we would be getting into all the warts and blemishes of old age. The writing had a great rhythm to it so I decided, 'I want to drink some of that Kool-Aid.'"
Douglas elaborates. "Having done a fair amount over 50 years, the two areas on my bucket list I hadn't focused on much were green screen, which I finally did with the Marvel ["Ant Man"] pictures. And comedy. I guess I've got a couple to my credit -- "Romancing the Stone," maybe "The American President," and "Wonder Boys" -- but I wouldn't say I've been renowned for my comedy."
In characterizing his 40-plus-year movie career as a "fair amount" of work, Douglas understates the case. He quit "Streets" to produce the Oscar-winning "One Flew Over the Cuckoo's Nest," starred in the now-classic popcorn thrillers "Fatal Attraction" and "Basic Instinct," earned the lead actor Academy Award for playing Gordon Gekko in "Wall Street" and surprised just about everyone five years ago with his Emmy-winning performance as Liberace in "Behind the Candelabra."
FULL COVERAGE: Get the latest on awards season from The Envelope »
But the half-hour comedy format remained largely unexplored. "It's been a wonderful ride," Douglas says. "Chuck Lorre used to play jazz guitar, so he has this musical way of riffing in his scripts. You go at a certain pace for a while, and then you pause, there's a silence, and then you go at that faster pace again. I've found that in this show, timing is just as important as the dialogue."
Douglas met co-star Arkin only a few days before shooting began, but the veteran actors clicked via their characters in an opposites-attract kind of way. Douglas explains, "Sandy's career is going nowhere and he's a three-time loser in marriages, so there are only two ways to go, up or down. At this point in his life, Sandy realizes he'd better be positive. That's a nice contrast to Norman and gave me a great understanding of how comedy plays: If one character kvetches all the time, the other guy has to go in another direction."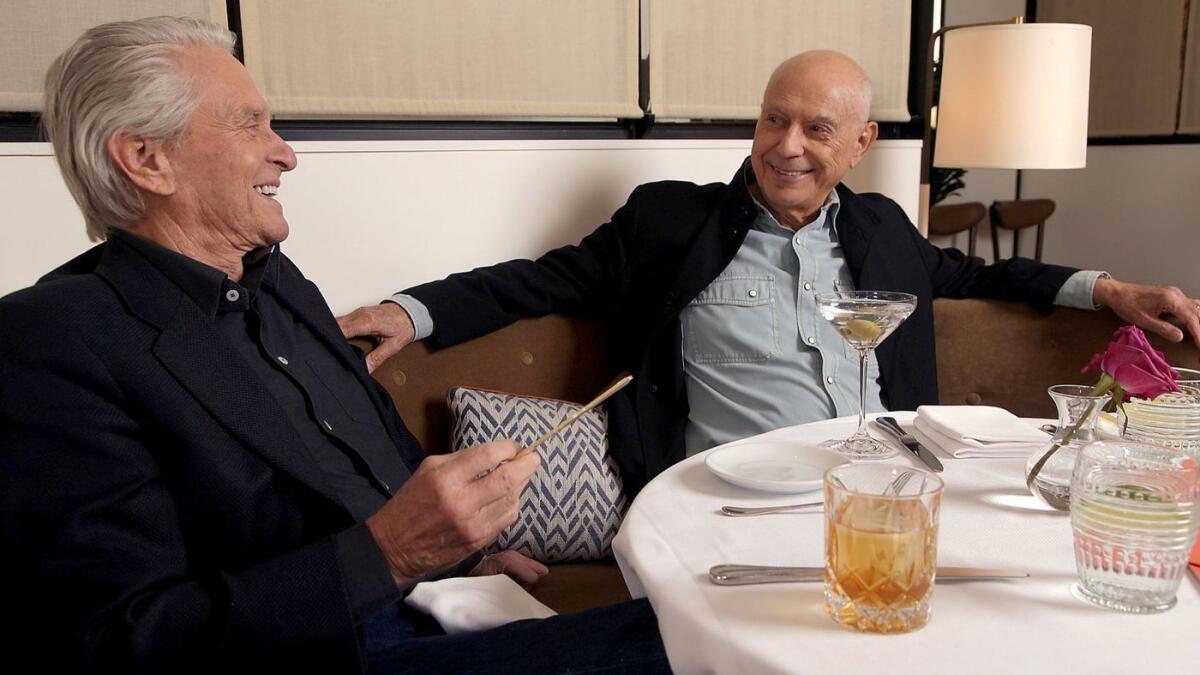 The dynamic "Kominsky Method" duo tangles with death (complicated by a posthumous demand for a coffin made of driftwood), dementia, disease (that pesky prostate is treated by Douglas' old friend Danny DeVito as a rubber-gloved urologist), resentful children and eminently logical divorcée Lisa (Nancy Travis), who takes a shine to Sandy after enrolling in his class. Douglas says, "Lisa acts as this great kind of a mirror to Sandy's more absurd ideas and his self-involvement. She tells him, 'You amuse me,' which I think are her strongest words of passion."
While L.A. drama classes run by an out-of-work actor turned self-appointed guru might seem ripe for lampooning, à la HBO's "Barry," "The Kominsky Method" finds most of its laughs outside the classroom. "This show takes acting seriously, which is one of the things that attracted me," Douglas says.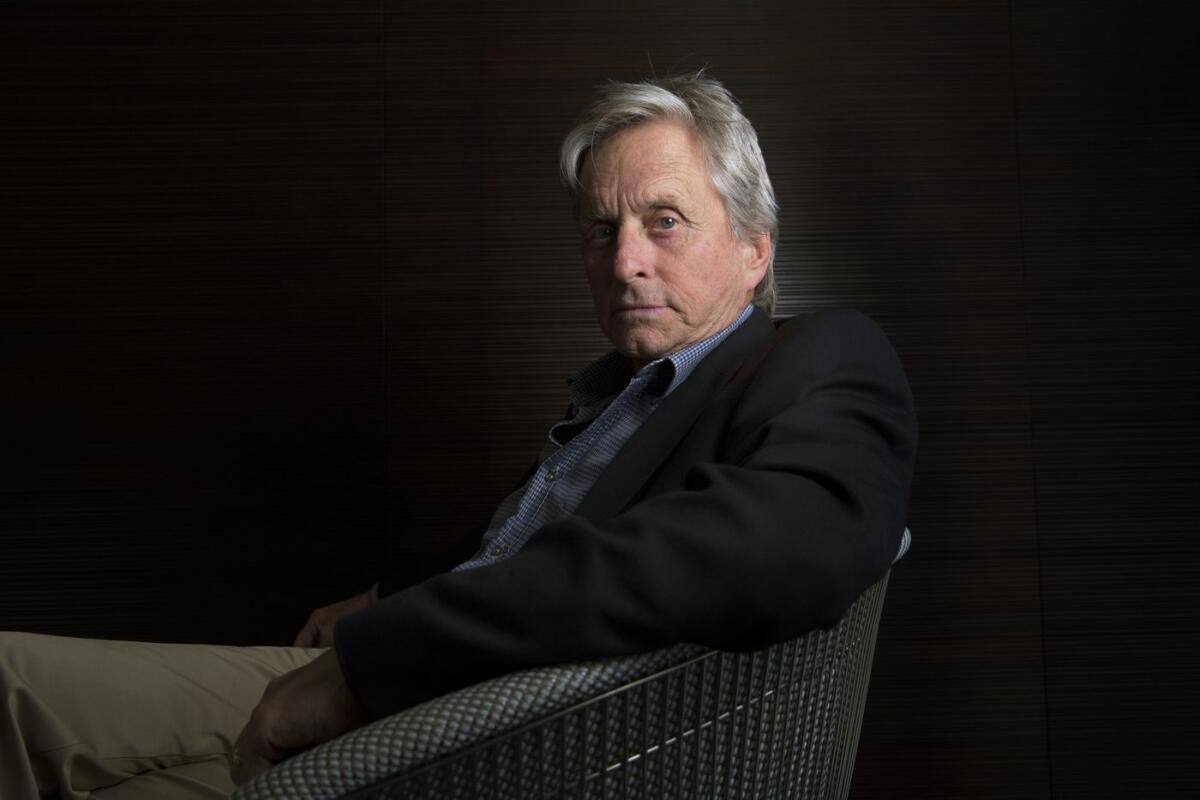 "I vividly remember my own acting classes in New York early in my career. I was not a competent actor at the time and suffered a lot of stage fright, so I relied on those classes to get better." Douglas, 74, hopes Netflix renews the show for a second season. If his real-life mentor serves as any indication, there's plenty of life left in Sandy Kominsky and his "Method."
"I had an acting teacher named Wynn Handman who was one of the most renowned coaches in New York," Douglas recalls. "Wynn is now 96 years old and he's still teaching classes."
From the Oscars to the Emmys.
Get the Envelope newsletter for exclusive awards season coverage, behind-the-scenes stories from the Envelope podcast and columnist Glenn Whipp's must-read analysis.
You may occasionally receive promotional content from the Los Angeles Times.