For 'Graves,' Nick Nolte channels a real president — no, not that one — and Sela Ward does more than stand by her man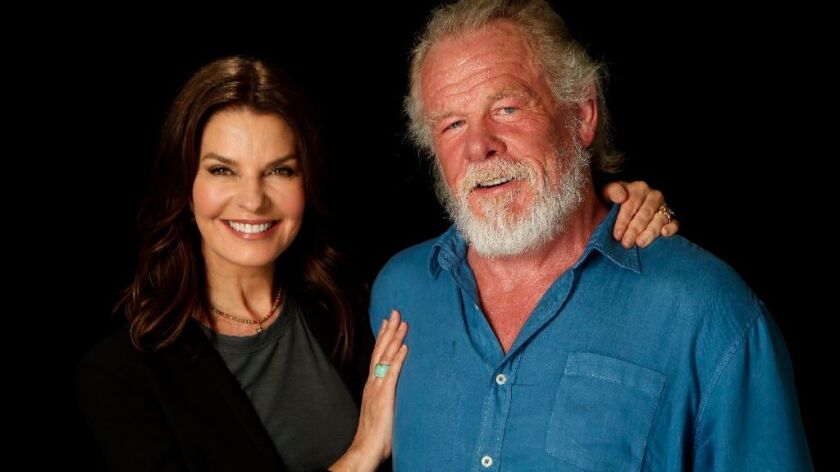 Between them, Nick Nolte and Sela Ward have nearly 150 movie and TV credits. But the pair had never worked together until "Graves," the freshman comedy on Epix about a former president (Nolte) striving to repair the errors of his past, his ambitious wife, Margaret (Ward), and their loopy extended family. "Graves" has already been renewed for a second season, which starts shooting this month.
The Envelope recently sat down with Nolte, a three-time Oscar nominee ("Warrior," "The Prince of Tides," "Affliction") making his first foray as series TV star, and Ward, former star of the acclaimed TV series "Sisters" and "Once and Again," and the conversation turned to the origins of "Graves," the current stormy political landscape and the magic possibilities of a Trump tweet.
Nolte: My business partner, Greg Shapiro, said to me five years ago, "Will you do television?" And I said yeah. He said, "How about a retired president, 25 years out of office, how he's changed his mind? It's got to be the highest-pressured job there is. You've got to make decisions and mean it." I said, "Well, that's interesting."
Ward: I'm a huge fan of Nick's. Do you know that?
Nolte: Yeah, you told me a couple of times.
Ward: I read the script and went, "Oh my God, this is so well written and smart." It's smart, clever, conscious material — and it's a comedy. I started out in this business in comedy and once I got a TV drama, I couldn't get arrested in comedy.
How do you think the new administration might influence Season 2?
Nolte: Well, you can only look at the Trump presidency and say, "My, what marvelous material." I'm sure we'll use it in some way. I hope we don't garner a tweet back.
But think of the publicity!
Nolte: Well, we'll be as subtle as we can. Maybe he won't pick it up. Maybe he won't but maybe he will. This is a different kind of presidency than there's ever been.
The relationship between the former President Graves and Margaret, the former first lady, might be deeper than some viewers expect. Margaret tries to get him out of his jams; he served as president, but she's the glue that holds the family together. After he destroys his presidential library in a symbolic act of protest in Episode 1, she's the one who comes to rescue him.
Nolte: I said to Sela, "Let's have a relationship in which they ..." what was the word I used? They dignify each other. Their long-term relationship is about dignity and respect of each other. He is looking out for her, she looks out for him.
Ward: They honor each other.
Many people have compared President Graves to Ronald Reagan.
Nolte: If you look at Reagan, it was the facade that he put out: He became a Great Communicator. Well, I don't think he had the greatest voice, but—
Ward: But he had that same thing that Clinton had, the same ability to speak to the heart of people. That's the difference. They knew how to speak to someone and look at a person in front of them like they are the only person there and like they really matter.
Nolte: Obama had that ability too. Hillary didn't, but I think one of Hillary's problems was she had been at the dance too long. It was almost like she has been in the public eye for so long, that by the time she gets up here to run for that job, I don't know if she had anywhere to go to be able to find that connection.
Do you think "Graves" has been able to capitalize on people's fascination with presidential politics over the last year?
Ward: The unfortunate thing in Season 1 was that no one could find the show because it was Epix's first foray into original programming. So DirectTV didn't carry Epix, for instance. We made a deal with Apple TV, and it's on Amazon. But when it first aired, which was last December, everybody was going, "How can I find it?" It really hasn't been seen by a great number of people.
Nolte: I ran into some farmers out in New York and a couple of guys addressed me as "Mr. President."
You think "Graves" could end up running as long as a presidential administration — like, four years or longer?
Nolte: Could be. But I'll be 80.
See the most read stories this hour »
---
From the Emmys to the Oscars.
Get our revamped Envelope newsletter for exclusive awards season coverage, behind-the-scenes insights and columnist Glenn Whipp's commentary.
You may occasionally receive promotional content from the Los Angeles Times.