Rhea Seehorn on reading a 'Better Call Saul' script: 'I'm not dead yet. Are you dead?'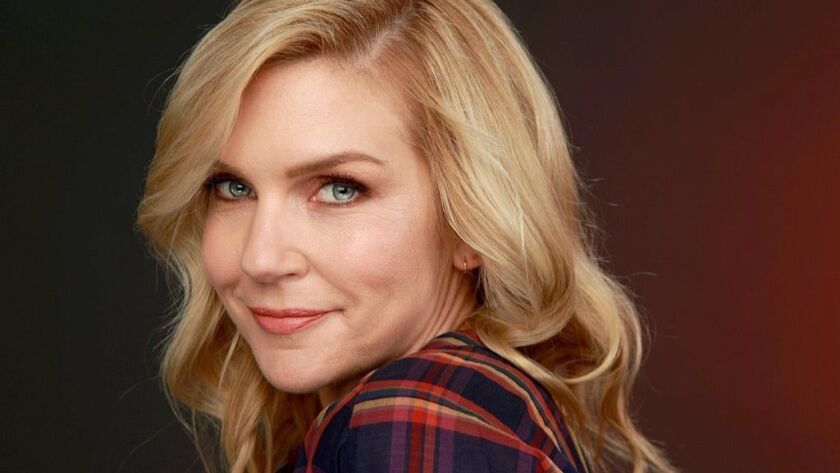 When Rhea Seehorn dropped by The Times' studio last month, she was just about to head to Albuquerque to begin filming the fifth season of "Better Call Saul." Everyone's worried about Seehorn's character, ace attorney Kim Wexler. During a video interview, we asked Seehorn about all the chatter surrounding Kim's (doomed?) fate as well as rooming with castmates Bob Odenkirk (who plays Jimmy McGill) and Patrick Fabian (as Howard Hamlin).
So … Season 5. Spill the beans.
[Laughs] They don't give me any beans, so I can't spill them. We just got the first script, which I can't say anything about. But we only get them one at a time anyway. Patrick Fabian and I call each other every time we get a script. "Flip, flip, flip, flip, flip, flip. Not dead. Are you dead? I'm not dead. Are you dead?"
Do you ever read interviews with [co-creators] Peter Gould and Vince Gilligan, looking for clues?
Sometimes. Sometimes you find out things from Twitter, where I'm like, "Oh, really?" Or, I hear there's a lot of info on Reddit. With Peter and Vince, you never know what they're going to say that's going to elicit that squirrelly brain of yours that's like, "Oh, he's going to kill me."
"Better Call Saul" star Rhea Seehorn shares her story about why she wore a real cast for a scene and how she accidentally spilled soup all over herself.
It's interesting to read the interviews with Peter. It's obvious he loves you. He loves Kim. And there's this progression in his answers. "I'm worried for Kim" turns into "I'm terrified for Kim."
That's exactly why, after a while, I'm like, "You know what? I don't think I need to read these."
It's better not to know.
There are ends to Kim's story that at this point would be worse than death. Some of those would be quite tragic. There are stories I could envision where she stayed with Jimmy and became something that's tragic.
Right. We've gone from kind of wishing Jimmy and Kim could stay together to dreading that might actually happen.
They did a really smart thing with making sure that none of the characters are fixed points in space. Kim's not this stock, saintly character. She's moving at her own pace and sometimes jaggedly so. The question of what those two would do is different now than it was in Season 1.
Is Jimmy dragging down Kim? Or is Kim facilitating Jimmy's slide into Saul?
Would Jimmy have become Saul if he never met Kim? Would Kim's trajectory be the same, different, or how would it be different if she never met Jimmy? They're good questions that I think are quite philosophical and interesting to think about.
"Better Call Saul" star Rhea Seehorn shares her experience filming a pivotal scene on a rooftop with costar Bob Odenkirk.
The last time we saw them together was when Jimmy tells Kim about conning the panel at his reinstatement hearing and revealing his plan to practice law as Saul Goodman. She did not look pleased.
That was a complex ending that was fun to play. It's alarming and then also the fact that she felt scammed. And now she doesn't really understand what he's doing with the Saul Goodman thing, but at the same time, they've been smart to never make … Kim is not dense. She's not being snowed. So the gulf between how well they actually know each other has been growing, and that's sad and alarming.
It remains to be seen what that full reaction will be. And where is he going with that? Because sometimes people will say, "I just can't imagine Kim would stay with somebody that would order a hit on someone." I'm like, "Well, Kim hasn't seen 'Breaking Bad.'" I can't play that. [Laughs]
You and Bob and Patrick rented a house in Albuquerque last year for the Season 4 shoot. It must have worked out well because you're living together again.
We are! Last year, I was concerned mostly because I can be a really big loner. I don't like to be lonely, but I need the counter to how social my job is, so I'm constantly recharging with alone time. But we did get a house that enables that. It would be really good for MTV's "The Real World." There's a big, communal section, but then there's offshoots of bathrooms and bedrooms by themselves, so you can totally be alone if you want to.
You're not sharing a bathroom with Bob Odenkirk.
Right. I get my fill of teeth-brushing scenes with Bob Odenkirk from our show.
Twitter: @glennwhipp
---
From the Emmys to the Oscars.
Get our revamped Envelope newsletter, sent twice a week, for exclusive awards season coverage, behind-the-scenes insights and columnist Glenn Whipp's commentary.
You may occasionally receive promotional content from the Los Angeles Times.