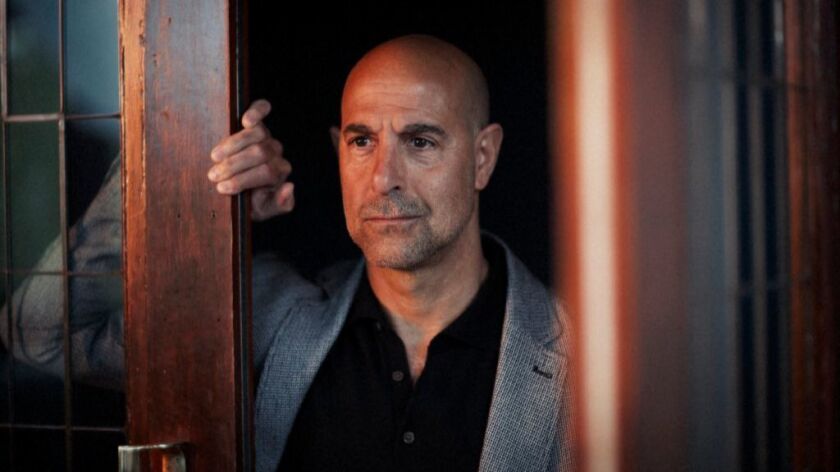 Reporting from London —
There's a moment when you sit down with Stanley Tucci where you're afraid he might yell at you. Not because Tucci is a man prone to yelling, nor because he seems like an unfriendly guy, but because his work on FX's "Feud: Bette and Joan" has left a somewhat terrifying mark. Of course, Tucci is nothing like Jack Warner, the fearsome, misogynistic studio executive he portrayed in six episodes of the anthology series. Tucci's role is seminal, although not necessarily vast, largely because the focus is on the ongoing battle between Hollywood stars Bette Davis (Susan Sarandon) and Joan Crawford (Jessica Lange). Still, as Warner, Tucci shakes the screen. From the premiere episode, in which Warner uses a crass expletive to refer to Davis, the character gives a memorable impression.
"You go with what is there written on the page, which is really fascinating and brutal," Tucci explains, sitting in a café in London near the home he shares with his kids and wife, Felicity Blunt. "But he was really funny. He chews the scenery and therefore I do. That's just very satisfying. It's so well written and there are really funny jokes in there."
Tucci mined the Internet for footage of Warner, finding a helpful moment in a series of outtakes filmed in the 1950s when Warner was attempting to promote that year's slate of films. In the clips, Warner curses and continually messes up, revealing telling ticks that Tucci used in his performance. The actor took on the role without actually seeing any scripts but felt that the most important aspect was following the narrative presented by creator Ryan Murphy rather than the historical truth of Warner.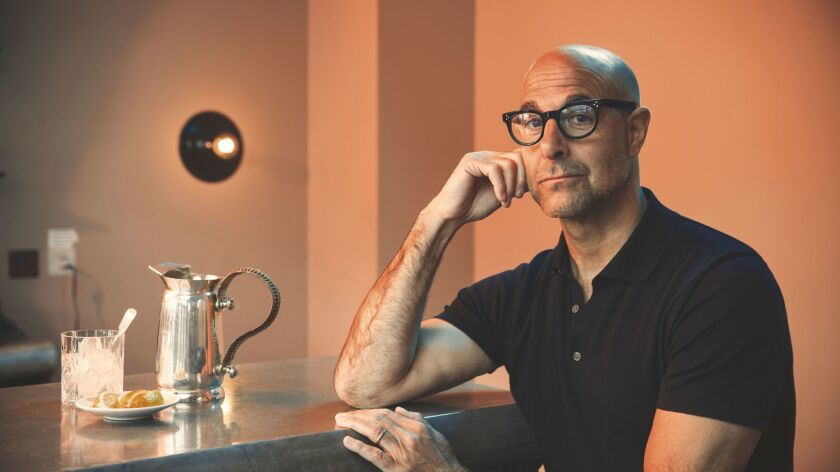 Being true to him is just being this outwardly very charming, fast-talking, well-dressed fella — and then behind the scenes he's a ruthless misogynist.
Stanley Tucci
"You want to be true to the piece, number one, and you want to be true to him," Tucci says. "Being true to him is just being this outwardly very charming, fast-talking, well-dressed fella — and then behind the scenes he's a ruthless misogynist."
The actor pauses. "But look what's happening now," he continues. "Look at the Bill O'Reilly thing. Look at the Roger Ailes thing. It's all the same. They're just better at covering it up now. Before you didn't cover it because it was just sort of a given. Unfortunately, a lot of men still behave that way. They get away with it because they're in positions of power. Look who is running our country. That's the same kind of person as Warner, but not as good of a businessman."
Filming "Feud" in late 2016 and early 2017 marked the first time Tucci has returned to shoot a project in Los Angeles for several years. He moved to London nearly four years ago, and he's found his niche in the city's cultural landscape, taking in all the theater and art available here. He shot a week on this month's "Transformers: The Last Knight" in Britain and recently received distribution for a film he wrote and directed called "Final Portrait," in which Geoffrey Rush plays Italian artist Alberto Giacometti, which he also shot here. He remains mostly out of the loop on any awards chatter (although he acknowledges any Emmy attention for "Feud" "would be great because I think the show's really good").
The actor has learned that it's important to stay open to what comes, both in one's career and in life. Saying yes to "Feud" gave him an experience he describes as "incredibly fun" and offered him an opportunity to spotlight the sexism that continues to rage through Hollywood and the rest of the world. It may not be a conscious choice that Tucci often appears in projects led by strong women, but it doesn't necessarily seem like an accident either. He is concerned with what his work says, and in this case "Feud" is proffering a realization that Hollywood still needs to fix a few issues around gender.
When you read scripts you can have a character who is sexist, but sometimes you feel the script itself is sexist. What's the point of that movie?
Stanley Tucci
"When you read scripts you can have a character who is sexist, but sometimes you feel the script itself is sexist," Tucci notes. "What's the point of that movie? I'm not interested in that. If the character is a sexist, like Jack Warner, and there's an incredibly complex character there, then it's interesting. Otherwise it's gratuitous and what's the point?"
As an actor, he has simple expectations: He'll take on anything — TV, film or anything else — if it feels interesting and it's something he hasn't done before. "To me, if it's good work it's good," he shrugs. "It doesn't matter where it is. Is the script good? Is the director good? Is it an interesting role? Then do it."
See the most read stories this hour »
ALSO
Even Bette Davis wanted 'Feud' star Susan Sarandon to play her
---