'Assassination of Gianni Versace' delves into the mind of a killer — and societal prejudice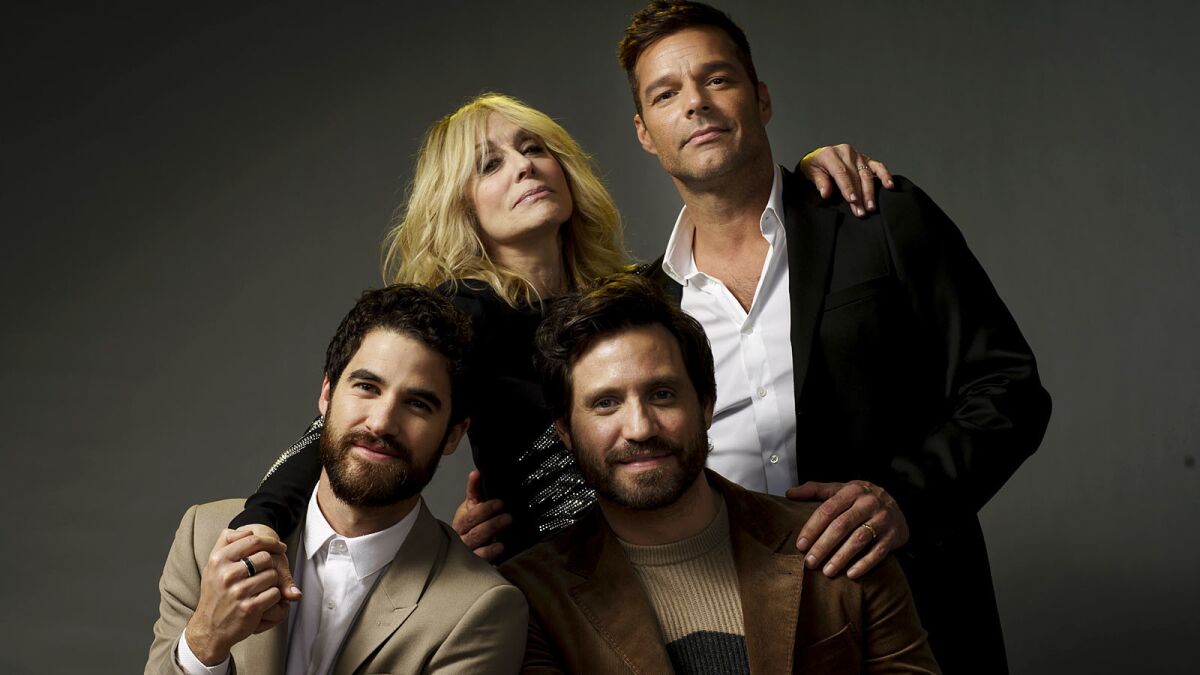 "American Crime Story," one of the anthology series from Ryan Murphy's oeuvre, had a splashy launch in 2016 with its focus on the highly visible O.J. Simpson murder trial — its review of charged, prescient themes like systemic racism, sexism and media culture translated into ratings success and award show acclaim. This year's follow-up to the FX franchise, titled "The Assassination of Gianni Versace," set its sights on a case that grabbed headlines but whose societal imprint hadn't generated nearly the same examination.
The second season focused on the mysterious backstory of spree killer Andrew Cunanan, a gay gigolo and prolific liar who killed four men before his infamous 1997 murder of groundbreaking Italian fashion designer Gianni Versace — one of the few openly gay celebrities of that time. (Cunanan, 27 at the time of Versace's murder, would kill himself days later.)
In the midst of unpacking all of that, the drama presented a striking portrait of homophobia in the 1990s by examining the injustice that was steeped in societal prejudice — particularly in regards to how police officials handled the case — and the toll of hate, from outside and within.
"The underlying theme was homophobia," said Edgar Ramirez, who played Versace. "The show talks about the open and raging political homophobia on one side, and it also talks about the internalized — and even more dangerous — homophobia within. What I love about this whole project is how, almost in the likes of a Greek tragedy, it touches upon subjects that are important and that are culturally and socially relevant today more than ever."
People always ask, 'What's it's like to play a spree killer?' If you boil it down to just that, that's not who he was. It's what we know him for.
— Darren Criss on Andrew Cunanan
In addition to Ramirez, the ensemble cast included Darren Criss as Cunanan, singer Ricky Martin as Versace's longtime boyfriend, Antonio D'Amico, and Penélope Cruz as Versace's sister and design partner, Donatella.
The dramatization is based on the book "Vulgar Favors: Andrew Cunanan, Gianni Versace, and the Largest Failed Manhunt in U.S. History" by journalist Maureen Orth and begins with Cunanan gunning down Versace on the front steps of his lavish Miami Beach home before pivoting into a reverse chronological narrative as a means of studying Cunanan's psyche and motives.
Criss, who before "Versace" had largely been known for his bright-eyed turn in Murphy's musical series, "Glee," was struck by the psychological mapping the role required.
"There's a lot of different ways we could have written Andrew, because there's a lot of different ways anybody can glean who he was or what really made him tick," Criss said. "People always ask, 'What's it's like to play a spree killer?' If you boil it down to just that, that's not who he was. It's what we know him for. But if you think of all the worst things that anybody's ever done in their life, the amount of time they spent doing that horrible thing is in the severe minority of the infinite minutes, hours, seconds, moments of their life. Again, I'm not saying this by any means exonerates him from those horrible minutes of his life, but it does beg the attention of the other moments."
Even before it premiered in January, the drama was denounced by those close to Versace. D'Amico came down hard on the drama after photos from the series leaked online saying the production was taking too much poetic license with its interpretation of events; and Versace's family, in a statement, referred to the series as a "work of fiction" and noted they were not involved in the making of it.
That's not to say Cruz and Martin — the only main cast members playing real life people who are still alive — didn't have contact with Donatella and D'Amico, respectively.
"If [Donatella] would have told me, 'I don't want you to this,' I don't think I could have done it," Cruz said, "because I am playing somebody who is real and it's about this tragedy that happened to her brother. But she said if somebody was going to play her, she was happy it was going to be me. She said, 'Ask me anything you want.' We talked for about an hour."
Martin used his conversations with D'Amico as an opportunity for emotional guidance. "I just asked a bunch of questions: 'What did you feel when you were being interrogated? How did you feel when [Versace] came out and he acknowledged you for the first time as his partner?' He was so generous, but once again, it was difficult for me to ask the questions because I know I was bringing him to places that he hadn't been in 20 years. But he was very open."
While Versace's name brings heft to the narrative, the drama was just as invested in bringing attention to Cunanan's lesser-known victims — Gulf War veteran and Cunanan's good friend Jeffrey Trail; architect and Cunanan's unrequited love David Madson; real estate mogul Lee Miglin; and cemetery caretaker William Reese — and the people whose lives were affected by those murders.
One of the most important factors in watching this is to see that, to whatever degree, we still have that [homophobia] going on in our culture.
— Judith Light
One performance that drew attention was Judith Light's portrayal of beauty product empress Marilyn Miglin, the wife of Cunanan's third murder victim. "A Random Killing," the third episode of the season, suggests that Cunanan was a paid escort who had a relationship with Lee (played by Mike Farrell) and killed him while his wife was out of town on business. (The Miglin family has denied that Lee ever met Cunanan.)
Light says she hadn't known much about Cunanan's killings prior to joining the series. But she remembers the ethos of the time distinctly.
"I didn't really know much about Cunanan's prior victims," she said. "So I wasn't too familiar with the Miglin case. I remember the Versace killing, and I remember it was a very powerful, visceral experience. One of the most important factors in watching this is to see that, to whatever degree, we still have that [homophobia] going on in our culture."
That function as a sociological yearbook is ultimately what binds "Versace" to "The People v. O.J. Simpson."
"They're very different stories," Criss said. "But they're excellent examinations of a time period that allows a certain thing to happen, which ends up being a crime — but how that crime affects the social landscape is also a crime."
Twitter: @villarrealy
From the Oscars to the Emmys.
Get the Envelope newsletter for exclusive awards season coverage, behind-the-scenes stories from the Envelope podcast and columnist Glenn Whipp's must-read analysis.
You may occasionally receive promotional content from the Los Angeles Times.