Antonio Sanchez's soaring beat takes flight in 'Birdman'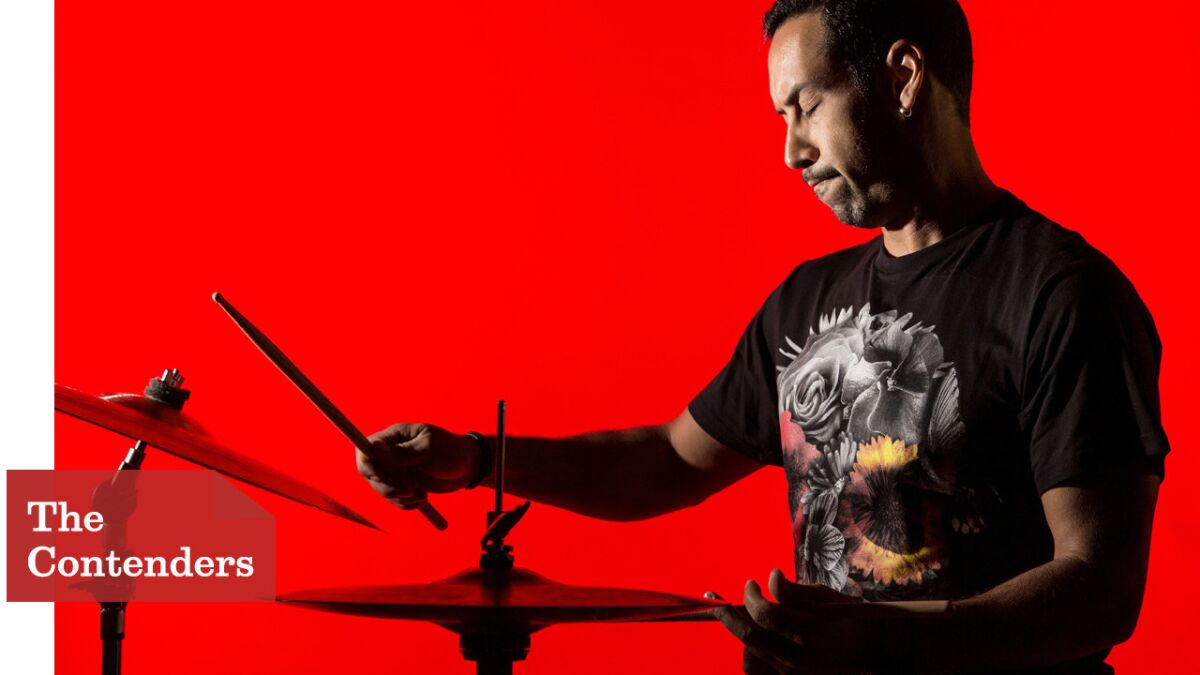 As a musician used to working on the fringes of popular culture, Antonio Sanchez never anticipated that his skills as an improvisational jazz drummer would lead to Hollywood. Then director Alejandro González Iñárritu came along.
Now Sanchez is winning awards and Iñárritu's "Birdman" boasts a groundbreaking soundtrack powered almost entirely by raw, naked drum solos.
Hissing snares and chaotic bursts of percussion accompany a faded film star's (played by Michael Keaton) descent into madness. As his actions become more unpredictable and chaotic, so does the score, taking the audience for a wild and gripping ride.
"Often music is an afterthought in films," says Sanchez, 43, who's a solo artist and member of the Pat Metheny Group. "It seems like the director is afraid it might get in the way of what's going on. But this is really in your face. You can't ignore it. It forces you to pay attention to the music."
And people are. Shortly after the film's release in mid-October, the score won top honors at the Hollywood Media in Music Awards, where Sanchez also performed. A thin and unassuming man with a hipster haircut and calloused hands, he still appears stunned that he was awarded the original score prize over the likes of veteran film composer Hans Zimmer. "Crazy, I know," he says, laughing.
Sanchez, a Mexico City native with a master's in jazz improvisation from Boston's New England Conservatory, was strictly a rock fan until an influential DJ changed his mind. Iñárritu hosted an eclectic radio program, "Magic Nights," in the 1980s that was big around Mexico City. It provided Sanchez with his first real connection to jazz.
"Alejandro was a very eclectic DJ and would play a lot of pop, new wave, jazz," Sanchez says. "The first time I heard Pat Metheny — the person I've been playing with for the past 13 years — was on that radio show. I remember I was about to go to bed and I heard this song. It's not jazz but it's not pop, it sounds instrumental but there's a guy singing. I was hooked."
Fast forward many years later when the Pat Metheny Group played the Universal Amphitheatre in Los Angeles. Sanchez was on his way back to the dressing room after the gig when a fan intercepted him. "He's like, 'Oh, man, just want to say I really liked the concert,'" Sanchez says. "'I'm also from Mexico. I've been listening to Pat Metheny for some time.'
"I was annoyed because I wanted to go and this guy was making small talk. He was nice so I felt obliged to talk to him. 'Thank you, man, so what do you do?' He said, 'I direct films' in a very non-assuming way. I thought, we're in L.A., probably every other guy is a director here. I wasn't particularly impressed. I asked if it was anything I would have seen. He said '21 Grams,' 'Amores Perros.' I was like, 'Oh, my God! That's you.' We hit it off right away."
And that's how Iñárritu knew whom to call last year when he was contemplating a very different kind of sonic backdrop for his Fox Searchlight film. Like Sanchez's drumming, improvisation was the key to putting the soundtrack together, especially in those early phases. "There was nothing for me to look at but the script when we started, and the script lacked a lot of subtext," says Sanchez, who's based in New York. "You're not looking at how the actors will interpret it, how it will be edited when reading a script. So more or less the equivalent is if I told Alejandro, 'I want you to check out my new record,' and I sent him just the sheet music."
Working together was bumpy at first given that Sanchez was a newbie to the film world, and the very concept of the soundtrack was essentially untested ground. "My first instinct was to record rhythmic themes for each character," says Sanchez. "For instance, you see Riggan [Keaton] coming down the street and you hear a certain beat that you can identify him by. I sent those demos to Alejandro, and he said that's the exact opposite of what I'm looking for. I want something that's not scripted, something jazzy. You're a jazz musician. That's what I want."
Once Sanchez was able to visit the set and watch some rehearsals, he sat down and recorded dozens of drum solo demos. Iñárritu also worked with him in New York, cuing Sanchez by hand to punctuate a moment or drop it down to total silence. Those demos were later matched to scenes and eventually pieced together to form a rough idea of the film's soundtrack. Sanchez then came to L.A. to record the final score, using demos that had been Frankensteined together as his road map.
"It was a huge risk, the drumming instead of classic film music," Sanchez says. "It sounds crazy in theory when you think about it, but it works."
Ironically the drummer who appears for a few split seconds on camera in "Birdman" is not Sanchez. It's his friend, Nate Smith. Sanchez was unable to re-create his own solos on film because he was on tour with Metheny.
Like any jazz artist who is actually making a living from his music, Sanchez is constantly on the road. He'll go out again next year when he releases his own record in the U.S., "Three Times Three."
Though Sanchez has made three other albums of his own, worked with Chick Corea and played on three Grammy-winning Pat Metheny Group albums, the newfound attention spurred by "Birdman" is still a bit uncomfortable for this otherwise understated artist.
"I have this other life I've been cultivating and working hard at for years, which is as a jazz musician and composer," he says. "So all a sudden to be in the spotlight for a movie like this, it's strange. To be at those awards and to win it, I'm guessing some people are hating me. I wouldn't be surprised; I would probably hate me too."
Follow me on Twitter: @lorraineali

Get our L.A. Goes Out newsletter, with the week's best events, to help you explore and experience our city.
You may occasionally receive promotional content from the Los Angeles Times.