'Les Miz': Hugh Jackman prepped with weights, washcloths, desire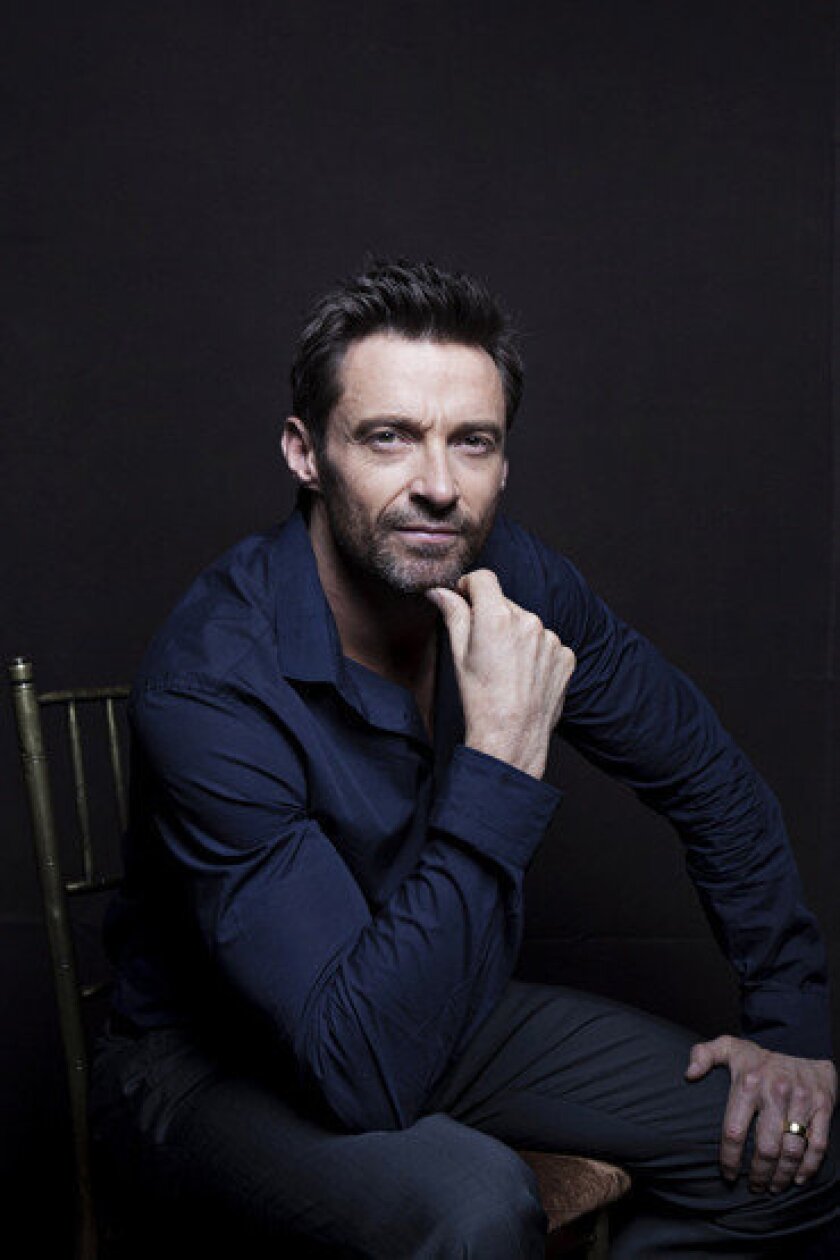 To make the part of Jean Valjean work in the new big-screen adaptation of the Broadway musical "Les Misérables," there's nothing Hugh Jackman wouldn't do. Including singing in the gym.
"If you're an actor, you sign up to make a fool of yourself, and that's what happened," Jackman recalls, outlining the bench-pressing part of his extensive training for the role. Jackman knew Valjean was a physical animal — he'd mixed starvation with hard labor as a French prisoner for 19 years — and the actor wanted to truly look the part. But, he says, "even when I was getting skinny, I'd be bench-pressing and singing at the same time." Otherwise, he says, the neck strain could tighten him up so much he'd be unable to sing correctly.
"People thought I was nuts," he says. "But when there's that much expectation — and fear — you do whatever it takes."
---
FOR THE RECORD:
"Les Miserables" actors: In the Dec. 27 Envelope section, an article about Hugh Jackman and the making of the film "Les Miserables" described Jackman and costar Russell Crowe as fellow Australians. Crowe, who plays policeman Javert in the film, was born in New Zealand.

---
Going to extremes, both ridiculous and serious, in service of Tom Hooper's vision of "Les Miz" has become the subject of much discussion in Hollywood. Jackman and costar Anne Hathaway's severe physical transformations (losing both their hair and a couple dozen pounds) are usually among the first topics brought up. But "Les Miz" put all of its lead actors under the gun when first-time musical director Hooper opted to feature live singing, which forced them to be ready and able to sing as much as 12 hours a day. The care and training of the vocal cords, as nearly everyone discovered, was equally, if not more, rigorous.
VIDEO: Jackman, Hathaway on making 'Les Miz'
"The thing about this form is when you get it right, it offers an emotional power few other forms can," says Hooper. "The full power of melody and music with acting and lyrics — the combination creates a heightened reality. A lot of people in this world think musicals aren't for them — and I wondered if there was a way to have a musical that could break through to non-musical lovers."
He hired a kindred spirit in Jackman: A fan of musicals since he saw a pre-famous Hugo Weaving performing in "Man of La Mancha" while visiting his future theater-focused high school, Jackman found his calling while playing Higgins in "My Fair Lady" ("Eliza became my girlfriend") later on in that same school.
Review: 'Les Miserables' by Kenneth Turan
He credits Trevor Nunn with setting him on the right path to training: For the first three weeks, the director of the 1999 London stage revival of "Oklahoma!" wouldn't let his actors sing a note — they had to speak every lyric as if it were dialogue. "That's what I do today," Jackman says. "I take the lyrics off of the sheet, write them down and make them dialogue. Unless you have a reason to say something, there's no reason to sing it."
Jackman and Hooper were clearly on the same path for "Les Misérables," approaching singing through a prose-colored lens. For the director, the words in Victor Hugo's 1862 novel, on which the musical is based, were obsessively detailed and key to inspiring much of the background for his cast, so he insisted everyone read the book.
"The story endures because it is so universal. It's about a man who's lost in the world, and his soul has become lost, and it's about him making the most important discoveries he can make as a human being," says Hooper. "It's about the importance of dealing with your fellow man with compassion and grace, and about the transformative power of love."
Jackman took that transformation literally: He'd already spent nine years with vocal trainer Joan Lader (who also works with Hathaway) in New York to expand his range; in addition to the gym singing and repurposing of his lyrics, he came to set knowing the care of his voice was priority No. 1. He avoided coffee, warmed up at least 15 minutes each day, kept Ricola lozenges at the ready, drank as much as seven liters of water a day, sat in steam three times a day, took ice-cold baths and, for plane rides, flew with a wet washcloth over his face. "I was constantly breathing in moisture," he says. "Your vocal cords have to be like a rain forest."
But he nearly got derailed from part of his training early on: Though he was in a school where people thought being in musicals was cool, when he talked about dance lessons his older brother "incessantly called me a sissy and a poof," he says. "I didn't actually know what a poof was, but I knew what a sissy was, and so I didn't do it. I wish it was a 'Billy Elliot' story, but I didn't have the guts."
Fortunately, when he was about 18 the family went to see "42nd Street," and afterward his brother apologized. "He told me, 'You should be up there on stage. I was an idiot.'" Jackman signed up for tap lessons the next day.
And he somehow ended up as one of two Aussies (Russell Crowe plays dogged policeman Javert) running around a faux Paris singing in English as two of the most beloved characters ever to rise off a French page. It's a long way from Higgins and Eliza, but Jackman — like Hooper — fully expects that "Les Misérables" will win over skeptics of all kinds.
He's also very pleased it happened now, in his 44th year. "It's only the past two or three years I've been equally at home on the stage and in front of a camera," he says. "I used to get self-conscious and distracted easily — it's taken me a while to just live and be comfortable. The first few years on stage I didn't know what I was doing. Thank God I've had more than one chance to make a go at it."
PHOTOS: Memorable red carpet moments

VIDEO: Go behind the scenes with the awards contenders
---
From the Emmys to the Oscars.
Get our revamped Envelope newsletter for exclusive awards season coverage, behind-the-scenes insights and columnist Glenn Whipp's commentary.
You may occasionally receive promotional content from the Los Angeles Times.