Firefighters get a primer on movie pyrotechnics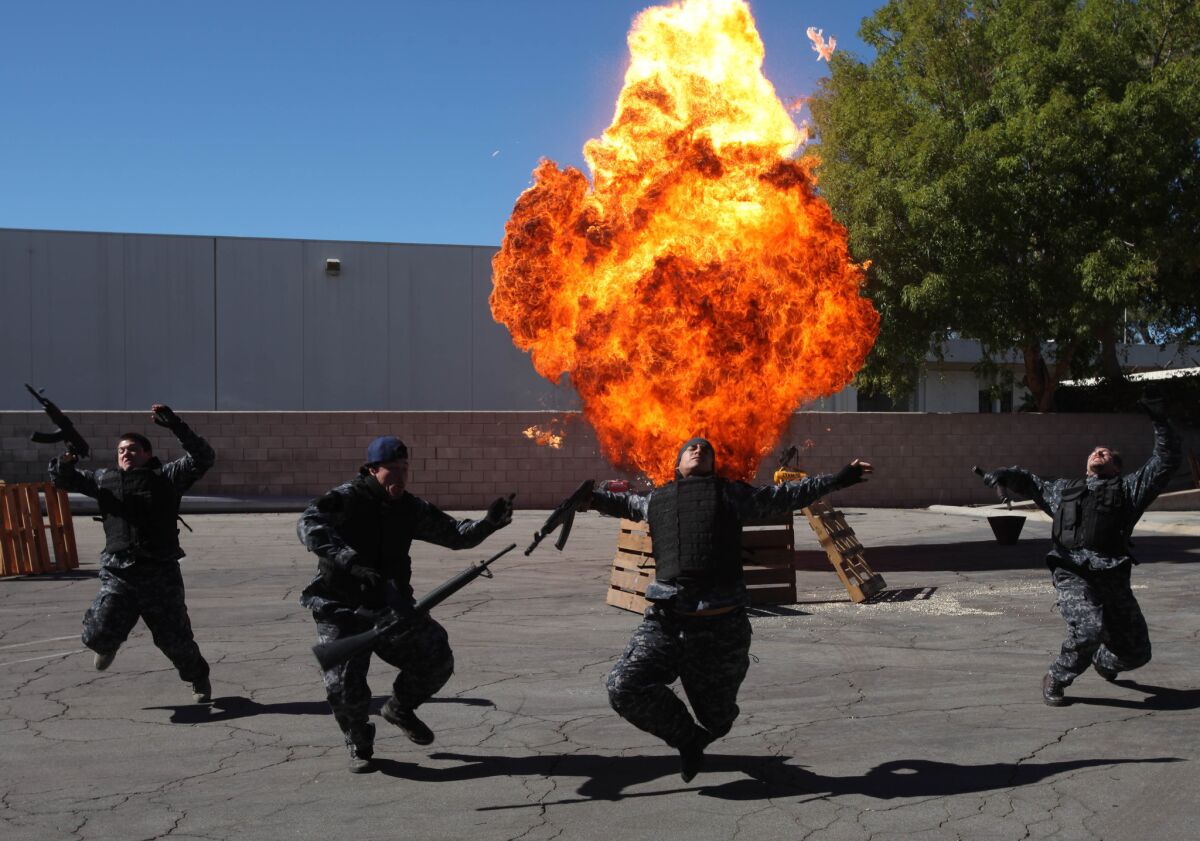 Five soldiers dressed in camouflage and carrying machine guns took cover behind a stack of wooden pallets. One yelled "incoming" and a few seconds later a large explosion ignited behind them, setting off a ball of flame rising 30 feet high. The soldiers fell to the ground from the force of the blast, a concoction of black powder and gasoline.
The scene was one of many pyrotechnic stunts performed Thursday at the Burbank Fire Department Training Center for a crowd of Southern California firefighters who were attending a three-day course on how to become a certified motion picture and television safety officer.
The California State Fire Marshal's office launched the program two decades ago to educate local fire department officials about potential hazards on films sets – including faulty wiring, blocked exits and flammable materials -- and how pyrotechnic specialists and stunt performers do their jobs.
PHOTOS: Hollywood back lot moments
"We're really trying to educate the local fire service as far as the movie industry way of doing things that are out of the norm,'' said Cindy Moore, deputy state fire marshal, adding that most cities and counties in California require fire safety officers on sets when explosives or pyrotechnics are used. "We want to make them feel comfortable with things they are not going to see every day, so when something is going sideways, they can make it a safe environment."
The goal of the program is to create more dialogue between film industry and fire departments that once eyed each other warily. The suspicions deepened after an infamous helicopter crash in 1982 during the filming of "Twilight Zone: The Movie" killed actor Vic Morrow and two child actors, Myca Dinh Le and Renee Shin-Yi Chen.
The tragedy raised questions about the level of safety oversight on movie sets and prompted local fire departments to introduce tougher safety rules for film crews. Some producers balked at the new requirements and took their productions out of state.
ON LOCATION: More from the series
Following the Sept. 11, 2001, terrorist attacks, the Bureau of Alcohol, Tobacco, Firearms and Explosives also stepped up its inspections of film sets and imposed new licensing requirements for people storing and transporting explosives.
State fire officials say the program, which is offered several times a year throughout the state, is an attempt to strike a balance between ensuring compliance with fire and safety rules while also allowing film crews to do their jobs.
Film industry officials tout the course as an asset. "Most other states don't have this type of program,'' said Amy Lemisch, executive director of the California Film Commission, which participates in the program. "It adds to California's competitive advantage because we have the expertise to perform these stunts and special effects safely."
Stunt coordinator Joe Ordaz, who led the stunt demonstration in Burbank, said attitudes toward fire inspectors have changed among his colleagues.
"When I first got into this business, I was brought up to avoid the Fire Marshal--they were the bad guys,'' said Ordaz, who has performed stunts for such TV shows as "Dexter" and big action movies including "Fast & Furious."
"Today, firemen and stuntmen – we're the best of friends," said Ordaz. "From my perspective, the more eyes we have on the set the better so we're all on the same page."
PHOTOS: Hollywood back lot moments
In addition to Thursday's bomb demonstration with the soldiers, Ordaz coordinated a scene in which stuntwoman Heidi Pascoe demonstrated a high fall jump, diving from the third story of a training building onto a large mattress as concussion bombs went off inside the structure.
Working with special effects coordinator Jeffrey Marsh, Ordaz also had himself set on fire, after smearing his body in a flame retardant gel that was cooled to a certain temperature and putting on special protective clothing.
"Any time I do one of these stunts, they [the firefighters] always have their arms crossed and look very uncomfortable," Ordaz said. "It's the last thing they want to see."
After three days of classes and demonstrations, fire inspector Patrick Richardson, with the L.A. County Fire Department, was impressed by the display.
"Beyond all the flash-and-bang stuff, we're learning when we go out on a set what to look for in terms of fire safety,'' said Richardson, who previously worked as a camera assistant and gaffer before joining the Fire Department. "I knew nothing about this side of the business."
ALSO:
L.A. plays Tehran in Ben Affleck caper 'Argo'
'Gangster Squad' adds to L.A.'s Chinatown credits
Mojave Desert town Trona stars in indie horror film 'Lost Lake'
MORE:
INTERACTIVE: TVs highest paid stars

PHOTOS: Hollywood back lot moments
---
Get our L.A. Goes Out newsletter, with the week's best events, to help you explore and experience our city.
You may occasionally receive promotional content from the Los Angeles Times.