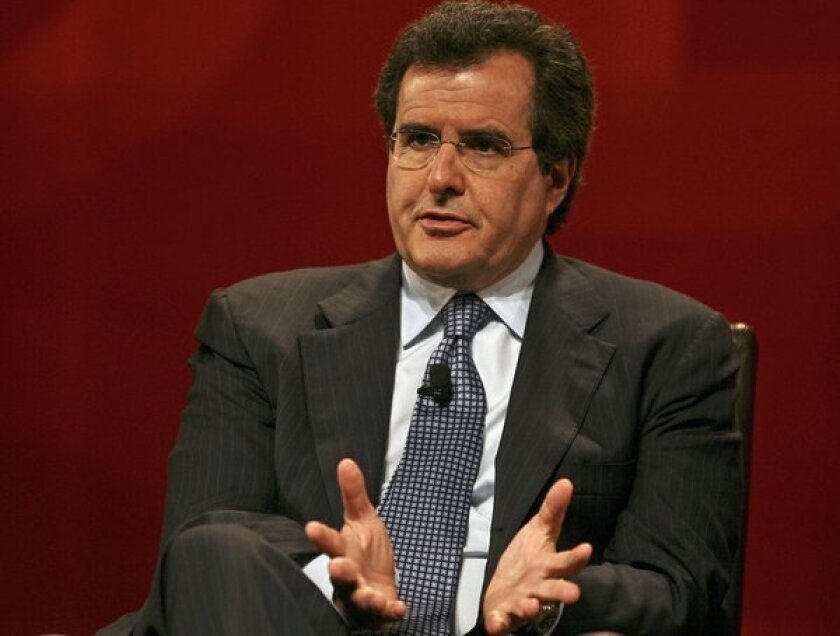 Bidders are circling for the popular video website Hulu, including one of the service's initial architects: Peter Chernin, the former News Corp. president.
Chernin has long been one Hulu's most passionate advocates. His Chernin Group has offered more than $500 million for the 5-year-old website, according to an executive close to the process who did not want to be identified discussing sensitive information.
Other entitities, including technology companies, have expressed interest in buying Hulu, this person said.
Hulu is owned by Walt Disney Co., News Corp. and NBCUniversal. But management of the venture has become a morass as executives of the two managing partners -- Disney and News Corp. -- have been at odds over Hulu's direction. Earlier this year, Hulu Chief Executive Jason Kilar stepped down.
NBCUniversal, owned by cable giant Comcast Corp., surrendered its voice in Hulu's affairs as part of a 2011 agreement with the federal government. Comcast made the agreement with the government in order to win approval of its takeover of NBCUniversal.
The amount being discussed -- a little more than $500 million -- is noteworthy because it represents an enormous drop in valuation for one of the most popular Internet video services. Just a year ago, Hulu was valued at $2 billion.
The value has declined because the media companies that own Hulu have refused to extend the exclusive long-term rights to their valuable TV content. Without exclusive rights or an exclusive window to the content, Hulu is just another video streaming website.
It was Chernin who, along with former NBCUniversal Chief Executive Jeff Zucker, created Hulu in 2007 when media companies were concerned about Internet piracy. But neither Chernin nor Zucker is in the executive suites of those media companies, and their successors have been far less enamored with Hulu and its prospects.
Chernin could not be reached Friday. His spokesman, Charles Sipkins, declined to comment.
Reuters first reported Chernin's interest.
Initially, News Corp. and Disney discussed whether to buy out the other in order to streamline the management. Although several scenarios are still on the table, a buyout by one of the media company partners appears less likely.
ALSO:
Hulu names Andy Forssel acting CEO
Hulu Chief Jason Kilar to exit
Hulu is popular, but that wasn't the goal
Hulu launches Latino service with Spanish-language programming
MORE
INTERACTIVE: TVs highest paid stars

ON LOCATION: People and places behind what's onscreen

PHOTOS: Hollywood back lot moments
---