Imax to go into former Grauman's Chinese Theatre in Hollywood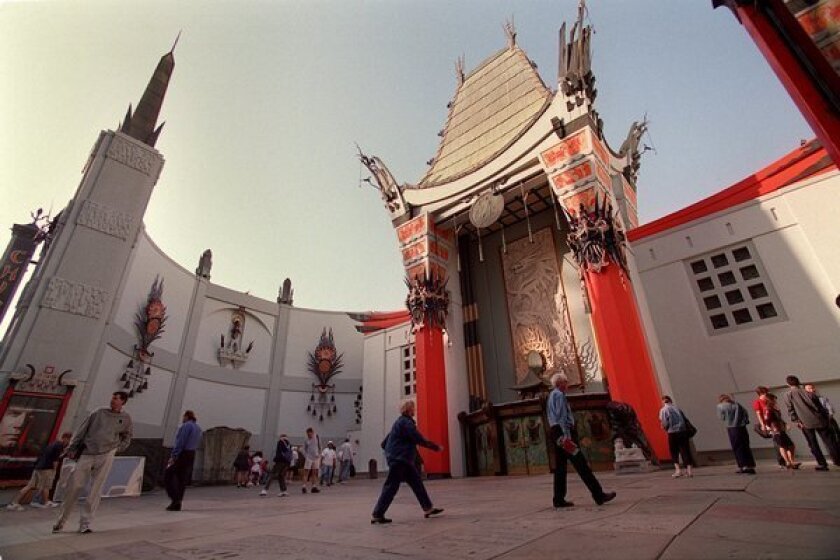 Imax Corp., once a peripheral player in Hollywood, is putting its stamp on the industry's most famous movie theater.
The Canadian big screen theater company, which has offices in Santa Monica, plans to open one of its largest theaters at the former Grauman's Chinese Theatre opened in 1927 by showman Sid Grauman, sources familiar with the matter said.
The deal, which is signed but subject to permit approval by the city, comes three months after Chinese TV maker TCL paid more than $5 million for the naming rights to the historic theater along Hollywood Boulevard, which now goes by the name TCL Chinese Theatre.
PHOTOS: Marilyn and Jane cement their fame
Representatives of IMAX and the Chinese Threatre declined to comment.
Imax plans to make the Chinese Theatre one of its main venues for holding premieres of big budget action movies. The new Imax theater will be 94 feet wide and seat 986 people, making it the largest in terms of seating capacity among more than 730 Imax theaters in at least 50 countries. It would be the third-largest Imax theater in North America, only slightly smaller than Imax venues in San Francisco and Lincoln Square in New York City.
Although Imax has two dozen theaters in Los Angeles County, including AMC Universal Citywalk, none have been large enough to host premieres, an important source of business for Imax.
Once best known for its nature documentaries, Imax has evolved into a major player in the exhibition industry, releasing about 35 films a years, mainly fan boy and action movies like "Dark Knight Rises" and the upcoming "Star Trek Into Darkness." The company, which has offices in New York and Toronto, has more than doubled the size of its theater circuit in the last four years, expanding rapidly in overseas markets such as Russia, Brazil and China, where it has relationships with most major exhibitors.
The Chinese, best known for its gigantic red Chinese pagoda and 30-foot-tall Chinese dragon and the cement foot and hand prints of famous stars, was declared a historic and cultural landmark in 1968 and is one of the most popular tourism draws in L.A. It hosted the Academy Award ceremonies in 1940s and has hosted numerous high-profile premieres, from "The Wizard of Oz" in 1939 to Warner Bros.' recent release "Gangster Squad."
The Imax theater is expected to open by September and with new stadium seating, as well as a new Imax sound system and digital projector, which will later be replaced by a laser projector system that Imax is adding to its circuit. The system, expected to be installed next year, uses patents that Imax acquired from Kodak and provides much brighter images and better color contrast than conventional digital systems.
Following a model it has used in other venues, Imax will sell its equipment to the owners and receive a percentage of ticket sales. The new theater is part of a series of renovations to the Chinese, including a new box office marquee on Hollywood Boulevard, financed by owners, film producer Donald Kushner and his partner Elie Samaha.
The men acquired Grauman's nearly two years ago from previous owners Warner Bros. and Paramount Pictures parent Viacom Inc., who, in turn, acquired the venerable theater after the Mann chain, which owned it for decades, filed for bankruptcy.
In addition to hosting premieres, the Imax theater will screen traditional Hollywood fare and may also show Chinese movies, potentially taking advantage of Imax's ties with several Chinese exhibitors, including Dalian Wanda Group, which last year acquired AMC Entertainment, the nation's second- largest theater circuit, for $2.6 billion.
TCL Group, which bought the naming rights to the former Grauman's Chinese, also has agreed to sponsor a national and international campaign to promote Hollywood and the Chinese, using proceeds from its 10-year licensing deal to fund at least $5 million in improvements to the venue.
ALSO:
Grauman's Chinese Theatre sold to movie producers
Cimarron closes Beijing office
MORE
INTERACTIVE: TVs highest paid stars

ON LOCATION: People and places behind what's onscreen

PHOTOS: Hollywood back lot moments
---
From the Emmys to the Oscars.
Get our revamped Envelope newsletter for exclusive awards season coverage, behind-the-scenes insights and columnist Glenn Whipp's commentary.
You may occasionally receive promotional content from the Los Angeles Times.