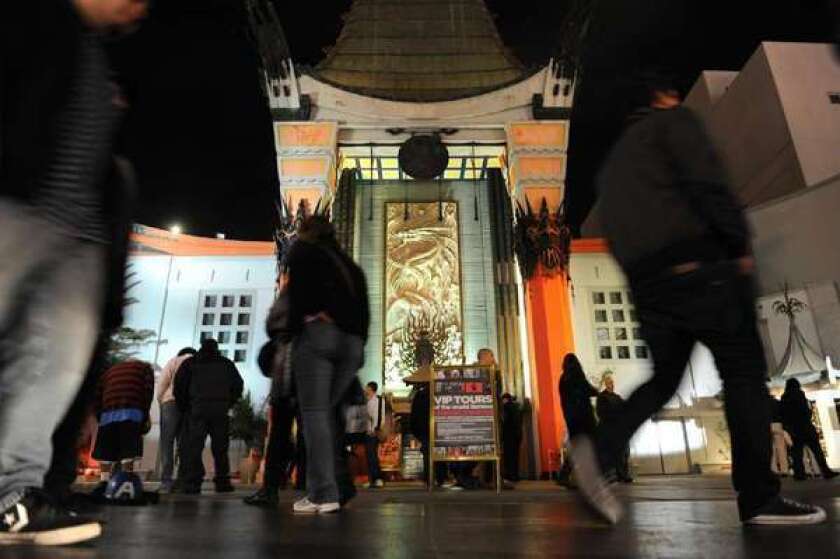 Anyone who tampers with Hollywood's most iconic venue is likely to encounter some suspicion.
So it's not surprising that some residents have raised concerns about plans to bring a giant Imax screen to the former Grauman's Chinese Theatre.
But one prominent theater conservation group says not to worry. The Los Angeles Historic Theatre Foundation, which raises funds to help conserve the city's historic movie palaces, says the planned Imax conversion won't affect the Chinese Theatre's historic character.
VIRTUAL TOUR: Hollywood Walk of Fame
"We support the renovation and the competitive advantage it brings to the theater," said Hillsman Wright, a volunteer and spokesman for the foundation, which reviewed the Imax plans. "Who can say what Sid Grauman might have thought about what's ahead? However, the reason the theater has survived over the years, while so many other palaces have failed, is that it has successfully adapted to each new development in motion picture technology and patron comfort. IMAX is the next step in its evolution."
Under a deal that is still awaiting final permit approvals from the city, Imax will open a new 986-seat theater by September. The renovations will include installing new stadium seating, a new sound system and a 94-foot-wide screen, one of the largest Imax screens in North America.
PHOTOS: Hollywood's Chinese Theatre moments
But the renovations will not alter the historic architecture on the walls or ceiling of the TCL Chinese Theatre, which opened in 1927 and was designated a historic and cultural landmark in 1968, Wright said.
The theater will close for construction and reopen to the public in late summer. The theater foundation is hosting a three-day film festival April 19-21 at the Chinese to help raises funds toward restoring its original lighting scheme.
ALSO:
Cimarron closes Beijing office

Imax to go into former Grauman's Chinese Theatre
Grauman's Chinese Theatre sold to movie producer
MORE
INTERACTIVE: TVs highest paid stars

ON LOCATION: People and places behind what's onscreen

PHOTOS: Hollywood back lot moments
---