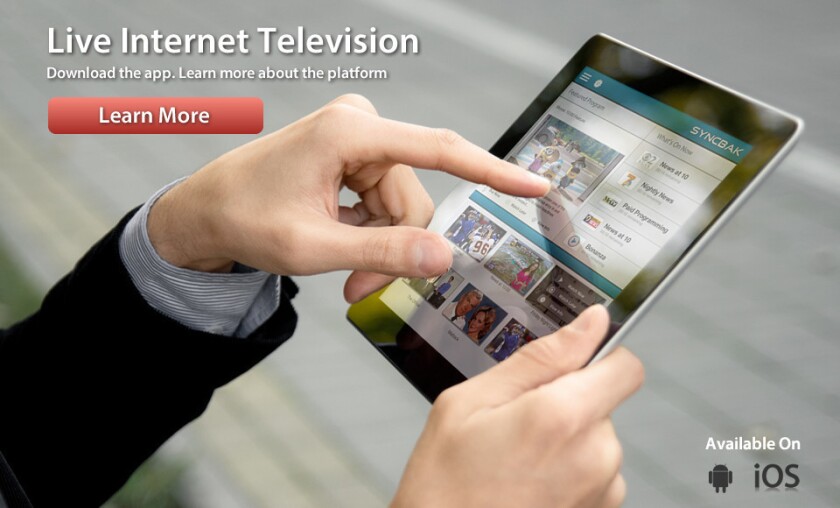 One of the challenges for local TV stations when it comes to putting their live feed online is making sure the signal doesn't travel beyond their home market.
That's because the deals local TV stations make for much of the programming they carry come with restrictions on where that programming can appear. For example, a station carrying Ellen DeGeneres' show in Boston isn't allowed to put it on a platform on which someone in Philadelphia could watch it, undercutting the local Philly station that also has rights to the show.
A solution to this problem may be Syncbak, a company that CBS said Monday it has made an investment in. Syncbak allows local stations to stream their signal to residents in its markets, but also serves as something of a border patrol for that content.
ON LOCATION: Where the cameras roll
For example, if someone was on a train from New York to Boston and watching CBS on their iPad or mobile phone, Syncbak would seamlessly switch to whatever local station served the area the train was passing through.
A station using Syncbak would be able to require its viewers to register to watch the content. It is likely that a subscription to a pay-TV service would be required to access local signals online as well. Typically, cable and satellite services typically pay local stations a fee to carry their content. If that content were free online, it could disrupt that revenue stream.
Last week, many people outside of Boston watched live streams of the local stations there to get the latest on the manhunt for the suspected Boston Marathon bombers. The stations chose to make streams of their feed available for free because of the public service it provided.
CBS' investment in Syncbak is significant because it comes at a time when the company -- along with several other broadcasters -- is engaged in a legal battle with Aereo, a start-up that streams broadcast signals to consumers via the Internet.
Aereo does this without compensation the broadcasters, leading to accusations of copyright theft.
Syncbak, which is testing its technology with more than 100 TV stations in 70 markets, may be a potential rival to Aereo.
ALSO:
Morning Fix: All the media news you need
Aereo beats broadcasters' legal challenge, trial likely
Fox's threat to go cable-only won't mean much to viewers
Twitter/@JBFlint.
MORE
INTERACTIVE: TVs highest paid stars

ON LOCATION: People and places behind what's onscreen

PHOTOS: Hollywood back lot moments
---