CBS executive reports little backlash from Joe Flacco's swearing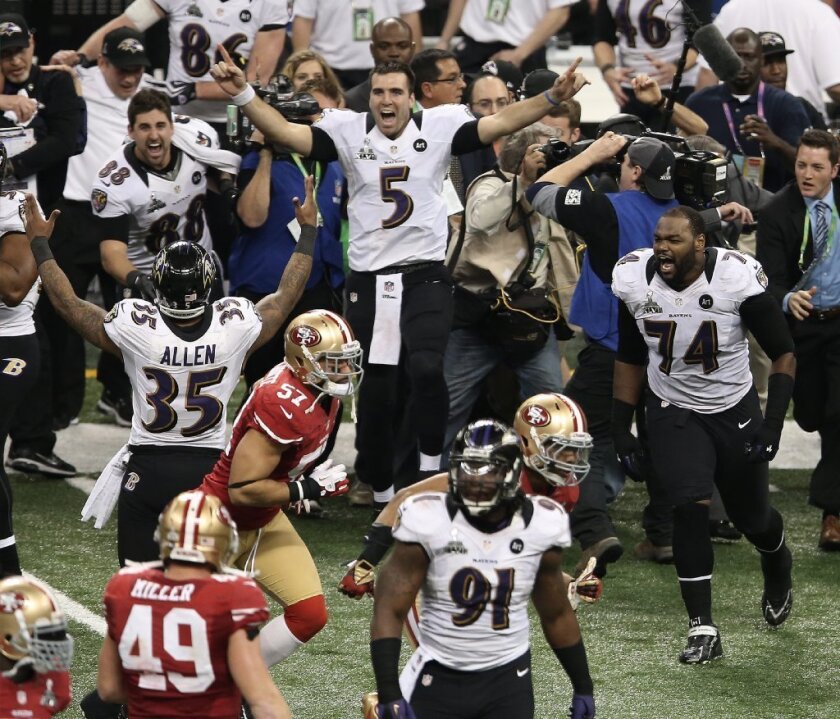 There has been no outcry against CBS from viewers angry with the network's unintentional airing of Baltimore Ravens quarterback Joe Flacco swearing while celebrating the team's Super Bowl win, according to a senior executive at the network.
"We've gotten a handful of complaints [but] there are more people asking questions about the blackout," said Martin Franks, executive vice president of planning, policy and government affairs for CBS.
In an interview, Franks said the only way the network could have avoided picking up Flacco's swearing would have been to put the entire game on a tape delay. Such a move, he added, would not serve viewers who want to see the action as it happens.
TIMELINE: Best Super Bowl commercials
"One hundred and fifteen million people should not have to wait 30 seconds for the results of one the most exciting finishes in Super Bowl history," Franks said. (That's how many people were tuned in to the game at that moment, according to Nielsen. Overall, the CBS broadcast averaged just over 108 million viewers.)
CBS had seven-second broadcast delays in place for the pregame and halftime shows as well as the postgame show. Franks himself watched Beyonce rehearse a few days before the game just to see if there were any red flags in her halftime performance. "We worked very hard to eliminate as much of the risk as we could," Franks said.
Flacco's utterances occurred just 85 seconds after the game had ended and the network had not yet gone to commercial break, which is required in order to switch to delay mode.
"Otherwise you have to repeal the laws of physics and time," Franks said, noting that if the network had tried to go to delay during a live telecast, "you'd have seven seconds of black."
While Franks acknowledged that he didn't want to diminish the concern over swearing on television -- the Parents Television Council has already called for the Federal Communications Commission to investigate the matter -- he fears that too much was being made of this incident.
"You can only take this protection so far before you compromise what the audience really wants, which is a sense that they are there," he said. "The other alternative is to put [announcers] Phil Simms and Jim Nantz in a sound-proof booth."
Because the game was in doubt until the final play, there was a lot of pandemonium on the field when time expired. CBS didn't want to cut into such dramatic moments as Ravens Coach John Harbaugh and his brother, 49ers Coach Jim Harbaugh, congratulating each other after the game, or Ravens linebacker Ray Lewis celebrating his final moments as a player.
"Where were we going to cut away and not have 115 million people unhappy they missed this incredible drama and celebration?" Franks asked. CBS did go to a commercial break 3 minutes and 15 seconds after the final gun sounded. When it resumed coverage, the delay was in place.
With regards to whether the FCC will look into the matter, Franks said he hoped the agency would see this in the context of Supreme Court Justice Lewis Powell's opinion in the Pacifica case (which paved the way for today's indecency regulations). In that ruling, Powell wrote, "The Commission's holding, and certainly the Court's holding today, does not speak to cases involving the isolated use of a potentially offensive word."
As for the PTC's request that the FCC weigh in on the matter, Franks said, "I do note in the PTC's action alert on the matter, they give their audience three chances to donate."
ALSO:
Joe Flacco drops a few more bombs after Super Bowl
CBS Sports chief Sean McManus says blackout was surreal
What goes into producing the Super Bowl? Iced tea and practice
Follow Joe Flint on Twitter @JBFlint.
MORE
INTERACTIVE: TVs highest paid stars

INTERACTIVE: YouTube's viral videos of 2012

PHOTOS: Hollywood back lot moments
---
From the Emmys to the Oscars.
Get our revamped Envelope newsletter for exclusive awards season coverage, behind-the-scenes insights and columnist Glenn Whipp's commentary.
You may occasionally receive promotional content from the Los Angeles Times.