Oscar best-song nominee J. Ralph: 'It's outrageous'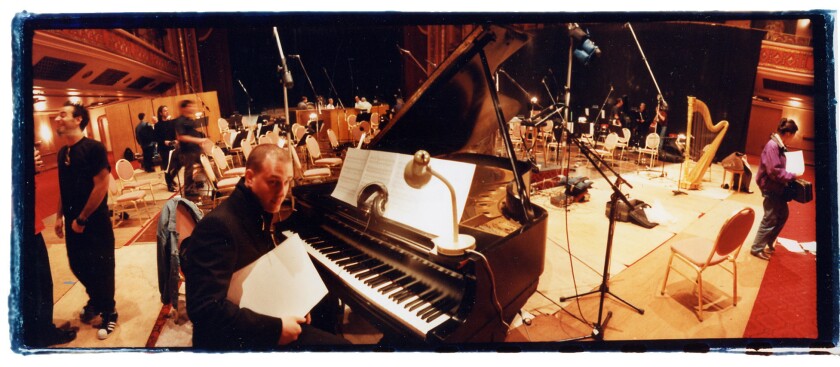 This time of year it's common to hear many people saying, "It's an honor just to be nominated." But the comment sounds pretty convincing coming from Oscar-nominated film composer J. Ralph, considering the odds he beat in being recognized for his song "Before My Time."
It's only the third song written for a documentary ever to get nominated, and it's the first nomination for a song from a documentary film that didn't get a nomination itself. The song was in the global-warming documentary "Chasing Ice."
That puts the 37-year-old New Yorker's song, performed in the film by Scarlett Johansson and violinist Joshua Bell, in the same category with Adele's "Skyfall" James Bond theme song (which she wrote with Paul Epworth), Bombay Jayashri and Mychael Danna's "Pi's Lullaby" from "Life of Pi," Claude-Michel Schönberg, Herbert Kretzmer and Alain Boublil's "Suddenly" from "Les Miserables," and Seth McFarlane and Walter Murphy's "Everybody Needs a Best Friend" from the comedy "Ted."
"It's been such a profound honor to receive this," Ralph said shortly after touching down in Los Angeles this week to attend Sunday night's ceremony. "To get to meet all these people—I met John Williams at the [pre-Oscar] dinner the other night. I don't think there's been a person who has had more influence over me than him, from a melodic writing standpoint…I got to hang out with Mychael Danna—he's such a great guy.
"What means so much to me is to get to be involved in this whole celebration for a documentary," said Ralph, who previously has scored music for Academy Award-winning documentaries including "Man on Wire" and "The Cove" and last year's Oscar-nominated "Hell and Back Again." He previously enlisted Johansson to sing a song on his score for the autism documentary "Wretches and Jabberers."
"All my music is about distilling the moment into the most finite example of honesty and truth," he said. "And that's essentially what documentaries are. As a songwriter and producer, it's about what is the most real moment I can show and provide people to interact with."
He landed a highly placed compliment from no less than Quincy Jones, who said of the song: "Scarlett and J. Ralph really pull the listener in with 'Before My Time.' It's a very dramatic song - and it needs to be, given the magnitude and importance of the film's subject."
Ralph traces his career arc to an act of musical generosity when he was 10.
Oscars 2013: Nominee list | Ballot | Trivia | Timeline
"Twenty-seven years ago, my mother wrote a letter to Ovation guitars," he said. "She told them her son loves music more than anything and she cannot afford to buy him a guitar, is there anything they could do to help? Soon after that a guitar arrived at my house. Everything I've written has started with that guitar. And now I'm going to be here at the awards because of the total kindness, generosity and belief of a stranger."
"It's outrageous," he said. "To be included in this company, and for a song from a documentary...I had no agent, no manager, no marketing budget, and very few people saw the film. I have none of the resources [of the other films' nominated songs], all I have is the fate of the universe to help bring the song to where it can go, and I hope people enjoy it and that they are moved by it."
ALSO:
Adele to perform 'Skyfall' at Oscars
'Chasing Ice' film composer J. Ralph sees climate change up close
J. Ralph and musician friends sing the sound of autism in 'Wretches and Jabberers' film
Follow Randy Lewis on Twitter: @RandyLewis2
PHOTOS AND MORE
COACHELLA: Complete 2013 lineup
THE ENVELOPE: Awards Insider
PHOTOS: Grammy top winners
---
From the Oscars to the Emmys.
Get the Envelope newsletter for exclusive awards season coverage, behind-the-scenes stories from the Envelope podcast and columnist Glenn Whipp's must-read analysis.
You may occasionally receive promotional content from the Los Angeles Times.