Oscars 2013: Adele's plans include avoiding the limelight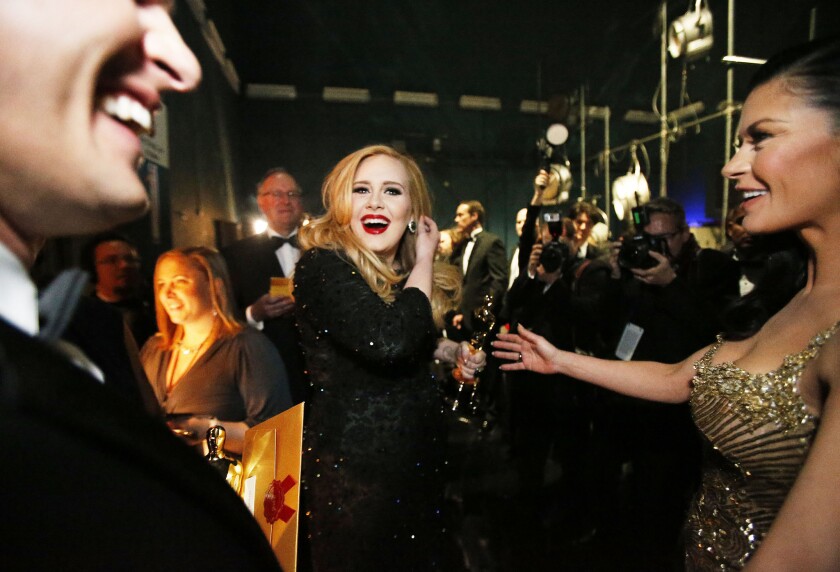 Adele fans have been spoiled of late. The artist, whose tour and public appearances were cut short after being sidelined by vocal surgery in late 2011, has been forced into the public eye courtesy of award season. Sunday night she won the original song Oscar for "Skyfall," her latest collaboration with producer Paul Epworth and the theme to the last year's James Bond film of the same name.
She performed the song Sunday night, and kept her acceptance speech short. Backstage, Adele didn't offer fans much hope they would hear her singing anytime soon. One reporter noted that Adele has been spotted of late hanging with her pop singer friend Robbie Williams and wondered, hopefully, if that meant the two might collaborate?
"I don't think so," said Adele. "We're just enjoying being parents together, really. His little girl is only two weeks older than mine. It's a lot of fun. He's very much a pro at it. And we just discuss how to stay out of the limelight, if anything, unfortunately."
FULL COVERAGE: Oscars 2013 | Winners
Other than that, Adele kept her backstage comments light, with journalists wondering whether or not she would go for an EGOT -- an Emmy, Grammy, Oscar and Tony. Adele joked that perhaps a TV special could be in her future.
"Maybe I'll do like an HBO special like Beyoncé did," she said. "And then a Tony, I'm not so sure. That may be one day, maybe someone might want me to do a musical."
Really, Adele would consider a musical, questioned her producer Epworth? Well, no.
Oscars 2013: Nominee list | Red carpet | Highlights
"That's not in my probability for the moment," she said. "No offense."
Of course, those who have been keeping up with Adele's comments at award shows this year were already hip to the fact that there likely wouldn't be new Adele songs anytime soon. At the Grammys, Adele told the assembled press that "I'm not very far along at all. I've been out of the loop really."
Adele, however, did share details of some of her collaboration process with Epworth.
"Normally I go to him with an idea, and [Paul has] an idea ready for me as well, and normally we just kind of throw them at each other," she said. "Sometimes," Adele added, if a song is "a bit dry," then she just has to "hope for the best."
COMMENTARY: Oscar show play-by-play with Kenneth Turan
"I find, really, to be really honest with whoever you're working with or whoever you're collaborating with," she said.
Epworth commented that honesty is Adele's "strength," to which Adele said, "It's a bad strength, though, because the whole world knows my business. But, you know, going into the studio and involving someone in your life, I cried the first time when I told Paul about my ex, didn't I? Telling the story, and then 'Rolling in the Deep' happened."
ALSO:
PHOTOS: Backstage at the Oscars
PHOTOS: Academy Awards fashion
QUOTES: What they said backstage
A box office milestone for best picture nominees
Oscar music: Adele, Shirley Bassey save the Oscars
'Argo' is best picture in night of redemption for Affleck
FLOTUS Michelle Obama announces best picture Oscar
WINNING BALLOT: A list of the 2013 winners

TIMELINE: Academy Awards through the years
---
From the Oscars to the Emmys.
Get the Envelope newsletter for exclusive awards season coverage, behind-the-scenes stories from the Envelope podcast and columnist Glenn Whipp's must-read analysis.
You may occasionally receive promotional content from the Los Angeles Times.