For video game composers, the high score could be a Grammy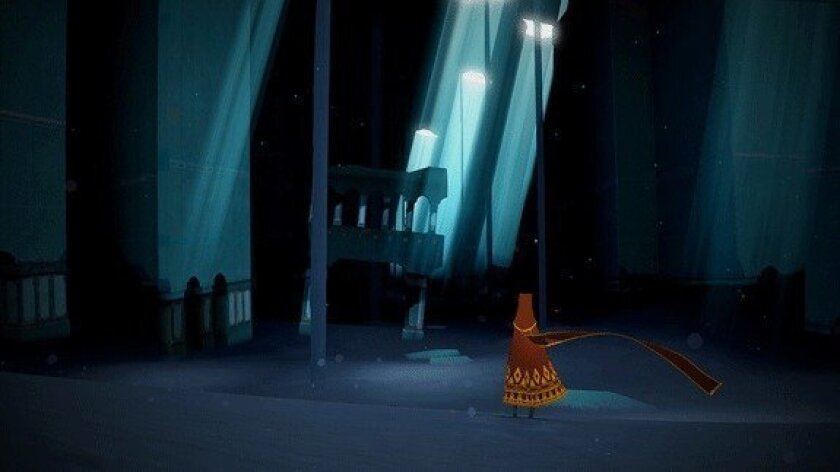 The Grammy Awards are ready to play, at least in the minds of those who create music for video games.
For the first time, a complete video game score has been nominated for a Grammy. At the February ceremony, Austin Wintory's compositions for PS3 title "Journey" will vie for a trophy alongside more recognizable cinematic names such as Hans Zimmer ("The Dark Knight Rises") and last year's Oscar winner Ludovic Bource ("The Artist").
For the 28-year-old L.A.-based Wintory, the nomination is "bewildering" — "stupefying," even, considering that video game scores have been eligible and overlooked by Grammy voters for more than a decade.
PHOTOS: Top nominees | Snubs & surprises | Full coverage
"I find time and again that huge swaths of people, through no fault of their own, are just not engaged in the game industry," says Wintory. "They have no idea we record with full orchestras in Los Angeles and London and games have become something that — from a production values standpoint — is not that different from film."
Games, and the music that defines them, continue to earn more respect within the Hollywood community. Top-flight composers such as Zimmer and "Dexter's" Daniel Licht have ventured into gaming, and the in-demand Pixar maestro Michael Giacchino got his start in interactive entertainment. Responding to the shift, the Recording Academy last year altered the language of its soundtrack awards to more specifically make it clear that video games were in contention.
Video games had been eligible for a Grammy since 2000, so why has it taken until now for a game score to actually land a nomination? Prior to 2011, games were lumped in as "other visual media" in categories that singled out film and television.
As part of the Recording Academy's larger overall Grammy restructuring in 2011, one that cut the overall number of categories from more than 100 to its current 81, wording for the soundtrack fields was changed to directly identify video games alongside film and television.
Don't underestimate the power of a few words. "I thought that 2011 was the first year games were eligible," Wintory says. "I had my history wrong. Games became eligible in 2000, but the category was called film/TV and visual media, and in the eyes of the game industry, it looked like kind of an afterthought."
Before this year's Grammy nominations were unveiled, Steve Schnur, who oversees music at video game producer Electronic Arts, applauded the vernacular fine-tuning.
"It evened out the playing field, psychologically," he says. "When voters were looking at scores to nominate, and it said scores from music, TV and 'other media,' it was a poor stamp on video games. Now that the title has changed, I'm hoping the level of respect begins to rise."
GRAMMYS 2013: Nominations concert | Complete list | Timeline
Bill Freimuth, the Recording Academy's vice president of awards, believes it will. "We tried to make it known to the community that they were eligible, and we had done outreach to members of the community to say they were eligible, but that last tweak of the language opened it up."
Wintory's "Journey" score — an abstract mix of ambient electronics, Eastern mysticism and unexpected orchestral flourishes — was three years in the making. Wintory estimated he worked on somewhere between 16 and 18 independent films while completing "Journey," a relatively humble, experimental game released by Sony and Santa Monica's Thatgamecompany.
Think of the game as something akin to an interactive tone poem. Players explore a desert landscape and communicate via song. There's no competition, per se, just exploration and flight.
"Games afford you the opportunity to do something that has never existed," Wintory says. "I don't want to say it's more exciting than film. The art of telling a story is as old as language itself, and that's special and wonderful, but there's something exciting about pushing into a new, unexplored universe. "
So is the next stop Oscar? Not so fast, but Christopher Lennertz, a veteran of the "Medal of Honor" and "Mass Effect" franchises, is betting other major awards will follow Grammy's lead.
"It's only a matter of time," he says. "People [dismissed] jazz and pop music, and now you can get doctoral degrees in jazz and you can study pop music. There will be a time where the Golden Globes will recognize video games right there alongside TV shows and movies. It's only a matter of time."
---
FOR THE RECORD:
Austin Wintory: In the Jan. 8 Calendar section, a photo of composer Austin Wintory that accompanied a story about his Grammy nomination for a video game score was credited to Costa Communications Inc. The photo should have been credited to Lisa Margolis. —

---
ALSO:
Five questions for the L.A. pop scene and beyond for 2013
For composers, video games are the surreal land of opportunity
The year in video games: Indie titles hint at gaming possibilities
PHOTOS AND MORE
COACHELLA: Complete 2013 lineup
THE ENVELOPE: Awards Insider
PHOTOS: Grammy top nominees
---
From the Oscars to the Emmys.
Get the Envelope newsletter for exclusive awards season coverage, behind-the-scenes stories from the Envelope podcast and columnist Glenn Whipp's must-read analysis.
You may occasionally receive promotional content from the Los Angeles Times.