Lance Armstrong: 4.3 million watch interview with Oprah on OWN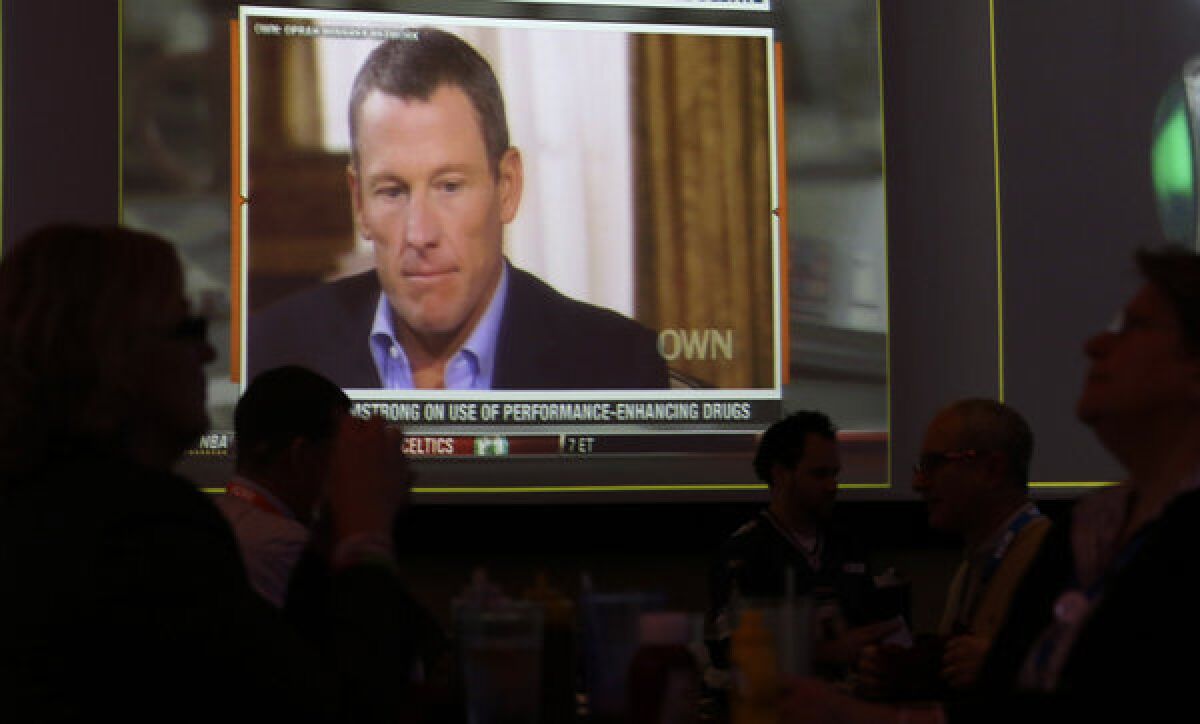 Oprah Winfrey's "worldwide exclusive" interview with disgraced cyclist Lance Armstrong greatly enhanced the performance of her nascent OWN network.
Thursday's installment of the highly anticipated "Oprah and Lance Armstrong: The Worldwide Exclusive" (the first of two parts) attracted 4.3 million viewers to the Oprah Winfrey Network, according to Nielsen ratings data. The first airing, at 9 p.m. Eastern, attracted 3.2 million viewers, and the second run, at 10:30 p.m. Eastern, delivered another 1.1 million.
The interview, which delivered solid numbers to become OWN's highest-rated night ever (although shy of the numbers she was generating in her last year on her syndicated talk show), was also streamed live on the oprah.com website. The number of online views has not yet been released.
PHOTOS: TV apologies and confessions
The second part of the interview will be televised Friday night.
Thursday night's event proved that viewers, who have largely been scarce during OWN's first two years, were able to locate the channel in their TV lineups. Winfrey's ability to land the coveted interview -- outmaneuvering major networks, including ABC, CBS, NBC, CNN and ESPN -- underscores the channel's potential, television analysts said.
"This shows that Oprah is incredibly relevant. When people want to go and do these interviews, they are going to Oprah," said Brent Poer, president of advertising agency Starcom MediaVest Group's Liquid Thread content division, which is based in Los Angeles.
The week of publicity surrounding OWN leading up to the interview underscored the bet that Discovery Communications Chief Executive David Zaslav made five years ago when he and Winfrey unveiled their partnership to create OWN, a 50/50 joint venture. The network launched in January 2011.
Despite ratings struggles, the network is on track to become profitable this year. The channel will begin collecting subscriber fees from cable and satellite TV providers, which will contribute an estimated $180 million-plus in additional revenue to OWN.
"Most networks have to spend a lot of money to create a tent-pole show," said Chet Fenster, managing partner of MEC's entertainment division. "But all Oprah has to do is sit down and interview someone -- it's a very cost-effective way for her to create tent-poles for the network."
To be sure, there aren't enough "big get" interviews to sustain the network on a nightly basis, Fenster said. "But once a quarter should be enough for Oprah."
Winfrey certainly hasn't run out of ideas for confessional interviews.
"I have a dream of O.J. Simpson confessing to me," Winfrey told cable television executives in 2011, just before she became chief executive of OWN. "I want the interview on the condition that you are ready, Mr. Simpson."
ALSO:
Lance Armstrong interview: Nobody lives strong like Oprah
Lance Armstrong tells Oprah and the world: He cheated for years
Oprah Winfrey's Armstrong interview comes at a key time for OWN
PHOTOS, VIDEOS & MORE:
GRAPHIC: Faces to watch in 2013
VIDEO: Winter TV preview
PHOTOS: Best TV of 2012
Get our L.A. Goes Out newsletter, with the week's best events, to help you explore and experience our city.
You may occasionally receive promotional content from the Los Angeles Times.