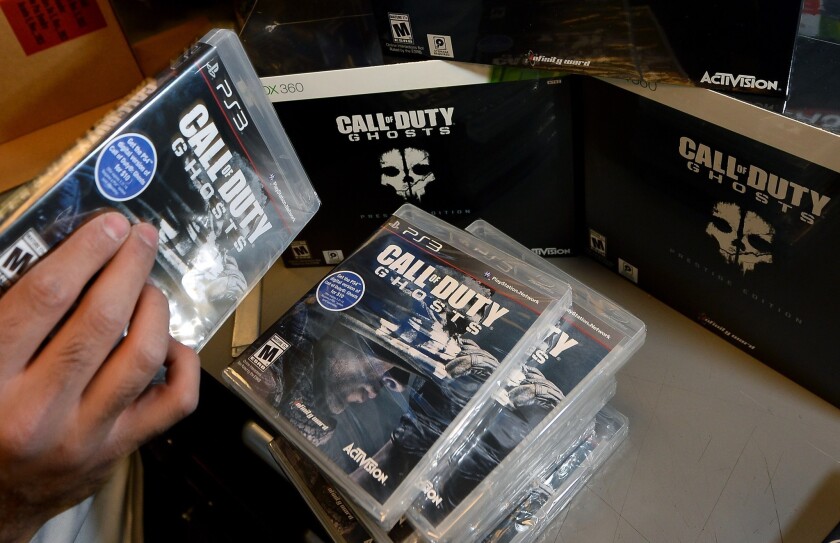 The long-running "Call of Duty" franchise has been unstoppable in sales, but it looks like the latest iteration is slaying fewer critics than earlier installments.
Although "Call of Duty: Ghosts," released Tuesday, received largely positive reviews, it took some criticism from pundits who expected more originality from the billion-dollar series.
"'Call of Duty: Ghosts' is a solid installment, but it lacks creativity and innovation," wrote Xav de Matos, a writer for the gaming publication Joystiq. "Its new engine already looks dated in the face of the competition, and it eschews many of the solid concepts seen in 'Black Ops 2.'"
PHOTOS: Behind the scenes of movies and TV
Metacritic, a website that aggregates reviews from the Web, gave the Xbox 360 version of the game a score of 74 out of 100, based on write-ups from 22 critics, down from last year's release, "Call of Duty: Black Ops II," which scored an 84 out of 100, based on 73 reviews. The 2011 hit "Call of Duty: Modern Warfare 3" clocked in with an 88 out of 100.
Russ Frushtick, a writer for Polygon, said: "Ghosts is mired in a distinct lack of ambition. Outside of the stellar Extinction mode, Ghosts follows more often than it leads, bringing with it familiar missions, modes and experiences."
However, there were plenty of positive responses, including a review from IGN's Scott Lowe, who called it one of the best "Call of Duty" games to date.
The title "isn't a reinvention of the franchise, but proves there's still room for innovation within its existing formula," he wrote.
ALSO:
Pandora listening hours remain strong against new iTunes Radio
TV ratings: NBC and 'The Voice' win key demographic despite dip
21st Century Fox first-quarter income falls despite higher revenue
Follow on Twitter: @rfaughnder
MORE
ON LOCATION: People and places behind what's onscreen

PHOTOS: On the set: movies and TV

PHOTOS: Celebrity production companies
---