Lawsuit challenges a Hollywood pillar: Unpaid internships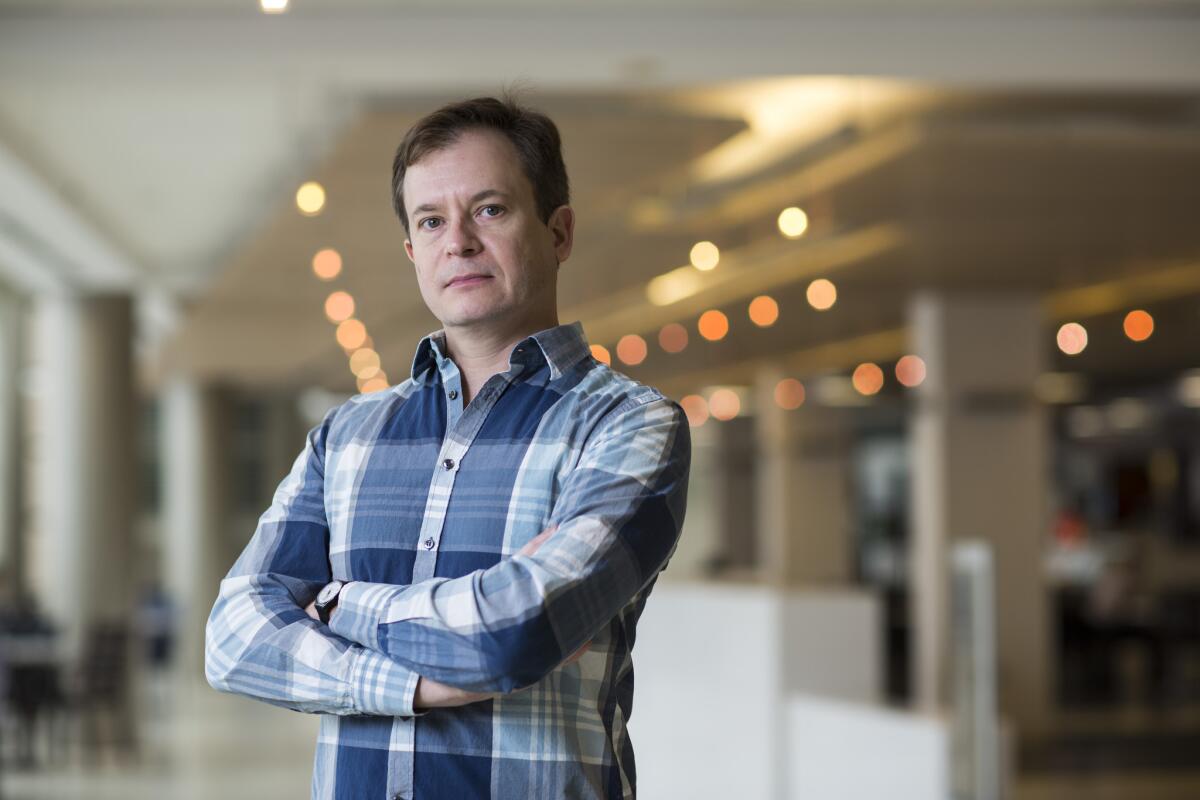 Melvin Mar's entrée to Hollywood was far from glamorous. As an unpaid intern for "Platoon" producer Arnold Kopelson, Mar was responsible for fetching his boss' lunch of matzo ball soup every day.
Mar calculated to the minute how long it would take to walk from the production company's Century City offices to the Stage Deli nearby, buy the soup and decant it into a bowl on Kopelson's desk, still piping hot, at precisely 1 p.m.
Mar parlayed his internship into jobs at DreamWorks and Scott Rudin Productions. Now Mar is a producer for "Bad Teacher" filmmaker Jake Kasdan — and he says he owes a lot to the lessons he learned as a humble Hollywood gofer 15 years ago.
FACES TO WATCH 2014: Movies | Television | Pop & Jazz music
"The soup — it was about getting it right, the details," said Mar, 35. "It prepared me for everything else."
Uncompensated minions are as central to the movie business as private jets, splashy premieres and $200 lunches. But the Hollywood tradition is under assault.
A class action by former interns on the 2010 film "Black Swan" could radically change the industry's reliance on unpaid neophytes. The suit seeks back pay, damages and an order barring use of unpaid interns at Fox Searchlight Pictures and other units of Fox Entertainment Group.
A legal victory for the plaintiffs "would bring to a halt the many unpaid internships that offer real value to participants, giving them experiences and opportunities they would not otherwise receive," lawyers for Fox Searchlight said in a March 28 filing.
It would also force Hollywood to change everything from the way film crews are assembled to the manner in which new talent is cultivated.
Eric Glatt, who was an intern for the New York-based "Black Swan" production, is a lead plaintiff in the lawsuit. He gave up a $95,000 desk job at insurance company American International Group to pursue his dream of becoming a film editor.
Glatt's "Black Swan" duties included running errands for the movie's famously exacting director, Darren Aronofsky.
ON LOCATION: Where the cameras roll
During post-production, Aronofsky needed a hypoallergenic pillow — he wanted to be comfortable in the editing room — and Glatt, then 40, was given the assignment. He walked nearly a mile through Brooklyn to a Macy's, where he bought the pillow, then took the subway to deliver it to Aronofsky in midtown Manhattan, Glatt said.
During his roughly nine months on the film, Glatt said, he was also sent on errands to get Aronofsky "the perfect scented candle" and his favorite tea, PG Tips.
"The one thing you learn as an intern is don't ask," Glatt said.
Glatt, who spent $5,500 for a film editing course before signing on with "Black Swan," had hoped an internship would be his pathway to a film career. But Glatt came to believe that Hollywood was taking advantage of people like him — and violating the Fair Labor Standards Act, which mandates that unpaid internships benefit the interns, not the employers.
Aronofsky, whose latest film is "Noah," declined to comment.
The lawsuit contends that minimum wage laws were violated during the making of "Black Swan." The plaintiffs are seeking back pay and damages for themselves and an unspecified number of other interns who worked at Searchlight and other units of Fox Entertainment Group.
Attorneys for Fox Searchlight have argued that an independent company, Lake of Tears Inc., not the studio, hired and managed the "Black Swan" interns. Last year, U.S. District Judge William Pauley in New York rejected that argument and concluded that "Searchlight received the benefits of [the interns'] unpaid work, which otherwise would have required paid employees."
RELATED: Entertainment industry workers hit hard as production moves to other states
Fox has appealed Pauley's ruling, contending that interns are not employees subject to wage protection if they, not the employer, are the "primary beneficiaries" of the internships.
Interns do indeed benefit from the current system, the studio contends. In a recent brief, Fox argued that the interns should not be certified as a class because they "participated in a wide variety of activities in exchange for academic credit" and "performed an array of duties tailored to each intern's unique interests."
A ruling by New York's 2nd Circuit Court of Appeals is expected by early next year.
The Department of Labor does not track internships, paid or unpaid, but workplace experts agree that internships have become a rite of passage for entry into all kinds of white-collar jobs. Ross Perlin, author of the book "Intern Nation," estimates there are 500,000 unpaid interns nationwide (based on census data and private research) and says the practice saves companies about $2 billion annually in labor costs.
In Hollywood, interns fetch cappuccinos, read scripts, answer phones and even top off talent agents' gas tanks. The sometimes demeaning tasks are part of a business culture that puts a premium on newcomers paying their dues.
Some view internships as one of the only ways to get a foot in the film business' narrow door, and others consider them an invaluable apprenticeship, where menial tasks help prepare interns for the rigors of the industry and foster crucial relationships that lead to better jobs.
PHOTOS: Behind the scenes of movies and TV
Historically, unpaid internships have been prevalent in Hollywood because there are many more job seekers than openings. The practice expanded in other businesses over the last decade, author Perlin said, but entertainment remains one of the bastions of unpaid labor — as does publishing, another highly competitive field.
Perhaps not surprisingly, the Fox Searchlight lawsuit was followed by others from unpaid interns at Warner Music Group and Atlantic Records, and at publishing houses Condé Nast and Hearst Corp., the latter of which brought on roughly 3,000 interns from 2006 to 2012.
The suits appear to have made an impact. Condé Nast canceled its unpaid internship program last fall, and last year, talk show host Charlie Rose and his production company paid about $110,000 to settle a lawsuit brought by former unpaid interns, with part of the proceeds going to the interns as back pay.
Fox Entertainment Group and Universal Pictures now say they pay interns. NBCUniversal, the parent of Universal Pictures, also is subject to a lawsuit filed by former unpaid interns who allege the company violated the Fair Labor Standards Act.
Warner Bros., Paramount Pictures, Walt Disney Studios and Sony Pictures Entertainment long have maintained paid internship programs, and do not use unpaid interns. Lionsgate, a smaller studio, has an unpaid program but participants must be able to get school credit.
PHOTOS: Celebrity production companies
But the bulk of unpaid Hollywood internships are at smaller firms, such as movie production companies.
According to UCLA's Career Center, roughly 90% of the internships offered by production companies through the university's BruinView website are unpaid. At least one major talent agency distributes a list of entertainment jobs that includes many unpaid internships. A Nov. 26 compilation included 36 film and television internships, 16 of them unpaid.
A posting for an unpaid internship with "Rush Hour" filmmaker Brett Ratner's RatPac Entertainment said duties would include "Xeroxing, running errands, research, filing and sorting, dubbing tapes, temping on assistants' desks, answering phones, reading scripts and writing coverage (summaries of scripts)." A similar posting at Green Hat Films, the production banner of "The Hangover" filmmaker Todd Phillips, described duties including "reading scripts, writing coverage, answering phones and other office tasks."
RatPac and Green Hat declined to comment.
Ryan Stayton, 36, moved to Los Angeles in 2009 to break into Hollywood. He had four internships in the last year, all unpaid. He said more entertainment companies are requiring their interns to obtain school credit, a practice that Cheryl Orr, a labor lawyer not involved in the litigation, says does not exempt companies from having to adhere to federal guidelines for unpaid internships.
"A young kid who is receiving credit believes it to be some fashion of tangible recompense to them," said Stayton, who graduated from the University of Michigan more than a decade ago.
PHOTOS: The 20 best companies for interns
But of the 20 or so interns he knows, only one has parlayed the work into a paying job.
"I have had a good experience with all of these companies," Stayton said, "but I don't feel like I will be satisfied until I get a paid job."
The former Fox Searchlight interns have said the company's program was in violation of the six legal criteria for unpaid internships issued by the Department of Labor in April 2010 (nonprofits are exempt from the rules). Before applying the criteria to internships, the Department of Labor had used the guidelines for decades to evaluate the status of so-called "trainees" under the Fair Labor Standards Act.
The guidelines say that an unpaid internship should be "similar to training which would be given in an educational environment" and offer the employer "no immediate advantage from the activities of the intern." The intern, furthermore, should not "displace regular employees," according to the guidelines.
PHOTOS: Stars who turned down, or were turned down for, famous roles
Because lower courts have disagreed about what rules apply, two cases brought by Glatt's lawyers — against Fox Searchlight and Hearst — simultaneously will be decided by the 2nd Circuit Court of Appeals.
Glatt and Alex Footman, a fellow plaintiff and former "Black Swan" intern, have been pilloried by people trying to break into Hollywood since filing their complaint. Footman has received expletive-laced emails, one saying he is "ruining the film industry for everyone else."
CNN's Anderson Cooper mocked the suit in a 2011 broadcast.
"Would it be great if all unpaid internships paid really well?" Cooper asked. "Sure. It would also be great if my dog made breakfast for me every morning, but I am not going to file a lawsuit over it."
Glatt, now 44 and a law student at Georgetown University, insisted the dispute was not "about whiny millennials who don't want to do real work."
"It's the employer who is acting entitled," he said, "because they think they can get something for free, trading on the notion that it's cool to be on a set with someone like Aronofsky."
----------------------------------------
Typical duties of a Hollywood intern:
If they're lucky, Hollywood interns will get to spend time in an editing booth, or perhaps watch a famous director frame a scene.
But more typically, an unpaid show business internship includes the following assignments:
•Making coffee
•Cleaning the office kitchen
•Compiling press clippings
•Photocopying documents
•Taking lunch orders, retrieving take-out
•Assembling office furniture
•Booking flights and limousines for actors
•Checking scripts to make sure there are no missing pages
Source: Times research
MORE
ON LOCATION: People and places behind what's onscreen

PHOTOS: Biggest box office flops of 2013

PHOTOS: Celebrity production companies
From the Oscars to the Emmys.
Get the Envelope newsletter for exclusive awards season coverage, behind-the-scenes stories from the Envelope podcast and columnist Glenn Whipp's must-read analysis.
You may occasionally receive promotional content from the Los Angeles Times.