Grammys 2014: Macklemore agrees Kendrick Lamar should have won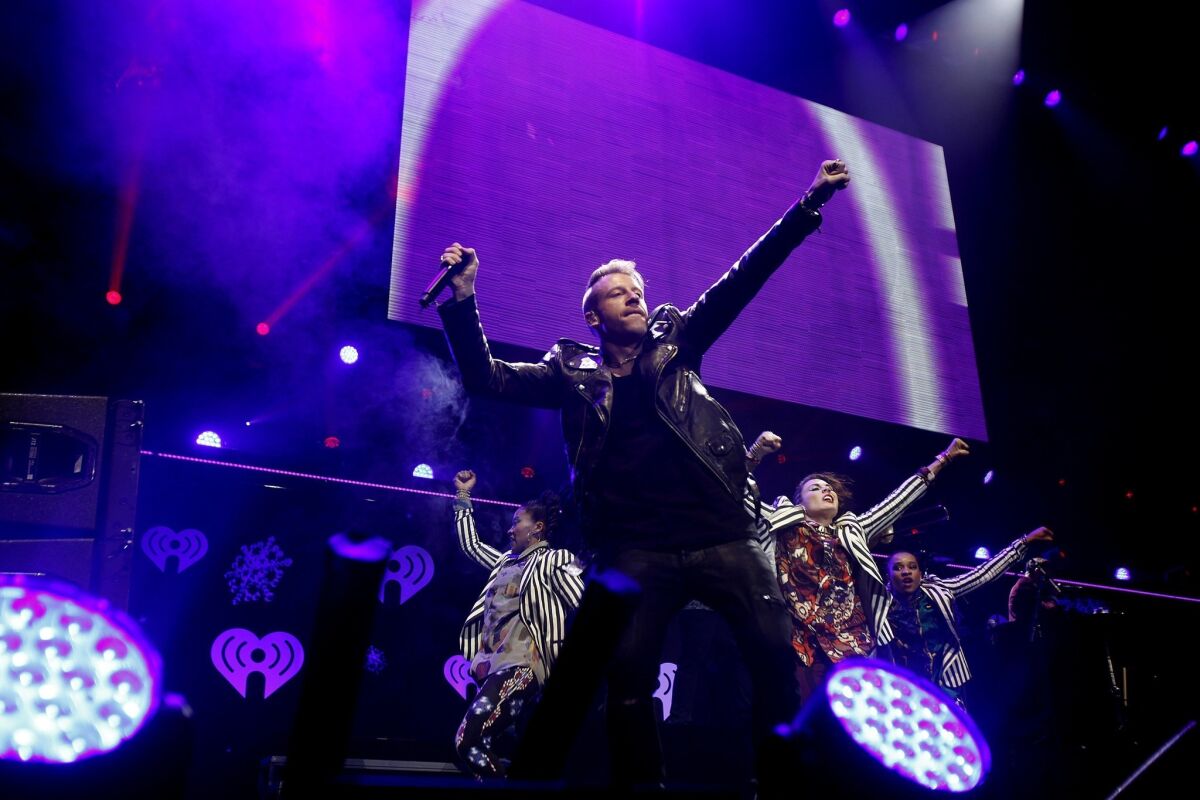 The gasps, groans and expletives were abundant backstage Sunday as Macklemore & Ryan Lewis swept the rap categories during the untelevised portion of the Grammy Awards ceremony.
Their massive hit "Thrift Shop" took rap performance and song, and their debut, "The Heist," nabbed the trophy for rap album over breakout Compton rapper Kendrick Lamar's striking debut, "Good Kid, M.A.A.D City."
The controversy was immediate. The indie Seattle duo's early wins sparked a trending topic on Twitter as outraged hip-hop purists and critics admonished voters for picking the pair's work over albums from Drake, Kanye West, Jay Z and Lamar.
It was always unlikely that the duo, up for seven awards including song and album of the year, would leave the Grammys empty-handed. Still, many didn't expect the Seattle hip-hop outliers to make a clean sweep of the genre categories.
GRAMMYS 2014: Complete list | Top winners | Show highlights | Quotes
But neither did Macklemore.
Following his bounty of wins, the rapper sent a text message to Lamar and later posted a screenshot of the message to his nearly 3 million Instagram followers.
"You got robbed. I wanted you to win. You should have," he wrote. "It's weird and sucks that I robbed you. I was gonna say that during the speech. Then the music started playing during my speech, and I froze. Anyway, you know what it is. Congrats on this year and your music. Appreciate you as an artist and as a friend. Much love."
In a longer caption for the photo, Macklemore said Lamar "deserved best rap album."
"I'm honored and completely blown away to win anything much less 4 Grammys. But in that category, he should have won IMO," he wrote. "And that's taking nothing away from The Heist. Just giving GKMC ['Good Kid, M.A.A.D City'] it's proper respect."
He never posted Lamar's response -- if one ever came.
Rap fans have been heavy-handed with criticism of Macklemore's success. With a more pop-oriented brand of rap informed as much by indie rock as traditional hip-hop, he's dominated mainstream radio with hits like "Thrift Shop," "Can't Hold Us" and "Same Love."
PHOTOS: Grammys 2014 red carpet arrivals
Despite a rise from underground rap to mainstream star that took more than a decade, Macklemore has become an easy punchline in the rap world, often dismissed as a gimmicky pop act.
Some of the harshest criticisms, unfairly, have focused on his race, and the leg up that it may have given him over his black peers -- think pieces are plastered all over the Internet -- and he's discussed the role his race may have played, once telling Rolling Stone that being white helped his success.
"We made a great album," he said, "but I do think we have benefited from being white and the media grabbing on to something. A song like 'Thrift Shop' was safe enough for the kids. It was like, 'This is music that my mom likes and that I can like as a teenager,' and even though I'm cussing my … off in that song, the fact that I'm a white guy, parents feel safe. They let their 6-year-olds listen to it. I mean, it's just ... it's different. And would that success have been the same if I would have been a black dude? I think the answer is 'No.' "
Controversy aside, "The Heist" is, at its core, a hip-hop album -- though many debated that point during Grammy week, and a recent report from Associated Press indicating that some members of the Recording Academy had questioned its rap category credentials only added fuel.
TIMELINE: Grammy Awards through the years
Regardless, was "The Heist" rap album of the year? You have to admit, Macklemore has a point.
Queen Latifah, who officiated at the vows of more than 30 straight and gay couples during Macklemore & Ryan Lewis' performance of "Same Love," said their success should serve as a reflection of the longstanding social and cultural impact of hip-hop.
"Honestly, I don't think that this is new ground for hip-hop in terms of what Macklemore is capable of, I think this is exactly what hip-hop is capable of," she said. "When I started rapping, it was much more common for rappers to speak about things going on in the world … anything that was some type of social injustice, we've always been able to talk about through hip-hop."
"I hope this is inspiration to the rappers and hip-hop artists out there that you can continue to tackle any subject you want. Macklemore and Ryan Lewis are hugely successful ... from making good music, No. 1, and No. 2, speaking about things that actually affect people. Or just talking about a thrift shop."
ALSO:
TIMELINE: Grammy winners through the years
PHOTOS: Grammys 2014 top nominees and winners
COMPLETE LIST: Grammys 2014 nominees and winners
MORE GRAMMYS 2014 COVERAGE

PHOTOS: Top nominees & winners
From the Oscars to the Emmys.
Get the Envelope newsletter for exclusive awards season coverage, behind-the-scenes stories from the Envelope podcast and columnist Glenn Whipp's must-read analysis.
You may occasionally receive promotional content from the Los Angeles Times.