Director Sara Colangelo and actress/producer Maggie Gyllenhaal discuss how "The Kindergarten Teacher" shows a complicated female lead who isn't "perfectly likable." They were joined by actors Anna Baryshnikov and Ajay Naidu. FULL COVERAGE: Sundance
Reporting from Park City, Utah —
It's rare that an actress will have a chance to play a female lead who can have 10 different thoughts at once, Maggie Gyllenhaal told an audience at the Sundance Film Festival. So when that opportunity comes up, you take it. And that's what she did with "The Kindergarten Teacher," which premiered last Friday at the festival.
"I had that feeling that I have very rarely," the actress/producer said as she recalled reading the script. "I knew that this was the movie for me."
Gyllenhaal was speaking at a panel discussion for the film at the L.A. Times Studio at Chase Sapphire on Main, along with writer-director Sara Colangelo and fellow cast members Anna Baryshnikov and Ajay Naidu.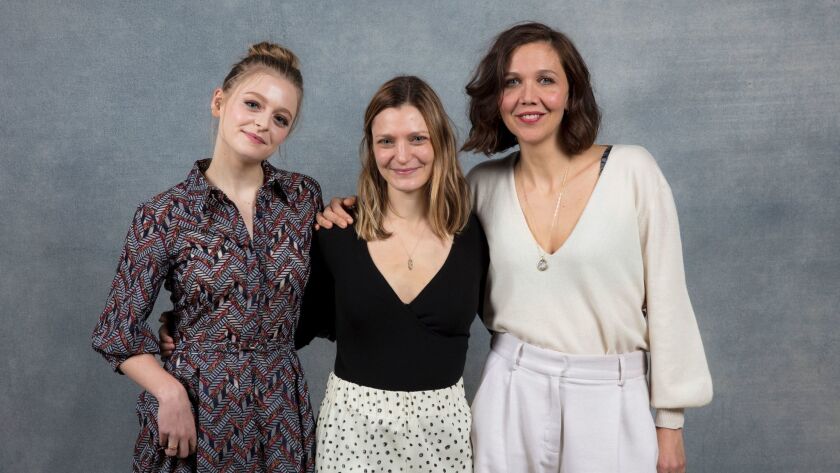 The movie follows a kindergarten teacher named Lisa Spinelli living with growing numbness to the world around her — until she becomes obsessed with pushing a 5-year-old boy in her poetry class to his fullest potential.
"I've really enjoyed crafting a character that isn't perfectly likable," Colangelo said. "I think it's an exciting portrayal of a woman we don't see very often. She's an antihero. You understand her, and then you're just angered by her at moments or you're frustrated with her."
Actress/producer Maggie Gyllenhaal and director Sara Colangelo talk about the film "The Kindergarten Teacher," joined by actors Anna Baryshnikov and Ajay Naidu. FULL COVERAGE: Sundance Film Festival 2018 »
Although "The Kindergarten Teacher" is based on an Israeli film, Colangelo wrote it into an American story and anchored it with a woman's point of view.
One of her purposeful changes: showing the title character's face on screen right away.
"The original [movie] is really brilliant, but the camera's kind of low, it sits low at the child's point of view, and oftentimes the kindergarten teacher is kind of cut out," Colangelo said. "It's really interesting. In the first few scenes of the original film ... you can't even see her face."
Director Sara Colangelo and actress/producer Maggie Gyllenhaal talk about how they brought a female perspective to "The Kindergarten Teacher." FULL COVERAGE: Sundance Film Festival 2018 »
Another important part of the filmmaking process was to curate the poetry that would come from the 5-year-old prodigy character.
"That was really important, that the poetry not be mediocre, that it could actually be taken seriously," Colangelo said.
The poetry in the film comes from various poets around the country, including one that was written by a friend-of-a-friend's actual 5-year-old daughter. Colangelo just happened to spot it on her Facebook feed.
"That's actually the poem that is dictated to Lisa on the telephone," Colangelo said. "And it's just a phenomenal, weird piece."
But in the end, the film isn't about a child prodigy who's good at poetry. It's really about a woman's mind as she struggles to be an artist herself by projecting upon a child, Colangelo said.
"She's a complicated [character], but what woman isn't?," Gyllenhaal said. "I feel really grateful to be able to actually put somebody like that on screen."
---