13 Images
Tony Awards 2015: Best & worst moments
Click through for a look at some of the best and worst moments from the 2015 Tony Awards.
(Clockwise from top left: Theo Wargo / Getty Images; Theo Wargo / Getty Images; Charles Sykes / Associated Press; Theo Wargo / Getty Images)
Co-hosts Kristin Chenoweth and Alan Cumming -- she in a tuxedo mini dress, he in purple shorts and a tie -- immediately opened the Tonys with a topical zinger: "Good evening ladies and gentlemen -- and those who don't identify as either!" Cumming quipped as the audience burst into applause.
(Charles Sykes / Associated Press)
In a part classy, part biting move, Kristin Chenoweth and Alan Cumming noted a few overlooked individuals who weren't in attendance this year. "Jake Gyllenhaal for "Constellations," Cumming said, pointing into the crowd. "Not here!" Chenoweth chimed in. "And Hugh Jackman for "Filet-O-Fish in the River," he joked. "Also not here!" Chenoweth quipped. Then Cumming looked into the crowd and called out "Finding Neverland" producer Harvey Weinstein's name, as the camera cut to a close-up of the not-nominated-this-evening producer's face. "Heeeerrrre!" Chenoweth belted out.
(Theo Wargo / Getty Images)
The opening number of the evening, from the cast of "Something Rotten!," elevated the meaning of "meta" – it was a high-energy, Brian d'Arcy James-led musical number about musicals, opening a theater-centric show about theater shows. But hey, it worked.
(Theo Wargo / Getty Images)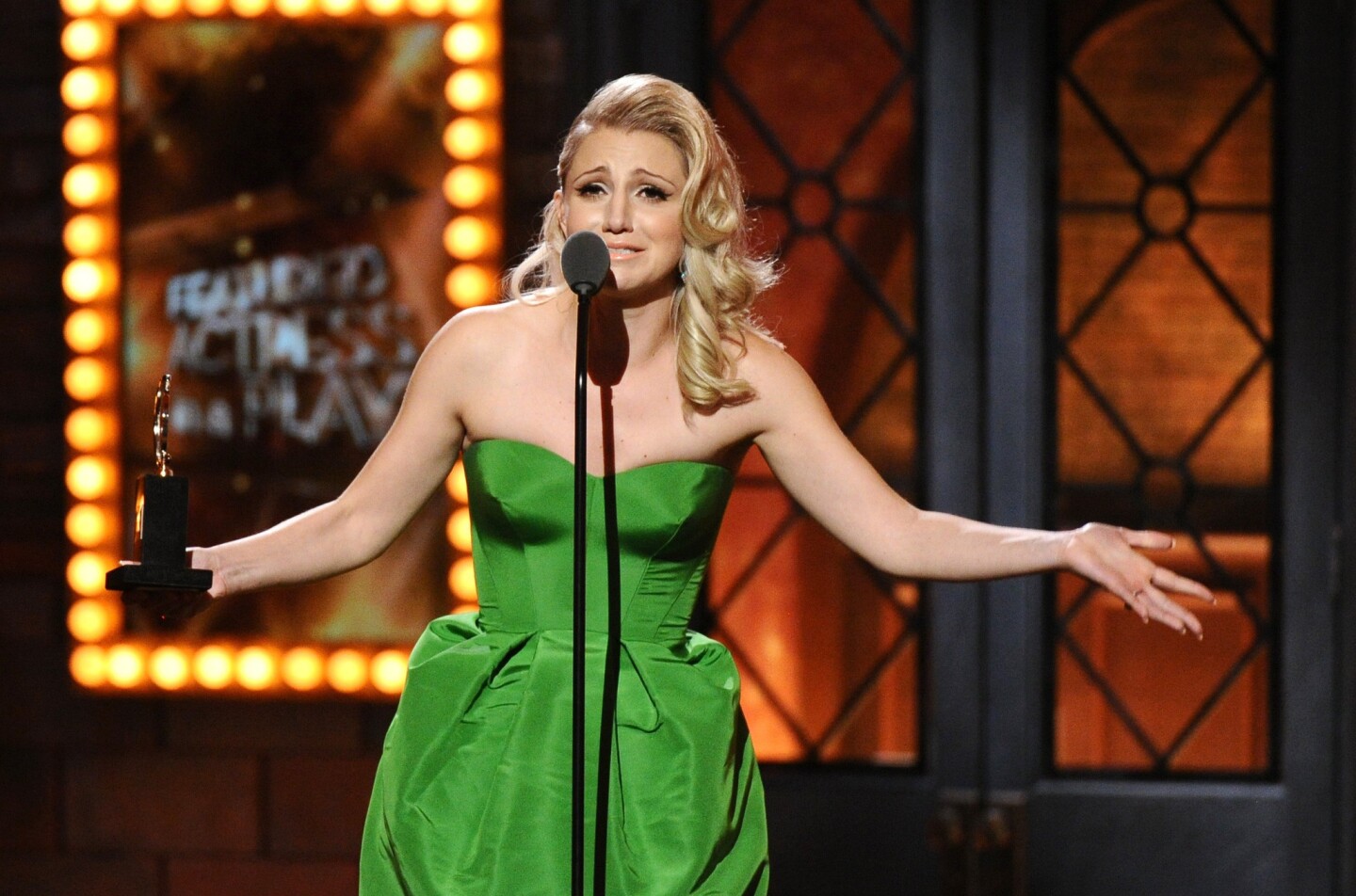 In her acceptance speech for featured actress in a play ("You Can't Take It With You"), Annaleigh Ashford – in a fitted emerald green dress – joked: "I can't believe I'm standing on a stage at Radio City Music Hall for the worst dancing that ever happened on Broadway!" Then she thanked: "… every friend I've ever had, every teacher I've ever had – every person I've ever met!" OK. Way to cover your bases.
(Charles Sykes / Associated Press)
In a particularly poignant moment, father-daughter duo Joel and Jennifer Grey introduced the musical number from nominee "Fun Home," which Jennifer Grey called "universally resonant." No doubt the musical -- based on Alison Bechdel's graphic memoir about her closeted gay father and struggling with being gay herself -- had some resonance for the Greys. Joel Grey himself came out in January at age 82. If there were any tears in the room after a moving performance of the song "Ring of Keys," they were broken by humor when the house lights went up: there, standing next to co-host Alan Cumming, was ET. "No," Cumming told the character, "I said "Fun Home!"
(Charles Sykes / Associated Press)
Biggest win we didn't see: Jeanine Tesori and Lisa Kron, songwriters for "Fun Home," made history this year as the first female writing team to win a Tony for musical score. But we missed most of the moment, as it took place during a commercial break. During the snippet of their acceptance speech that was later broadcast, Kron joked: "It's statistically 10% better" than it used to be for women on Broadway. "It's unacceptably low, but it seems that perhaps we're making some progress," she said.
(Charles Sykes / Associated Press)
It was her Broadway debut, but Ruthie Ann Miles still scored the Tony for featured actress in a musical. And she didn't waste any time using the platform to further a cause. Her first words at the podium? "Recycle," she said, holding up her iPhone to an applauding crowd. Then she read her list of thanks, her voice shaking with emotion, off the digital device. We approve.
(Charles Sykes / Associated Press)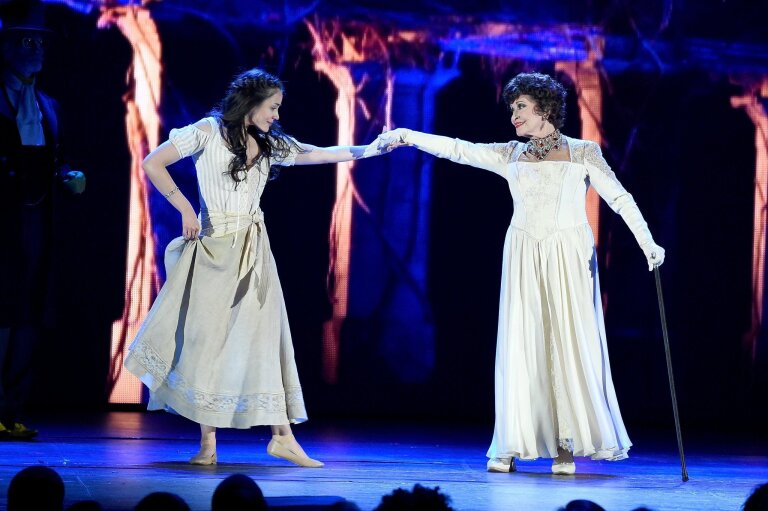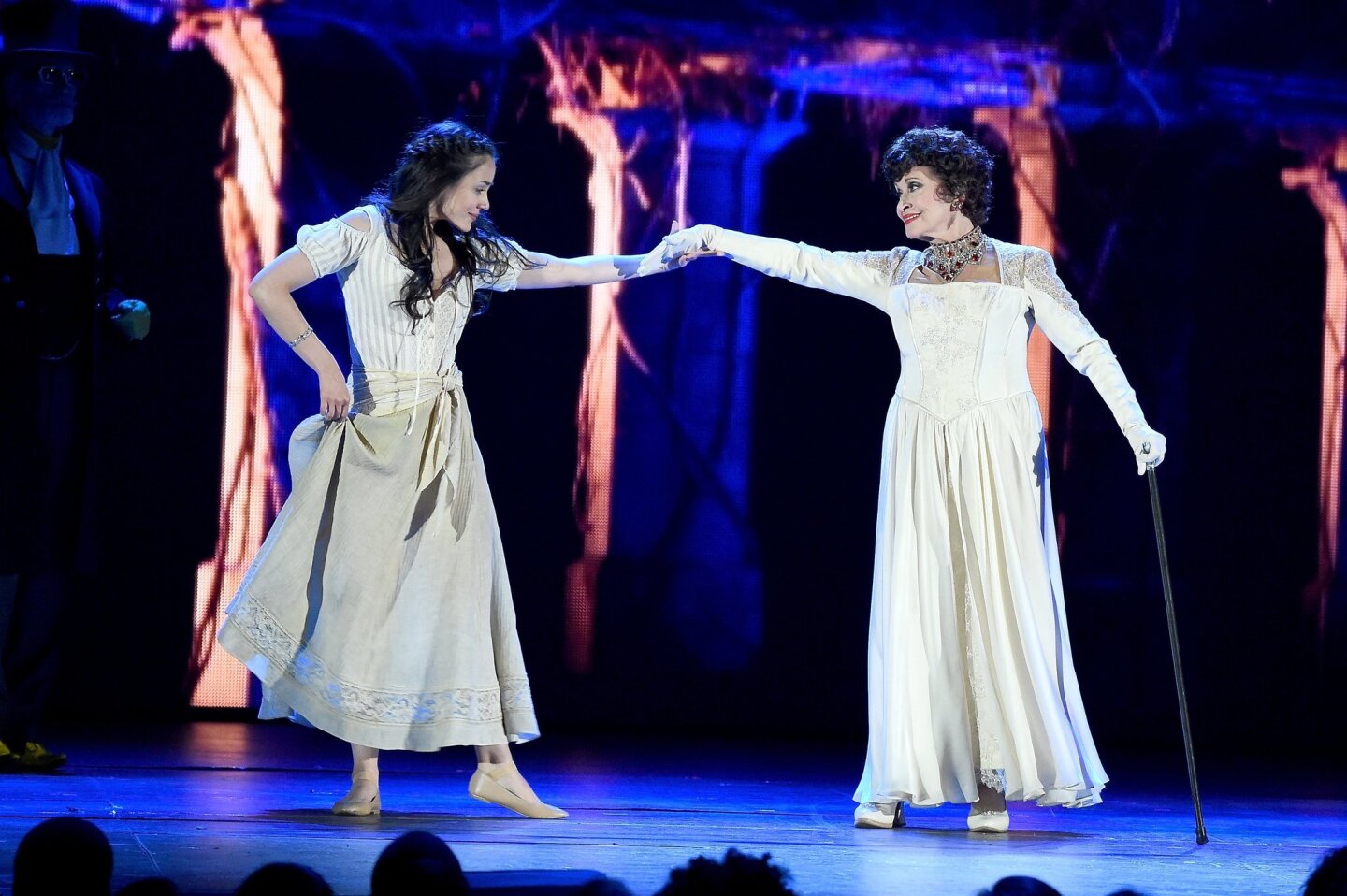 A musical highlight of the evening: Broadway royalty Chita Rivera, who played Anita in the original 1957 "Westside Story," performing a number from "The Visit," which was nominated for best musical. The performance seemed to especially capture the Twitterati: "She is allllllllll that!" one person tweeted. "Wow, I'd be scared to death to dance with Ms Rivera," another said. "The nerves!"
(Theo Wargo / Getty Images)
Most G-rated moment: accepting the award for best play for "The Curious Incident of the Dog in the Night-Time," playwright Simon Stephens thanked his young children for inspiring him to create a play, adapted from the novel, without swear words or violence.
(Brinkhoff-Moegenburg / Associated Press)
Sweetest win: Alex Sharp, who snagged the Tony for lead actor in a play for "The Curious Incident of the Dog in the Night-Time." "Sooo crazy," said the 26-year-old Broadway newcomer, wearing a cream tux accentuated by a crooked bow tie, as if dressed for his bar mitzvah. "This time last year I picked up my [diploma] after graduating from Juilliard; now I'm holding this. Soo crazy!" Then Sharp dedicated his award to "any young person out there who feels misunderstood or different. And to answer the question: 'does that mean I can do anything?' Yes it does!"
(Theo Wargo / Getty Images)
Best comeback: Neil Patrick Harris revisited his "locked box" joke that didn't go over so well when he hosted the Oscars earlier this year -- in which he suggested show predictions were in a locked box backstage -- but this time, the joke was met with warm applause.
(Theo Wargo / Getty Images)
Introducing the best musical category, Larry David, accompanied by Jason Alexander, let his characteristic comic bitterness seep through. "They couldn't put aside their anti-Semitism," he joked about not being nominated for his "Fish in the Dark." "For me or Harvey Weinstein. Yes, I am a loser."
(Theo Wargo / Getty Images)