Before the Emmy red carpet, there's L.A.'s rush hour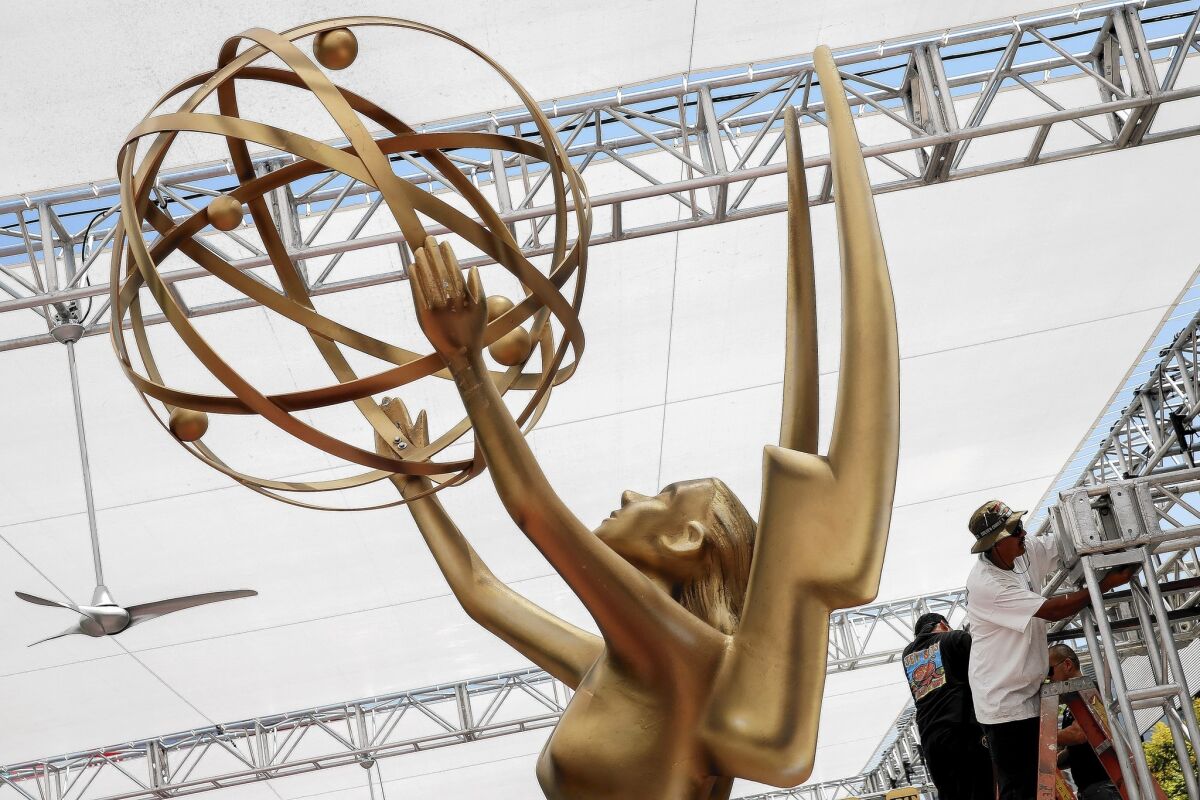 For the first time in 40 years, the Emmy Awards will be on Monday night. Television's best and brightest, accustomed to having the deserted streets of downtown Los Angeles to themselves on a Sunday evening, now have something else on their minds besides what to wear and what to say.
How best to navigate the weekday rush-hour traffic.
Tom Smuts, the 48-year-old writer-producer for AMC's hit drama "Mad Men," plans to bike all the way from his house in Santa Monica to downtown's Nokia Theatre — a 15-mile journey he expects to take about an hour and a half.
"It's about as long as it would take to drive," Smuts said.
Yes, it has come to this: bike shorts on the red carpet — or at least underneath the formal pants. NBC's decision to push the Emmys from Sunday to Monday, a switch driven by the network's desire to not interfere with its lucrative NFL franchise, even in the pre-season, is pushing stars, executives and agents to extremes previously unthinkable in a metropolis organized around the automobile, freeways and GPS apps.
Simon Halls, a top publicist who represents "Glee" producer Ryan Murphy, among others, is telling clients to leave the Westside no later than 2:30 p.m. for a live telecast starting at 5 p.m. on both coasts. Given that many attendees won't get home from parties until well after midnight, that could make for one very long day in a tuxedo or evening gown.
Drivers will need "to crank up the A/C because once they arrive downtown, they will emerge onto a super-hot red carpet," Halls wrote in an email.
The cast of ABC's hit "Modern Family" is crowding into one limousine because traffic concerns forced cuts to the number of limo passes by one-third, to about 800. The TV academy is opening up the red carpet at 2 p.m. — an hour earlier than usual — and will even have a seamstress on hand in case guests rip their formalwear amid all the commuting chaos.
Some attendees are even planning to commit the ultimate non-L.A. act: leaving their wheels behind.
"We have, I think, a group of riders who are taking the Metro in," said academy President and Chief Operating Officer Maury McIntyre. Other attendees are planning to hire Uber drivers for the event, he added.
Of course, the final test for the Monday switch will be the ratings — those numbers that the industry lives and dies by every day. And on that score, NBC is making no promises.
Last year's telecast on CBS delivered its best ratings since 2005 with 17.6 million total viewers, according to Nielsen. The show's impressive ratings were buoyed by its late-September airing when audiences are far easier to attract than in August and by having NFL football as a lead-in — two significant factors that won't be present this year.
"It's going to be hard to match that," said NBC scheduling chief Jeff Bader.
This year's push into a weeknight highlights the immense ratings power of the NFL. Traditionally, the award show has aired on the last Sunday before the official start of the TV season in late September.
But NBC was not about to surrender one of its NFL contests, even for a show that honors television. "Sunday Night Football" is among the highest-rated shows on TV, last year averaging 21.7 million total viewers. The Emmys haven't delivered those kinds of numbers since 2000.
NBC's first NFL preseason game will be televised Sunday – and even though the contests mean little, the broadcasts still usually top the night's ratings charts. So NBC executives began selling academy officials on the idea of a Monday show. The last time that happened was in 1976, when "The Mary Tyler Moore Show" won as best comedy.
TV analysts warn that the week before Labor Day is traditionally among the least-watched of the year, as families squeeze in one last summer trip and parents cart their kids off to college.
No matter how bad the traffic gets, Angelenos can take comfort in one fact: Having the Emmys on a weekday is better than not having them at all.
The 2012 Emmys pumped at least $43 million into the local economy, according to a study by the research firm Micronomics. Women attendees spent more than $1 million on shoes alone, the researchers said.
The cash influx explains why local businesses aren't necessarily screaming about the imposition this year. The TV academy reached out early to industry groups to warn about traffic tie-ups and other concerns.
"Some businesses are telecommuting or having people leave early," said Ruben Gonzalez, senior vice president of the L.A. Chamber of Commerce.
Meanwhile, Smuts' cycle experiment demonstrates how attitudes toward urban transportation are changing, even in a car-obsessed city like L.A.
He worked with Mayor Eric Garcetti's office and the Los Angles Bicycle Coalition, as well as with the TV academy, to plan his bike trek — the first time that a cyclist arrival has ever been sanctioned for the Emmy red carpet.
"The only reason no one did this 10 years ago was because there wasn't a nominee who wanted to ride," Smuts said.
He will be joined by coalition members for most of his ride, then by his wife — television executive producer Meredith Stiehm — for the final several hundred yards. To avoid a time-consuming costume change, he will ride wearing a blazer with a "breathable" nylon-cotton mix.
But for all of Smut's commitment to cycling, he'll skip pedaling back home after the Emmy festivities are over.
"It'll be three in the morning, and I will have had some gin and tonics," he said. "I'll be taking the car back."
Times Staff Writer Laura J. Nelson contributed to this report.
Get our L.A. Goes Out newsletter, with the week's best events, to help you explore and experience our city.
You may occasionally receive promotional content from the Los Angeles Times.