Debbie Allen tackles gun violence, race relations in 'Freeze Frame'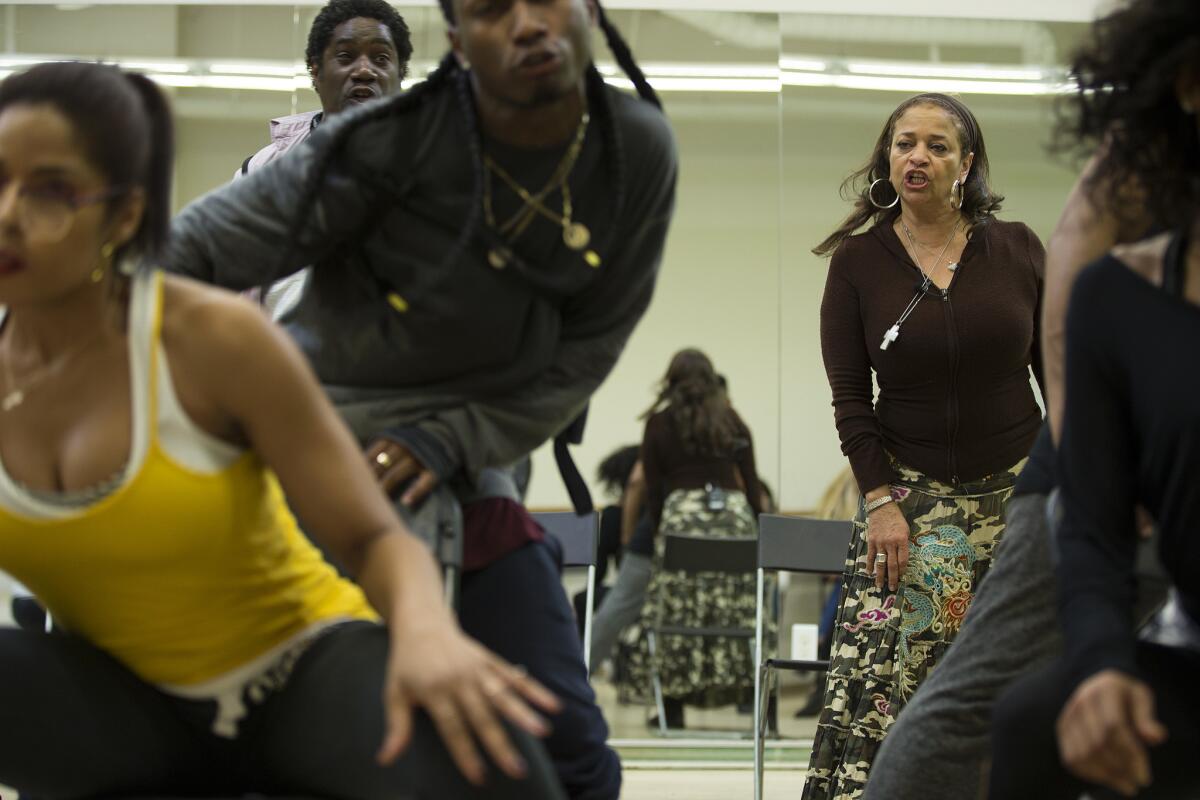 The Debbie Allen Dance Academy in Baldwin Hills is hot. Hot with sweat, hot with frenetic movement and hot with excitement.
On a brisk January morning, the unassuming, cheerful space around the corner from the Baldwin Hills Crenshaw Plaza mall on Martin Luther King Jr. Boulevard is packed with mostly young black dancers gearing up to give a sneak peak of their upcoming show, "Freeze Frame."
Allen calls the show "probably the most important work that I've done in many years." That's because it's about gun violence and race relations, two topics that often go hand-in-hand and that Allen says are all too relevant today. "Freeze Frame" first premiered at the Brisbane Festival in Australia in 2013, but Allen, the show's creator and choreographer, says the upcoming run at the Wallis Annenberg Center for the Performing Arts in Beverly Hills will mark its true debut.
See more of Entertainment's top stories on Facebook >>
The story is simple: A crime is committed, and the police go after the wrong young black man in a blue shirt. It's about the death of an innocent and the anguish of a community.
This is a narrative that Allen says she knows well, as do many of the students in her academy who grew up in South L.A. neighborhoods. Allen laments that just the other day, on Martin Luther King Jr. Day, of all days, there was a shooting down the street.
Through "Freeze Frame" — a multimedia show made up of dance, theater, film, art and music — Allen hopes to connect to the country's "moral spine."
"Art is a lens through which people can see themselves and see the world," she says. "And maybe it can sensitize them to something they should think about."
Allen has been sensitized to the subject since she was a young girl in Texas being denied a seat at the Woolworth's lunch counter. In the early 1980s, when she came to Los Angeles to play dance teacher Lydia Grant in the television series "Fame," she began contemplating the seed of what would become "Freeze Frame."
"I could not accept the gang violence, the police violence," Allen recalls. "There were so many murders — horrors every day."
I could not accept the gang violence, the police violence. There were so many murders -- horrors every day.
— Debbie Allen, choreographer
Later, as a successful entertainer, she left a birthday party on Melrose only to find her son, who'd left the party before her, face down on the ground with his friends in front of the police, "because they were black boys in a neighborhood where there was worry about why they were there."
That same son, Norman "Thump" Nixon Jr., became a composer, one who has written pieces for "Freeze Frame." Allen's daughter, Vivian Nixon, dances, acts and sings in the show. On this particular morning, their father, former NBA star Norm Nixon, is watching with pride.
"It's really the time period that makes the subject so relevant," Thump Nixon says, pointing to the rise of social media. "If someone's nephew got shot here today and they tweeted, 'The police shot my nephew,' tomorrow everybody would know about it. Especially if it's a young black kid. It's a huge problem in our country."
The words of the songs, monologues and stories in "Freeze Frame" are not subtle, but neither is life on the streets or the problem of gun violence in America, Allen says.
"The ghosts of Columbine and Sandy Hook are speaking / San Bernardino will never rest / not until we fully address this problem as a nation looking for reformation," the cast sings in a boisterous finale.
Performers Dion Watson, 31, and Will B. Wingfield, 29, later spoke about how Allen largely raised them from the time they entered the dance academy at ages 17 and 15, respectively. Watson wears a shirt emblazoned with the words "I Am Compton," which Allen later mentions is the name of a nonprofit arts and education organization Watson founded. He grew up in Compton, surrounded by the stories of abuse, violence and death that "Freeze Frame" illuminates.
Wingfield calls himself a "country boy" from Nashville, but he adds that the violence there is just as bad, adapted from gang culture in L.A. In some ways it's actually worse, he adds, because it's not governed by the same rules and codes that keep L.A. gangs in line. "They just kill everybody," he says.
As a result of his work with Allen, Wingfield has danced all over the world, including with Celine Dion and as a contestant on "So You Think You Can Dance." Both men say their work in "Freeze Frame" is urgent.
"We're kind of like her generals inside the army of the light, supporting her message and her vision, and she pulls us back in when it's time," Wingfield says. "And with this particular piece, it's time."
The ghosts of Columbine and Sandy Hook are speaking / San Bernardino will never rest / not until we fully address this problem as a nation looking for reformation
— 'Freeze Frame'
Patti Wolff, program director at the Wallis, and Rachel Fine, the Wallis' managing director, also think it's time. The Wallis will kick off "Freeze Frame" with a gala on Feb. 4 featuring a conversation with Maria Shriver.
Fine says that the Wallis' mandate is to be a "relevant and vibrant community resource," and so programming will reflect the diversity of L.A.
"Unfortunately, it's the exact right time to be talking about gun violence and to pose the questions the show is posing," Wolff adds.
If the show is a success at the Wallis, Allen wants to take it on the road — all the way to the White House, if she can.
"I would love to follow the campaign trail and play it in Chicago, Detroit and New York and where the conventions are going to be," Allen says. "We want our world back."
------------
'Freeze Frame'
Where: Wallis Annenberg Center for the Performing Arts, 9390 N. Santa Monica Blvd., Beverly Hills
When: 6 and 8 p.m. Feb. 5 and 6, 3 p.m. Feb. 6, noon Feb. 7
Tickets: $39 to $99; (310) 746-4000, www.TheWallis.org
Gala: Benefit performance and panel discussion 5:30 p.m. Feb. 4; $500; (310) 202-1711
Get our L.A. Goes Out newsletter, with the week's best events, to help you explore and experience our city.
You may occasionally receive promotional content from the Los Angeles Times.