13 Images
Celebrity splits of 2011
Russell Brand
filed for divorce from
Katy Perry
on December 30.The two married in October 2010 with an elaborate ceremony in India, fending off a swarm of media attention ahead of the event. Reports at the time indicated they have no prenup.
Story
(Jason Merritt / Getty Images)
Ashton Kutcher (May) and Demi Moore (December) cemented their May-December romance with vows in a hush-hush ceremony in Beverly Hills on Sept. 24, 2005. On Nov. 17, 2011, Moore released a statement that she was divorcing Kutcher "with great sadness and a heavy heart. As a woman, a mother and a wife there are certain values and vows that I hold sacred, and it is in this spirit that I have chosen to move forward with my life."
Demi Moore to file for divorce; Ashton Kutcher responds on Twitter
(Hermann J. Knippertz / Associated Press)
They were engaged only a year but they'd been together for 11 years when
"Avatar"
star Zoe Saldana and entrepreneur Keith Britton called an end to their relationship in mid-November. The pair called the split amicable, and a rep said they would continue acting as business partners for their fashion resource biz, MyFDB.com.
Zoe Saldana steps out single after Keith Britton breakup
(Frazer Harrison / Getty Images)
They started dating last December, became engaged in May, married on Aug. 20 and split up Oct. 31. Kris Humphries and Kim Kardashian's marriage lasted 72 days. Kardashian blasted rumors that it was a sham marriage -- or "showmance." On her personal blog, she insisted: "I married for love."
Kim Kardashian wastes no time, will divorce Kris Humphries
(Matt Sayles / Associated Press)
Jesse James -- infamous ex to Sandra Bullock -- and Kat Von D went public as a couple last September, got engaged in January, split up right before the final season of "L.A. Ink" premiered, then got back together in August. In September, she announced they'd broken up again, for real, and revealed in November that she knew of 19 people he'd cheated on her with during their year together.
Kat Von D sets the record straight: She and Jesse James are over
(Knox Photographics / Discovery Channel , Bob Chamberlin / Los Angeles Times)
Yankees shortstop Derek Jeter and Esquire's sexiest woman alive Minka Kelly broke up at the end of August, which effectively scrubbed all the engagement and wedding rumors that had peppered their three-year relationship.
Minka Kelly and Derek Jeter have 'amicable' breakup
(Nick Laham / Getty Images, Charley Gallay / Getty Images for Michael Kors)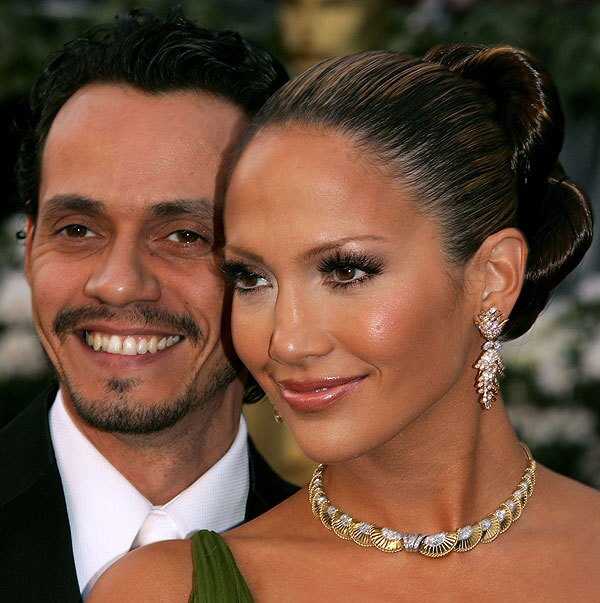 Jennifer Lopez and Marc Anthony said their vows in 2004, renewed their vows in 2008 and 2010 and ended their vows in 2011. "This was a very difficult decision," the couple announced in a joint statement issued late on July 15, the Friday before Carmageddon, when most of Los Angeles had already headed home to avoid traffic. "We have come to amicable conclusion on all matters." The two have twins together, Max and Emme.
Jennifer Lopez and Marc Anthony to divorce
(Frazer Harrison / Getty Images)
Maria Shriver made it official late in the day July 1, the Friday before the July 4th weekend, filing documents in L.A. Superior Court to end her 25-year marriage to Arnold Schwarzenegger. The pair wed April 26, 1986, at St. Francis Xavier Church in Hyannis, Mass. Shriver's gown had an 11-foot train, and they rode away in a white limo. The Los Angeles Times
revealed
on May 17 that Schwarzenegger had fathered a child with a longtime member of his household staff.
Maria Shriver files for divorce from Arnold Schwarzenegger
(Los Angeles Times)
On June 22, George Clooney, 50 and hot, and model-actress Elisabetta Canalis, 32 and ditto, announced simply, "We are not together anymore," along with the usual "it's very difficult" and a request for privacy. The pair began dating in 2009. Clooney said in January that he would never marry again. And the split was evidence that he means it.
George Clooney, Elisabetta Canalis have split
(Mark Ralson / AFP / Getty Images)
Crystal Harris was labeled "Runaway Bride" on the cover of the July Playboy, an issue that supposedly was originally intended as an introduction to the new Mrs. Hugh Hefner. But Harris, 25, ditched Hef just days before their mid-June wedding. The pair had gotten engaged Christmas Eve 2010. After the split, the 85-year-old philosophically tweeted, "Live & learn."
Hugh Hefner and Crystal Harris: Wedding is off
(Ethan Miller / WireImage)
It was a whirlwind relationship and, possibly, a rebound relationship. Either way, it's over between Sean Penn and Scarlett Johansson. It began with an overnight getaway to Cabo San Lucas, Mexico, in March, and by April they were reportedly moving in together. By June, things seemed to have fizzled. Penn and Robin Wright had ended a long relationship in July 2010; Johansson and Ryan Reynolds broke up in December 2010.
Scarlett Johansson and Sean Penn call it quits
(Evan Agostini / Associated Press, Allen J. Schaben / Los Angeles Times)