15 Images
Celebrity feuds
By Stephanie Lysaght, Los Angeles Times Staff Writer
Whether it involves verbal combat or flying fists, celebrity sparring can make for endless conversation.
Here's a list of famous feuds. Some have been resolved, and some rage on.
Boys gone wild: Brody Jenner vs. Joe Francis
When Twitter gets involved, you know it's serious. Jenner called out Francis on the social media site for all the world to see. "Joe Francis needs to be in jail!!!" Brody tweeted angrily. "How can you call yourself a man when you beat up a girl??"
The ire stems from a fight in which Francis allegedly grabbed Jenner's girlfriend, Playboy Playmate Jayde Nicole, by the hair, punched her in the face and then kicked her while she was down -- all because she had thrown a drink on him. Wow, overreact much, Joe? Jenner even got a swing in at Francis, before the "Bromance" star was felled by a taser wielded by an unknown person.
()
Leave the kids out of it:
Perez Hilton
vs.
Demi Moore
This year, celeb blogger Hilton accused Moore of being a bad mother by letting her 15-year-old daughter dress in scanty outfits. Perez didn't hold back, commenting on the teenager's "boobs."
Wrote Perez, "Demi, Ashton and Bruce are GREAT parents!"
The actress attacked him for exploitatively posting photos of the underage girl. Then the gloves really came off. Hilton retorted that Moore was "delusional and slightly senile," tweeting: "And thanks for drawing MORE attention to your daughter's behavior and your parenting skills (or lack thereof). U r real smart!"
(Perez Hilton / Getty Images; Demi Moore / EPA)
Career change? Spencer Pratt vs. Ryan Seacrest
After Seacrest joked on his radio show about tasering reality star Heidi Montag, Pratt, her husband, fired off a stream of furious tweets challenging Seacrest to a fight. Of all the world's reality stars, Seacrest said on the air that Montag was at the top of his taser list -- a joking reference to "Bromance's" Brody Jenner getting tasered in a bar fight with Joe Francis in Los Angeles.
"Does that radio make you feel invincible because your not and I'm going to tear you apart!!!" he wrote.
He had less bravado in his statement to US Weekly on the matter. "It is irresponsible and offensive for someone with your platform to promote violence on this level," Pratt said.
But that wasn't before Spencer pitched a new career for himself. He tweeted, "you really have no clue what you just started with me! You have 5 jobs! I have one job making your life a living HELL!!!"
(Spencer Pratt & Heidi Montag / EPA; Ryan Seacrest / AP)
Broken hearts? Mariah Carey vs. Eminem
Jeez, Mariah. Way to stomp on the guy's heart. Carey dressed up as the rapper while filming the music video for "Obsessed," which includes the Eminem-targeted lyrics: "You're so lame. Oh boy, why you so obsessed with me? Oh finally found a girl that you couldn't impress? Last man on the Earth still couldn't get this."
Apparently, the two dated in 2001, and Eminem had
already
rapped about Carey in his song "Bagpipes From Baghdad." "I want another crack at ya," the lyrics go. "Nick Cannon better back -- up. I'm not playing, I want her back, you punk."
(Getty Images / AP)
Pea Posse Smackdown? Will.i.am vs. Perez Hilton
Will.i.am and Perez Hilton told two very different stories after a Toronto tussle that left Hilton tweeting for help. The bruised blogger claimed he was verbally accosted by Will.i.am and then punched by the musician's manager at the MuchMusic Awards after-party. The Black Eyed Peas' frontman denied the accusation.
Both are using the Internet to update fans on the case, and Will.i.am's manager, Polo Molina, turned himself in to police.
(Associated Press)
Burying the hatchet: David Letterman and Oprah Winfrey
The feud spanned a decade. Oprah declined numerous invitations to appear on the "Late Show With David Letterman," namely because she was often the butt of his jokes.
They have finally buried the hatchet, and each has appeared on the other's talk show.
(George Burns / AP)
Trouble in paradise: Lauren Conrad vs. Heidi Montag
Tension mounted between Lauren "LC" Conrad and Heidi Montag of "The Hills" when Heidi moved in with her then-loathsome beau (now husband), Spencer Pratt.
Next came rumors, rumors and -- oh, yeah -- more rumors. Some of them involved a sex tape. Does this sound familiar? It's the exact same argument that allegedly divided former reality stars/BFFs Paris and Nicole.
Channeling Paris during her feud with Nicole, LC told Heidi, "You know what you did."
(WireImage)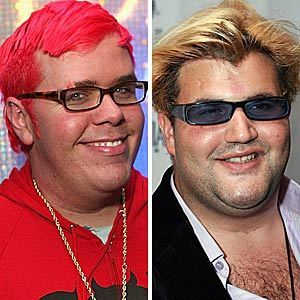 Let the hot dogs decide: Perez Hilton vs. Jason Davis
Perez loves to bash Brandon Davis' brother, Jason. Jason, likewise, has some pretty awful things to say about Perez.
Perez tried to settle the score with a hot dog-eating contest! "Dear Jason Gummi Bear Davis," Perez wrote on his blog. "Meet Perez outside of Kitson on Robertson Blvd. for a little face-off. Let's see who can run a mile the fastest. Then we can have a hot-dog-eating competition."
(Getty Images / WireImage)
Clash of the titans: Kanye West vs. 50 Cent
On Sept. 11, 2007, Kanye West and 50 Cent went head-to-head with their new albums, "Graduation" and "Curtis," respectively. But it wasn't always supposed to be that way. West moved his album release date by one week to reportedly put the two in direct competition. That's when 50 Cent told Rolling Stone he would retire if West sold more records than he did.
Luckily, 50 saved himself from early retirement. Not by outselling West, but by recanting his statement before the album release date. He later told the New York Daily News: "People expect a competition in hip-hop to be dangerous.... This one isn't. Kanye didn't say anything disrespectful, so I don't actually have a beef with him. It's just the competitive nature of the art form."
(Brad Barket / Getty Images)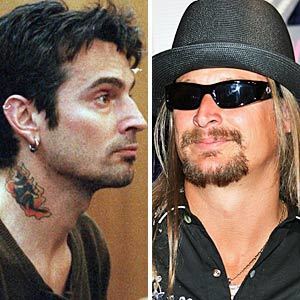 Battle of the exes: Tommy Lee vs. Kid Rock
At the 2007 VMAs, Pam Anderson's ex, Kid Rock, punched Pam Anderson's other ex, Tommy Lee, right in the face!
Tommy told his side of the story on TommyLee.tv:
"Here I am minding my own biz having a great time with my friend Criss Angel (magician) and watching the MTV awards in the front row saying hello to all my friends.... Pamela comes and sits on my lap who I love and adore.... I get a tap on the shoulder from Kid Pebble ... I stand up and embrace him with a semi-hug and say, 'Hey, dude ... what up?' He punches me in the face."
(Getty Images)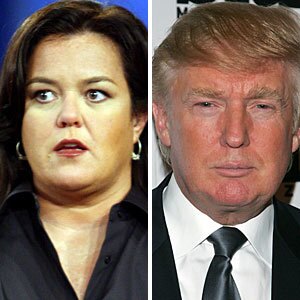 Attack of the killer comb-over: Rosie O'Donnell vs. Donald Trump
Rosie found it absurd that Donald reigned over the Miss USA pageant. "Left the first wife, had an affair; left the second wife, had an affair. Had kids both times. But he's the moral compass for 20-year-olds in America," Rosie observed on "The View."
In response, Donald told the Insider, "Rosie O'Donnell is disgusting, both inside and out.... You take a look at her, she's a slob. She talks like a truck driver."
(AP / Getty Images)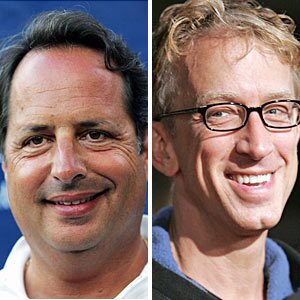 Fight! Fight! Fight! Jon Lovitz vs. Andy Dick
Jon Lovitz and Andy Dick have been enemies for ages, but they finally came to blows at the Laugh Factory.
Laugh Factory owner Jamie Masada told Page Six that "Jon picked Andy up by the head and smashed him into the bar four or five times, and blood started pouring out of his nose."
Jon showed no remorse, telling Page Six, "All the comedians are glad I did it."
(Paramount)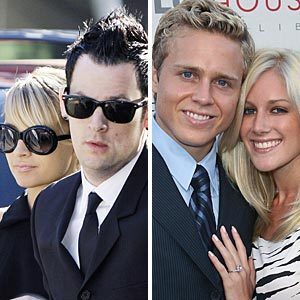 Them's fightin' words: Joel Madden vs. Spencer Pratt
Rumor had it that Spencer Pratt and Joel Madden got into a fight at the Beverly Hills Hotel.
Spencer happily confirmed the rumor to In Touch, saying: "I was sitting having a quiet lunch with Heidi (Pratt) when Nicole walked in and started pointing at me and then whispering to Joel. He storms over and starts shouting.... I told him, 'Please, can we not do this at the Beverly Hills Hotel. This is ridiculous.' Then he started screaming and calling me names."
According to Spencer, it all started because he was misquoted in Details calling Nicole Richie a bad name.
(Getty Images / AP)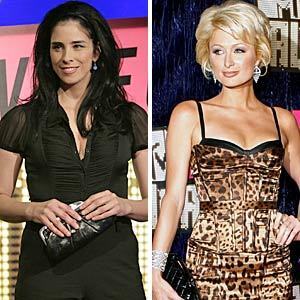 A comic eats her words: Sarah Silverman vs. Paris Hilton
After bashing Paris Hilton at the MTV Movie Awards, Sarah Silverman attempted to smooth things over at the VMAs. "No Paris jokes tonight. I'm over that," she swore.
"If you had any idea how much I misused all of my orifices in my early 20s," Sarah continued, "you would realize it was really the pot calling the kettle [promiscuous] or whatever."
(AP / EPA)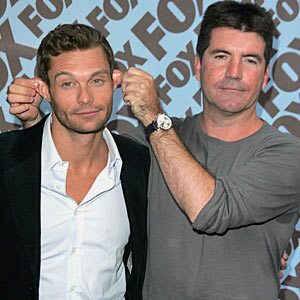 Oh no he di'n't! Simon Cowell vs. Ryan Seacrest
Their friendly banter is one of the reasons that viewers return to "American Idol" year after year. Here's an example of a particularly juicy on-air tiff:
Ryan (referring to "Idol" hopeful Melinda Doolittle): Simon, any advice on the high heels?
Simon: You should know, Ryan.
Ryan: Stay out of my closet!
Simon: Come out!
(WireImage)