Alan Rickman in the eyes of his 'Harry Potter' family: 'the finest of actors,' 'extremely kind,' 'funny'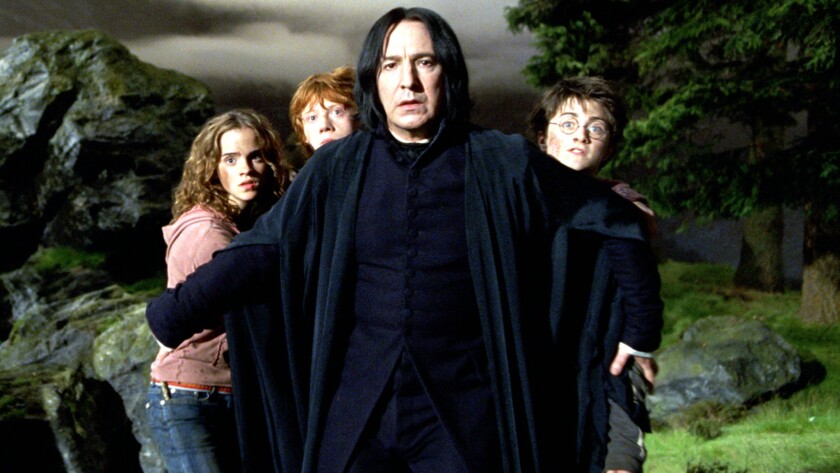 The "Harry Potter" family was taking Alan Rickman's death hard on Thursday, if social media was any indication. Cast members and others recalled manifold memories, painting the 69-year-old as a significant influence on the young and not-so-young performers who'd worked with him in the eight films that were made over the course of a decade.
"I'm very sad to hear about Alan today," Emma Watson, who played Hermione Granger, said Thursday on Facebook. "I feel so lucky to have worked and spent time with such a special man and actor. I'll really miss our conversations. RIP Alan. We love you."
#alanrickman pic.twitter.com/4WXwnoUtM7

— Emma Watson (@EmWatson) January 14, 2016
Daniel Radcliffe, Harry Potter himself, offered some insight into the man behind the character of Professor Severus Snape.
"People create perceptions of actors based on the parts they played so it might surprise some people to learn that contrary to some of the sterner(or downright scary) characters he played, Alan was extremely kind, generous, self-deprecating and funny," Radcliffe said. "As an actor he was one of the first of the adults on Potter to treat me like a peer rather than a child."
Rupert Grint, a.k.a. Ron Weasley, shared a memory that illustrated the kids-and-adults dynamic from the earlier "Potter" movies.
A huge talent and great gentleman. You will be missed, Alan Rickman. pic.twitter.com/kBwNW8jkDQ

— Rupert Grint .NET (@rupertgrintnet) January 14, 2016
Oliver Phelps, who played George Weasley, remembered Rickman as a "funny and engaging person," while James Phelps, a.k.a. Fred Weasley, called him "One of the nicest actors I've ever met."
Terribly sad news about the passing of Alan Rickman. A funny and engaging person who put a shy young actor at ease when I was on HP.

— Oliver Phelps (@OliverPhelps) January 14, 2016
Shocked & sad to hear Alan Rickman has passed away. One of the nicest actors I've ever met.Thoughts and prayers with his family at this time

— James Phelps (@James_Phelps) January 14, 2016
Evanna Lynch, Luna Lovegood in the franchise's later installments, conjured up what it was like to interact with Rickman when he was in character.
I'll also never forget how scary it was to accidentally bump into him as Snape. And how he made us love Snape so much!¿¿Rest in peace, Alan.

— Evanna Lynch (@Evy_Lynch) January 14, 2016
"He inspired my career more than he ever knew and I'll miss him," said Matthew Lewis, who played Neville Longbottom, on Instagram. He said he was at the studios where the "Potter" movies were filmed when he heard about Rickman.
"Harry Potter" author J.K. Rowling also mourned the actor's death from cancer at age 69, expressing sympathy for his widow.
There are no words to express how shocked and devastated I am to hear of Alan Rickman's death. He was a magnificent actor & a wonderful man.

— J.K. Rowling (@jk_rowling) January 14, 2016
My thoughts are with Rima and the rest of Alan's family. We have all lost a great talent. They have lost part of their hearts.

— J.K. Rowling (@jk_rowling) January 14, 2016
"Alan was my friend and so this is hard to write because I have just kissed him goodbye," Emma Thompson, who'd collaborated with Rickman in "Love Actually," "Sense and Sensibility" and "Judas Kiss" as well as the wizard movies, said in a statement (via Newsweek). "What I remember most in this moment of painful leave-taking is his humour, intelligence, wisdom and kindness. His capacity to fell you with a look or lift you with a word."
Rickman was "the finest of actors and directors," said Thompson, who played Hogwarts Professor Sybil Trelawney.
"He was the ultimate ally," she said. "In life, art and politics. I trusted him absolutely."
Obituary: British actor Alan Rickman dies at 69
Rickman himself talked to The Times' Hero Complex blog in 2011, when "Harry Potter" was winding down with "Harry Potter and the Deathly Hallows -- Part II," and called his time on the franchise a unique experience where he'd gotten to watch "the movies grow up with the children."
"It was a punctuation mark in my life every year," he said, "because I would be doing other things but always come back to that and I was always aware of my place in the story even as others around me were not."
"Am I sad? The point about a great story is that it's got a beginning, a middle and end," Rickman said. "The ending of this story was quite popular and beautifully judged by Jo Rowling and [director] David Yates, so it's not a cause for sadness.
"It's a cause for celebration," he said, "that it was rounded off so well."
Follow Christie D'Zurilla on Twitter @theCDZ and Google+. Follow the Ministry of Gossip on Twitter @LATcelebs.
---
Inside the business of entertainment
The Wide Shot brings you news, analysis and insights on everything from streaming wars to production — and what it all means for the future.
You may occasionally receive promotional content from the Los Angeles Times.