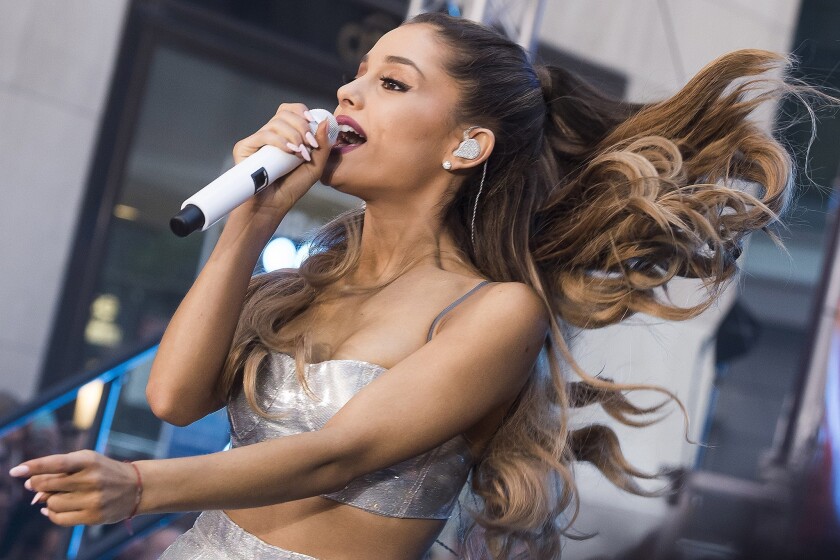 Ariana Grande is dominating the entertainment news cycle, but the petite pop star is still dodging and deflecting when it comes to those inevitible inquriies about her love live.
The 21-year-old Nickelodeon alum hit the "Today" show's summer concert series Friday morning to perform her hits "Bang, Bang" and "Problem" — easily the summer's breakup anthem.
She of the signature high ponytail has been rumored to be dating her "Right There" and "Best Mistake" collaborator Big Sean, a rumor that got sparked after her breakup with Jai Brooks and caught fire after she and Sean were spotted holding hands backstage at Sunday's MTV Video Music Awards.
So when host Matt Lauer asked her if she had captured any one guy's attention, the "Sam & Cat" alum extinguished that topic with a blanket answer.
"Oh, my goodness! Y'all are putting me on the spot," she replied. "I'm happy."
Earlier this week, Ryan Seacrest also tried to elicit an answer from the singer by bringing up the Big Sean rumors. (In April, the rapper had called off his engagement to "Glee" star Naya Rivera.)
"I mean, I guess, curiosity man, it'll kill you," she said, deflecting the "On Air" host. "I don't know what to say, Ryan. Why are you doing this to me? I'll tell you when we're not on the air. I trust you. I've known you a long time. I don't know about these millions of people listening in right now."
Ugh.
What's more, Grande previously stormed out of a Power 106 interview when the topic came up.
Note to self: Don't ask about her love life. She gets all catty. Follow me on Twitter @NardineSaad.
---