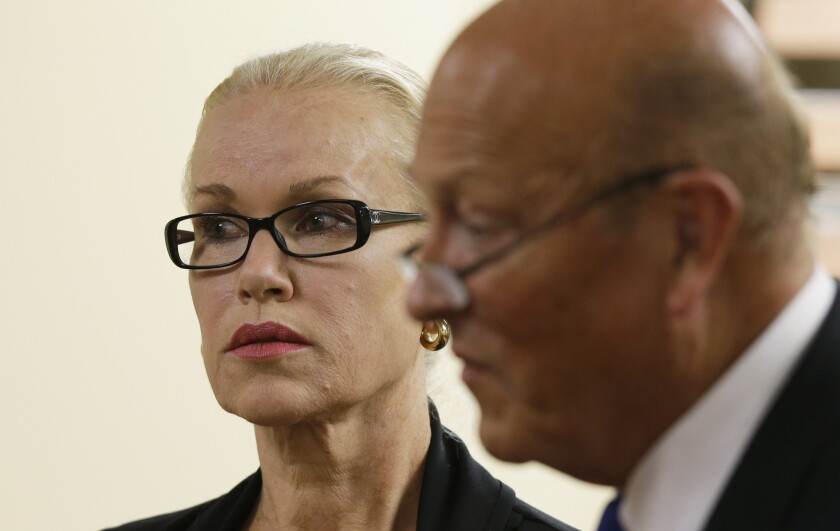 Casey Kasem's family saga has taken its most bizarre turn yet: Kasem's wife Jean tossed a package of hamburger meat at the sickly radio personality's daughter, Kerri, whom he had from his first marriage.
Casey Kasem, 82, was transported by ambulance to a Washington state medical facility shortly after the argument between the two women broke out, authorities told the Associated Press on Monday.
The couple had been staying with friends near Seattle when police received a 911 call on Sunday and found the two women arguing.
The altercation occurred when Kerri Kasem was visiting the Washington home for the first time since her father was removed from a Santa Monica facility in early May, according to NBC News. Jean Kasem had removed her husband from the Santa Monica facility and taken him to Washington without the family's knowledge. His missing person status was widely reported in the media.
Kerri Kasem, 35, arrived at the home with an ambulance to take the radio icon to a hospital but her accompanying paramedics were not allowed to enter, NBC News reported. Someone inside the home called 911 and another ambulance and fire truck arrived. Soon after the truck was called away, Jean Kasem came downstairs and hurled the package of hamburger meat toward her stepdaughter.
"In the name of King David, I threw a piece of raw meat into the street in exchange for my husband to the wild rabid dogs," said Jean Kasem, 59, according to NBC. Footage of her tossing the package and calling her stepdaughter an "intrusive psycho" was also obtained by the news outlet.
Paramedics ultimately got inside the home to remove the former Top 40 host. Kerri Kasem's spokesman Danny Deraney told the media that she accompanied her father to receive care, though he did not know the radio host's condition at the time.
On Friday, Kerri Kasem said in legal filings that her dad suffers from Lewy body dementia, bedsores, lung and bladder infections, according to the Associated Press. She was also granted daily visitation rights.
Last month, a Kitsap County judge turned the radio host's primary care back to his children, making Kerri Kasem his legal caretaker. His wife was told to cooperate with the effort and the judge ruled that Kerri Kasem could have a doctor of her choosing examine her father.
That's reportedly what she was trying to to do when the bizarre incident unfolded over the weekend.
---