Chris Brown tweets 'Thank you GOD' after early release from jail
Chris Brown's name evokes controversy these days, so it's easy to forget that he once had a role model image. From high school crooner to R&B star both idolized and vilified, here's a brief look at Chris Brown's life and career.
(Kirk McKoy / Los Angeles Times)
Chris Brown released his self-titled first album in 2005 after signing with Jive the year before at 15. His first single, "Run It," debuted at No. 1, making it the highest-charting debut single for a male solo artist in Billboard history.
(Matt Sayles / Associated Press)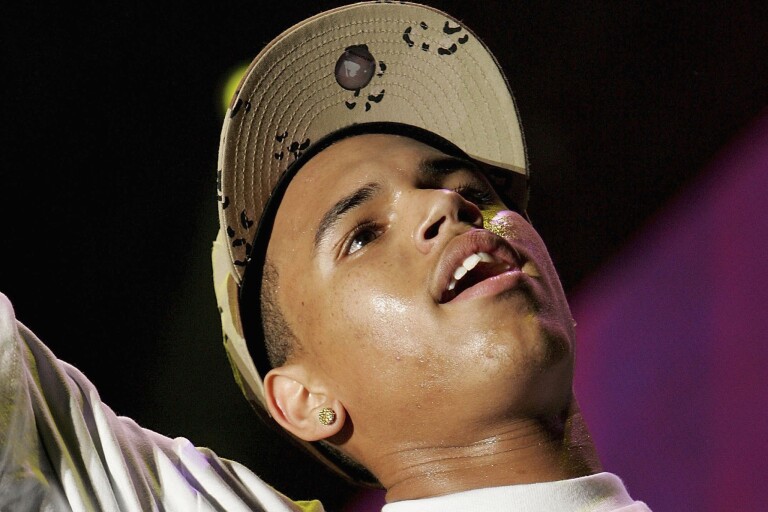 After rounding out 2006 with a few more hits -- "Yo (Excuse Me Miss)" and "Gimme That" with Lil Wayne -- and a couple of tours (both with Ne-Yo and Beyonce), Brown released his second album, "Exclusive," in November 2007.
(Paul Hawthorne / Getty Images)
Following in the tradition of Michael Jackson, Usher and Justin Timberlake, Brown's dance floor prowess played into his pop persona as much as his high notes. His breakout performance at the 2007 MTV Video Awards included a stunt-heavy dance medley and a "Billie Jean" tribute.
(Christina House / For the Times)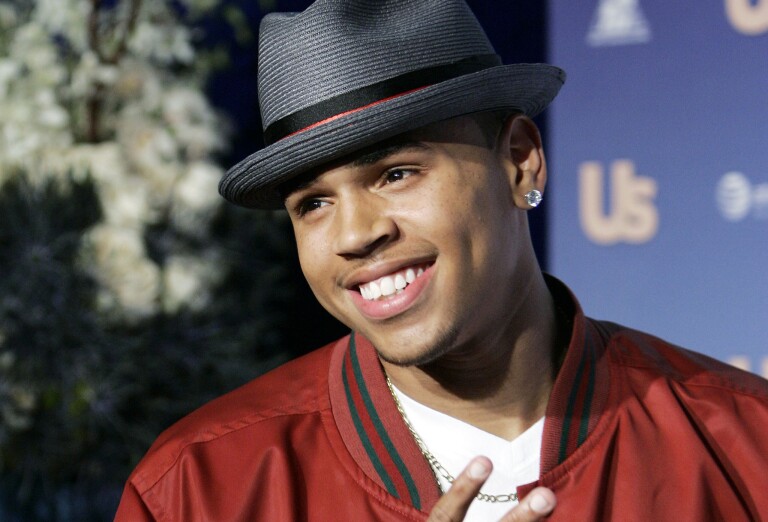 When it came to tween heartthrob status, Brown was second to only the Jonas Brothers in Bop and Tiger Beat covers. He was nominated for Teen Choice Awards and had his own "My Super Sweet 18" birthday special on MTV.
(Richard Drew / Associated Press)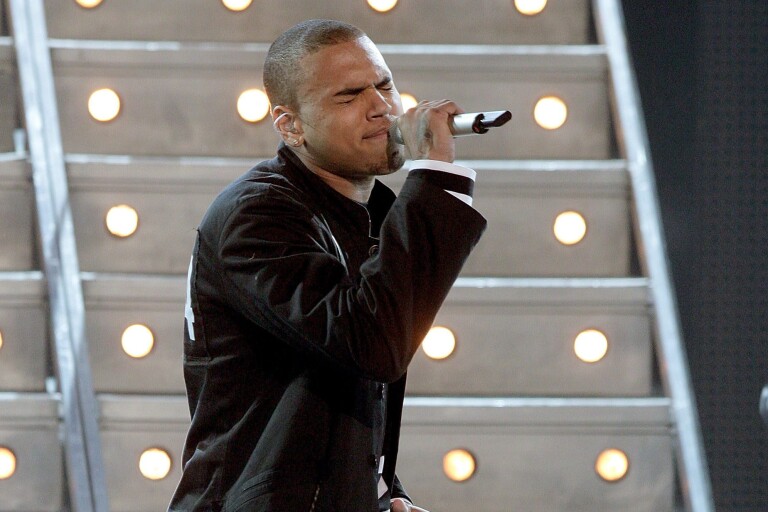 Brown worked with everyone from the vocoder-happy T-Pain to his kiddie contemporary Bow Wow. In 2008, Chris sang on Lil Mama's "Shawty Get Loose" and had a hit with "No Air," a duet with "American Idol" alum Jordin Sparks that appeared on her debut album.
(Kevin Winter / Getty Images)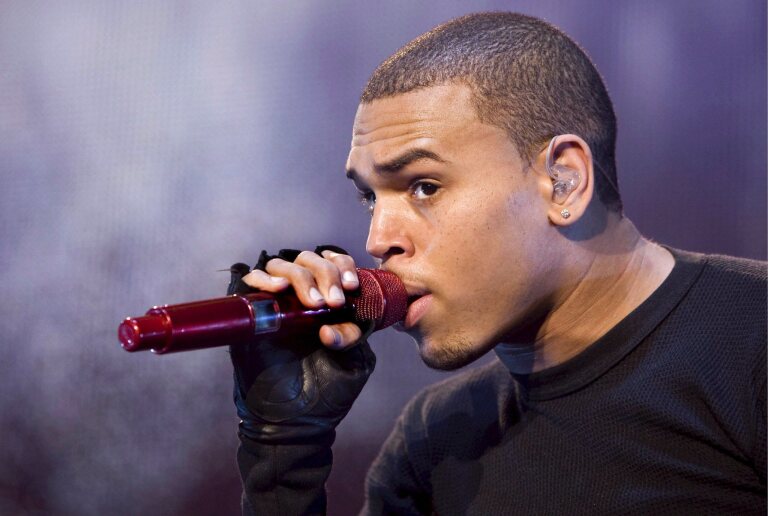 In the days after his arrest, Brown's music was dropped from some radio stations, Wrigley's and Got Milk? discontinued using his advertisements in their campaigns, and "Sesame Street" stopped airing the episode in which he guest-starred.
(Marcel Antonisse / EPA)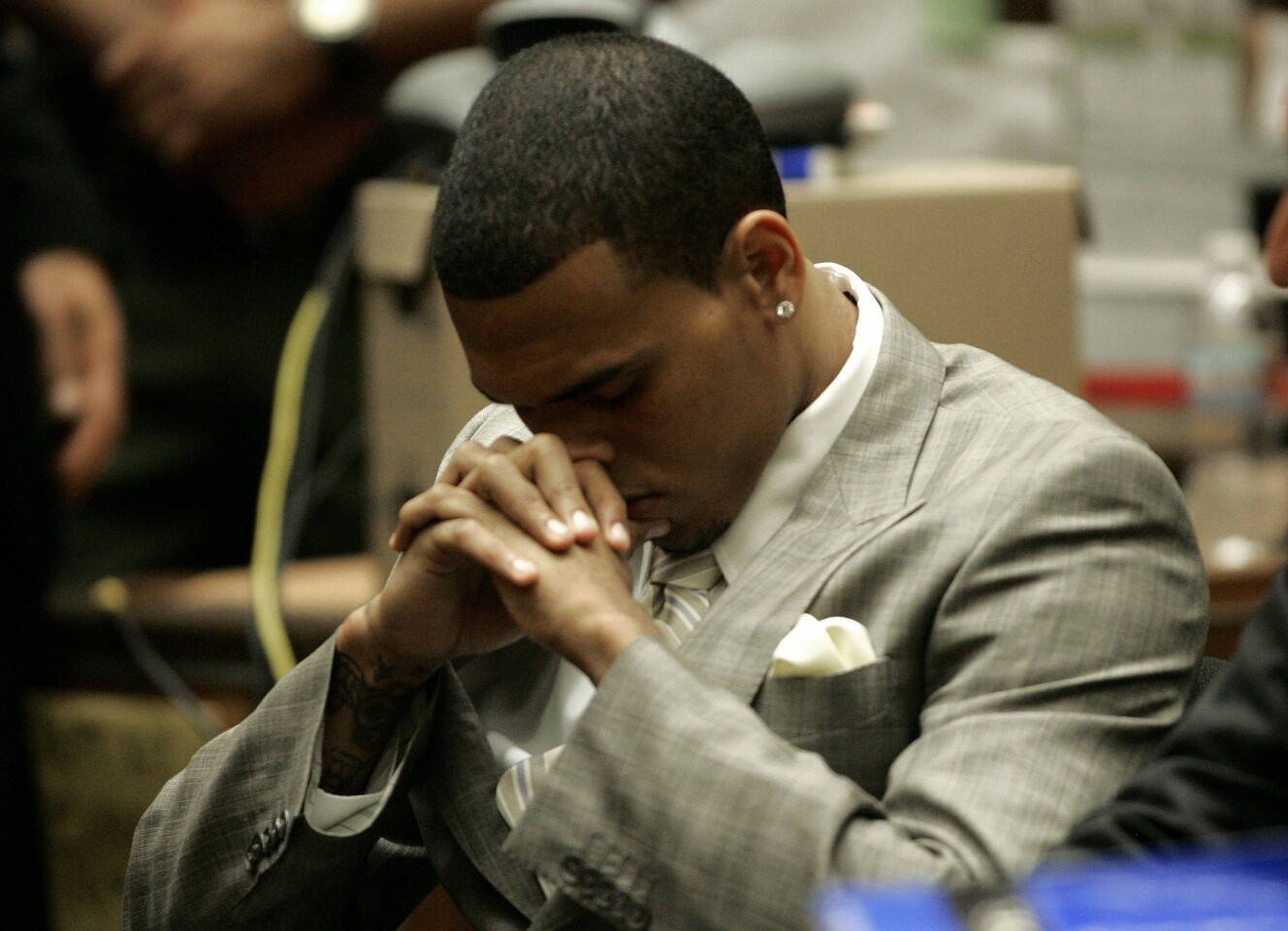 R&B singer Brown pleaded guilty in June 2009 to assaulting his former girlfriend, pop star Rihanna, in February of that year. Brown's lawyers secured a last-minute deal that allowed him to avoid jail time and another public airing of the domestic-violence allegations.
(Lori Shepler / Associated Press)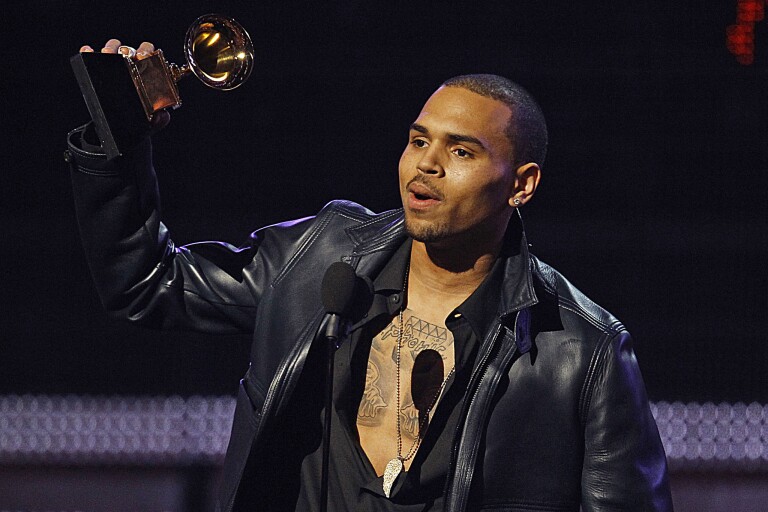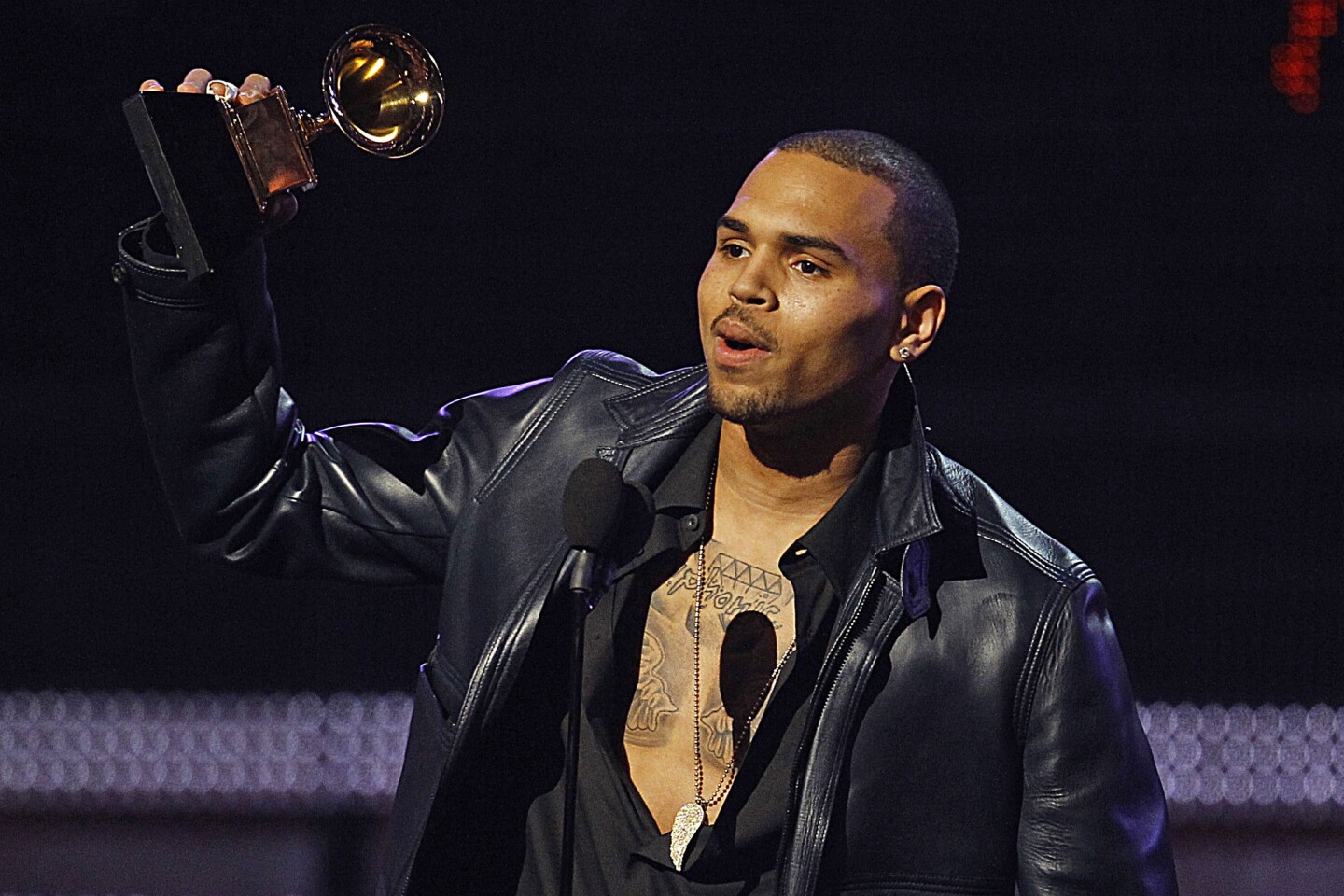 Three years after he was arrested for assaulting his girlfriend Rihanna after a pre-Grammys party, Chris Brown received his first Grammy award when his album "F.A.M.E." won best R&B album. Brown said nothing about his past deeds as he accepted the award on the telecast.
(Robert Gauthier / Los Angeles Times)
Hip-hop stars Chris Brown and Drake were reportedly in a nightclub brawl in New York in June 2012 that left four people injured.Speculation quickly arose that the blow-up may have involved Brown's former girlfriend Rihanna, with whom Drake had been seen recently.
( Robert Gauthier and Genaro Molina / Los Angeles Times)
On Jan. 27, 2013, Chris Brown got into an altercation with fellow Grammy nominee (and later winner) Frank Ocean. An incident report disclosed that the fight began when Ocean approached Brown in the studio's lobby, saying Brown had parked in Ocean's assigned parking spot.
(Robert Gauthier / Los Angeles Times)
The tumultuous couple officially got back together after months of openly flirting on Twitter, collaborating on the sex-themed song "Birthday Cake" and nonchalant "Nobody's Business" and Rihanna professing her love to Chris Brown on "Oprah's Next Chapter."
(Christopher Polk / Getty Images)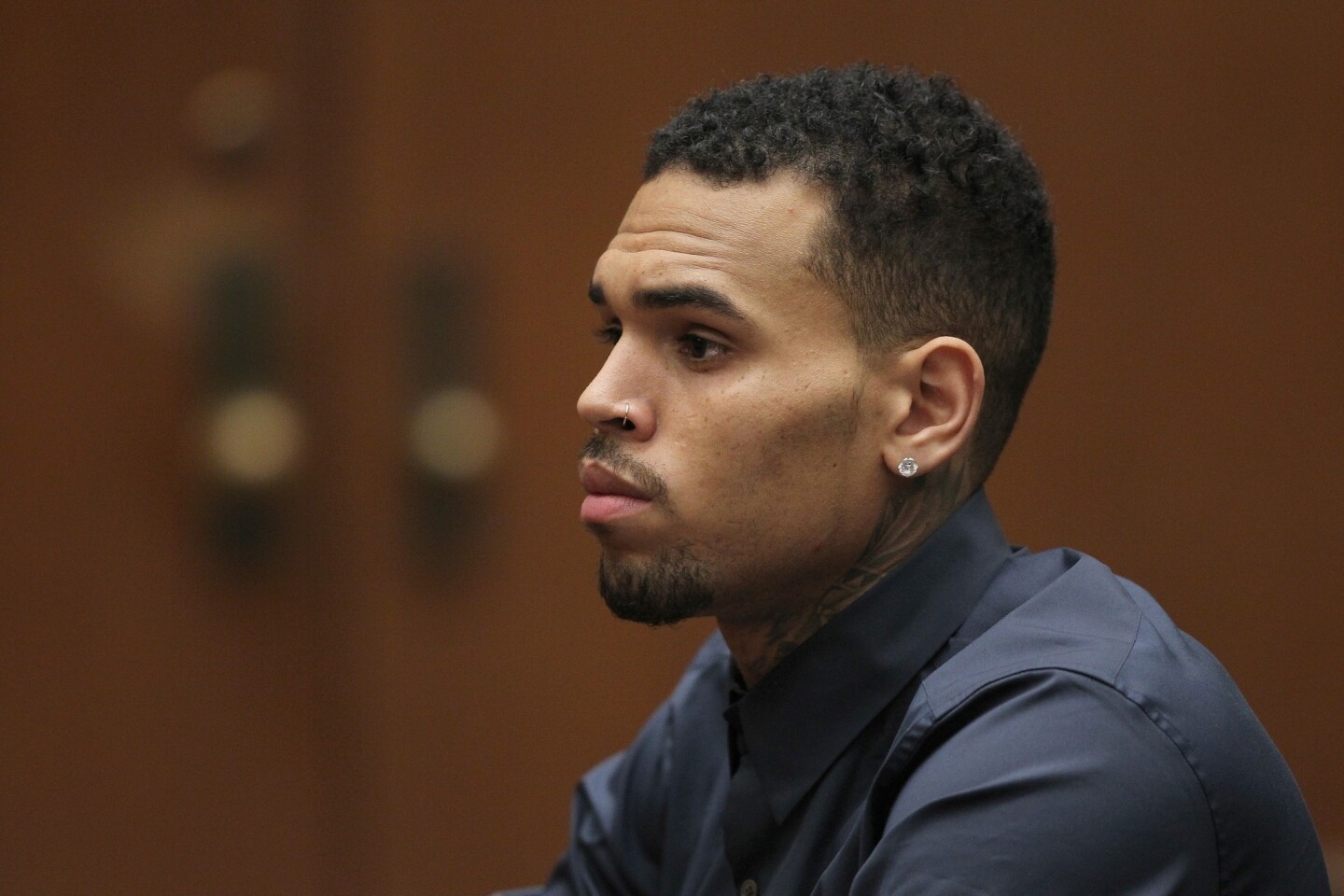 At a probation hearing in November 2013 related to his 2009 conviction of assaulting Rihanna, Chris Brown was ordered by a judge to rehab for 90 days at an inpatient facility approved by officials.
(David McNew / Getty Images)
Forced to wear an orange jumpsuit to court, Chris Brown was ordered by a Los Angeles County judge to stay in jail without bail until April 23, pending a hearing to determine whether he violated terms of his probation.
(Pool / Reuters)
Chris Brown admitted violating his probation by committing a crime in the Washington, D.C., area and was promptly sentenced to a year in county jail by a Los Angeles Superior Court judge.
(Pool / Getty Images)
Chris Brown is out of the slammer yet again -- the singer was released from jail early Monday due to overcrowding.
The 25-year-old R&B singer was released from L.A. County's Men's Central Jail just after midnight on Monday morning, police told L.A. Now, before completing his one-year sentence for violating his probation stemming from his 2009 assault on then-girlfriend Rihanna.
Soon after, the "Loyal" singer took to Twitter.
"Humbled and Blessed," he wrote, adding, "Back to the Music and the Fans."
As of press time, his most recent tweet was "Thank you GOD."
The "Fine China" singer entered the facility in early May just after admitting that he had violated his probation by committing a crime in October. The singer was charged with assault in an incident that took place outside a Washington hotel and still faces a misdemeanor assault trial in that case.
On May 9, a Superior Court judge ordered him to stay in jail and extended his probation to Jan. 23, 2015.
As expected, the Grammy-winning crooner was cut loose early thanks to jail overcrowding calculations that count one day in custody as two days, according to previous reports.
The singer had originally been sentenced to 365 days in jail but, upon entering, had already completed 234 days due to his prior stint in rehab and additional time in jail as he awaited trial in his D.C. case.
Though he had 131 days to go, the singer walked out after 108 days completed, according to TMZ.
Brown isn't totally free yet though. He's still on probation, obviously, and has to see a psychiatrist twice a week, complete his remaining community service, take his prescribed meds and stay off marijuana, including for medical use. Court documents have said that the singer has bipolar disorder.
---
Get our daily Entertainment newsletter
Get the day's top stories on Hollywood, film, television, music, arts, culture and more.
You may occasionally receive promotional content from the Los Angeles Times.