Iggy Azalea gets into it with paparazzo; not 'fuming mad' at Snoop Dogg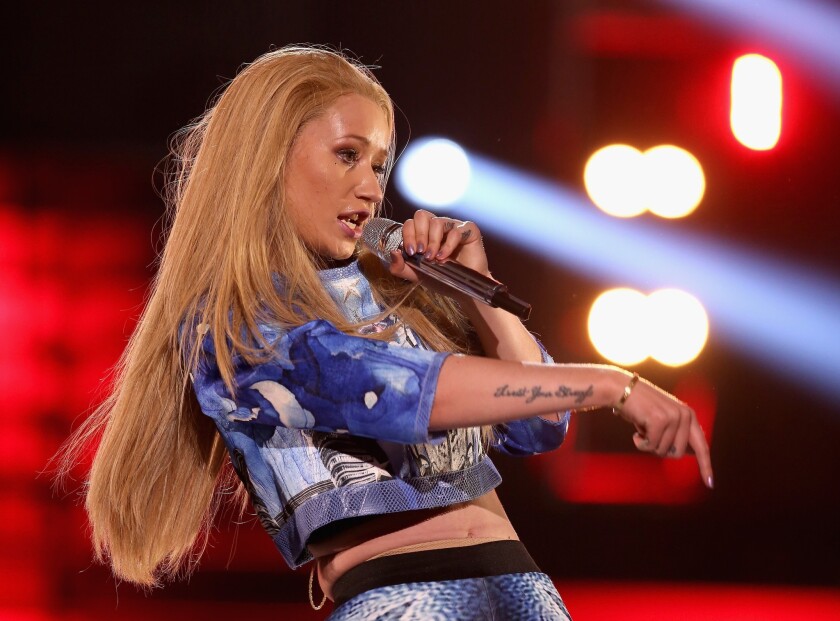 Iggy Azalea had some less-than-fancy words during a shouting match with a paparazzo who wouldn't stop hounding her.
The "Fancy" rapper and her crew went ballistic on the shutterbug at a Los Angeles grocery store last week, and the exchange was caught on video.
In expletive-laden footage that recently surfaced on YouTube, Azalea's companion can be heard shouting at the photographer that the rapper "doesn't want to be followed" and that "just because she's a celebrity doesn't mean you have the right to follow people."
During the heated argument, the friend spits on the photographer.
Though the footage is grainy, the photographer accuses Azalea's pal of assault and tells her that she doesn't have the right to spit on him. He also claims that she could have given him AIDS or Ebola.
(She later says that she hopes that he did get a disease and dies. However, HIV is not transmitted via saliva, and there have been no cases of Ebola confirmed in the U.S. outside of two in Texas.)
Azalea, 24, and her friend then emerge into the store's parking lot with the rapper pushing a shopping cart to make way.
"I don't want you to invade my life, you're in a store while I'm trying to buy eggs," she yells, approaching the contentious shooter with her cart. "No, that's not the way it works sweetheart, you're pitiful."
The photographer insists that the store is a public space, but Azalea disagrees, countering that it's private and that the next time she'll have people with her "that will do something to remove" him.
The Aussie emcee, whose real name is Amethyst Amelia Kelly, took to Instagram on Saturday, presumably to vent about the incident. She posted a meme and left this lengthy caption on the post.
"Something is only 'the way it is' for as long as one ALLOWS it to be," she wrote. "What I'm comfortable consenting a paparazzi do doesn't require anyone's opinion but my own. I don't see why that's hard for some to fathom. Judge me for spazzing if you like but you only saw the 30sec aftermath which was classy in comparison to what he said to us inside the grocery store where we discovered him lying on the floor after we had repeatedly & politely asked him to leave multiple locations during the course of the day. I don't hate paps, just the really aggressive ones... I only treated him the way he treated me all day. Fair is fair playboys and girls. peace out."
It's not that surprising to find the rapper on edge about her image. Last week, makeup-free paparazzi pics of her surfaced and were readily turned into mean-spirited memes and posted by the likes of rapper Snoop Dogg.
The less-than-flattering comparison had the "Black Widow" rapper spitting venom, though her Twitter response has since been deleted.
"@snoopdogg why would you post such a mean pic on insta when you send your body guards to ask me for pictures every time we are at shows together?" she wrote in now-deleted tweets captured by E! News. "My bodyguard stopped the fire truck that saved your friends life in canada when he almost burnt down the hotel ... And everytime I've spoken to you, you've always been nice as hell, I'm disappointed you'd be such an ass for no reason."
Azalea left only a tweet addressing TMZ's hyperbolic headline about the feud: "lol, i wish writers exaggerated the positive ... going on in this world too. Im not 'fuming mad' at anyone," she wrote on Monday.
The "Drop It Like It's Hot" rapper has yet to respond to Azalea's remarks. Instead, he's continued to fuel the flame on Instagram by sharing posts about the beef. On Tuesday, he shared another snap of Azalea comparing her to Marlon Wayans' undercover character in the 2004 comedy "White Chicks."
Follow me on Twitter @NardineSaad.
---
The complete guide to home viewing
Get Screen Gab for weekly recommendations, analysis, interviews and irreverent discussion of the TV and streaming movies everyone's talking about.
You may occasionally receive promotional content from the Los Angeles Times.