Justin Bieber may sue guests if they break his home's NDA
Eighteen-year-old pop star Justin Bieber.
(Lawrence K. Ho / Los Angeles Times)
The singer made his debut with the song "Baby" featuring rapper Ludacris in 2010.
(Lawrence K. Ho / Los Angeles Times)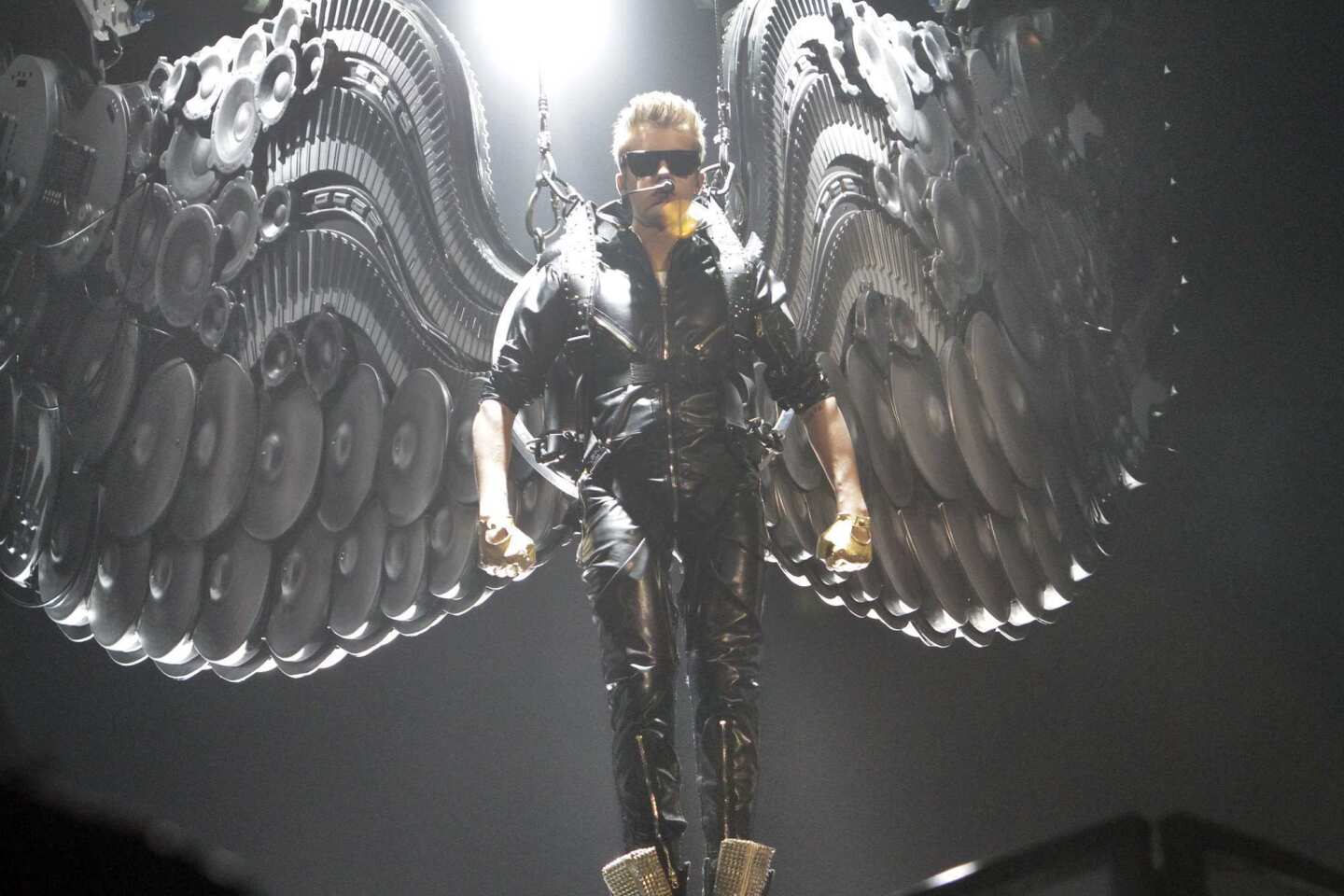 The singer descended from above the stage attached to a pair of enormous steampunk-style wings.
(Lawrence K. Ho / Los Angeles Times)
Then he and his eight-piece band launched into "All Around the World," the throbbing opener from this year's "Believe," while a crew of dancers raced through the crowd hoisting flags from various countries.
(Lawrence K. Ho / Los Angeles Times)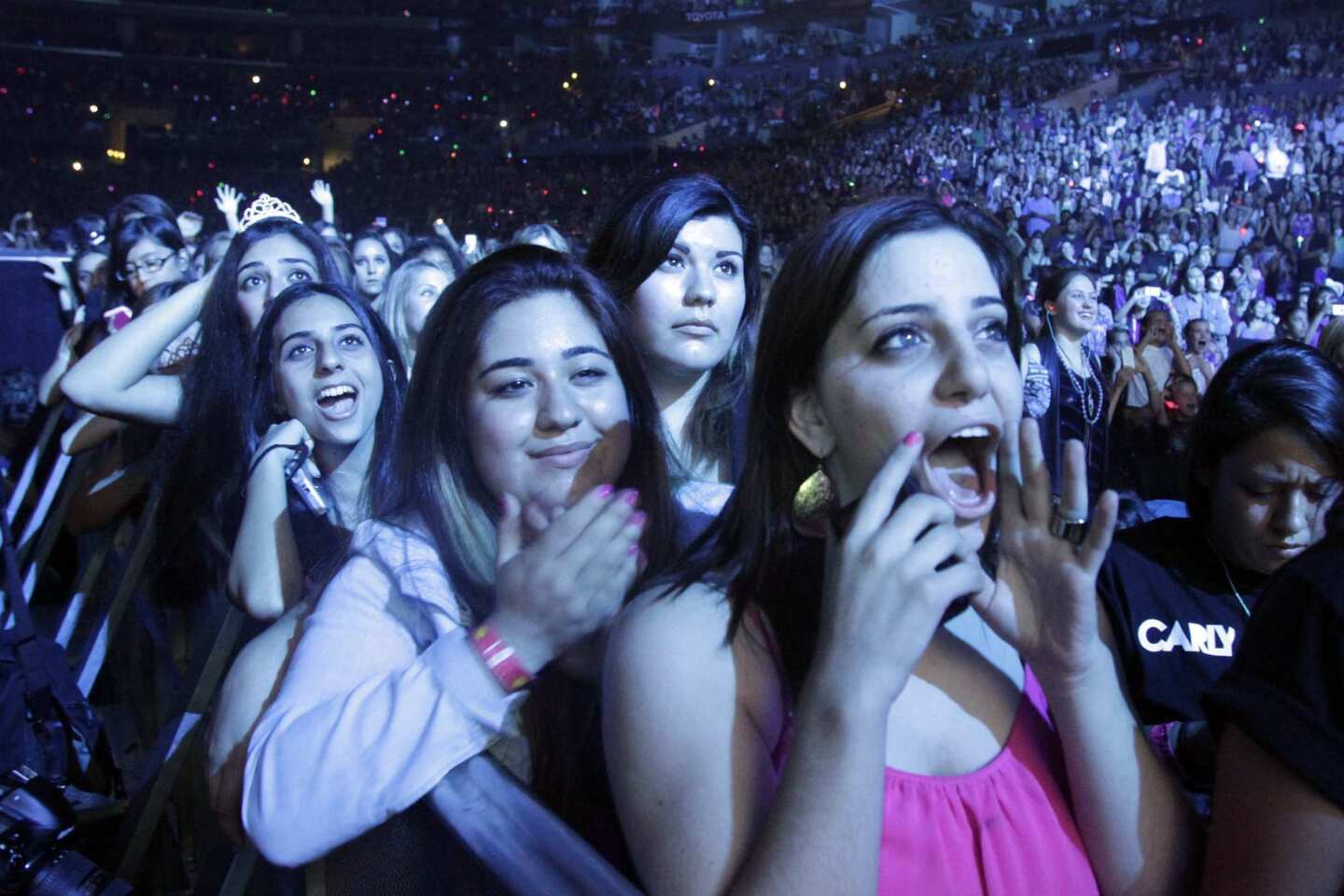 Fans swooning during a ballad.
(Lawrence K. Ho / Los Angeles Times)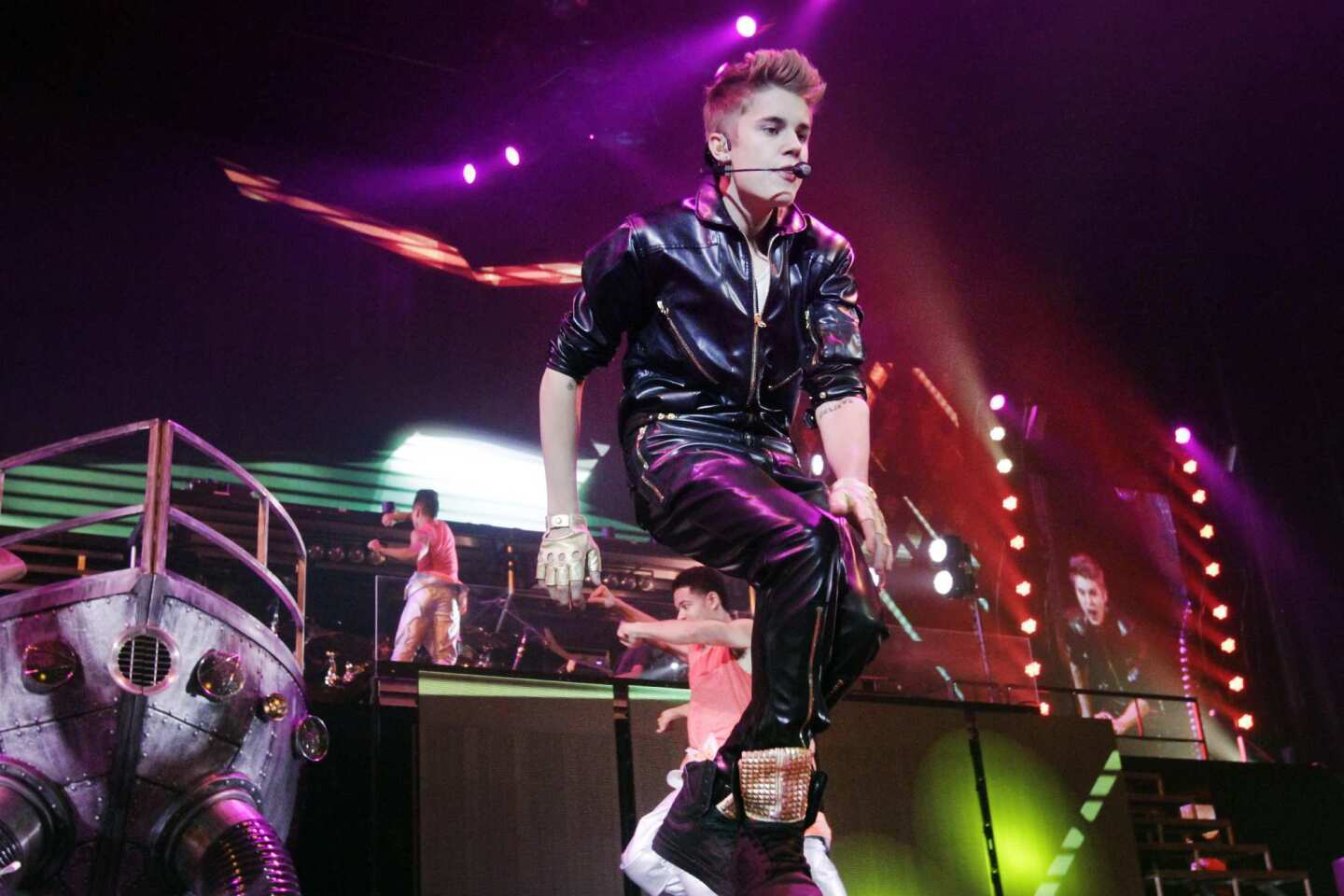 The singer made headlines when he kicked off his tour in Arizona when
he threw up onstage
.
(Lawrence K. Ho / Los Angeles Times)
The projectile moment happened during "Out of Town Girl" at a Bieber concert in Glendale, Ariz.
(Lawrence K. Ho / Los Angeles Times)
Bieber made light of it after the Arizona gig, joking on Twitter that "milk was a bad choice," a quote of from the Will Ferrell comedy "Anchorman."
(Lawrence K. Ho / Los Angeles Times)
Bieber's 2012 album "Believe" has sold 887,000 copies in the U.S., according to Nielsen SoundScan.
(Lawrence K. Ho / Los Angeles Times)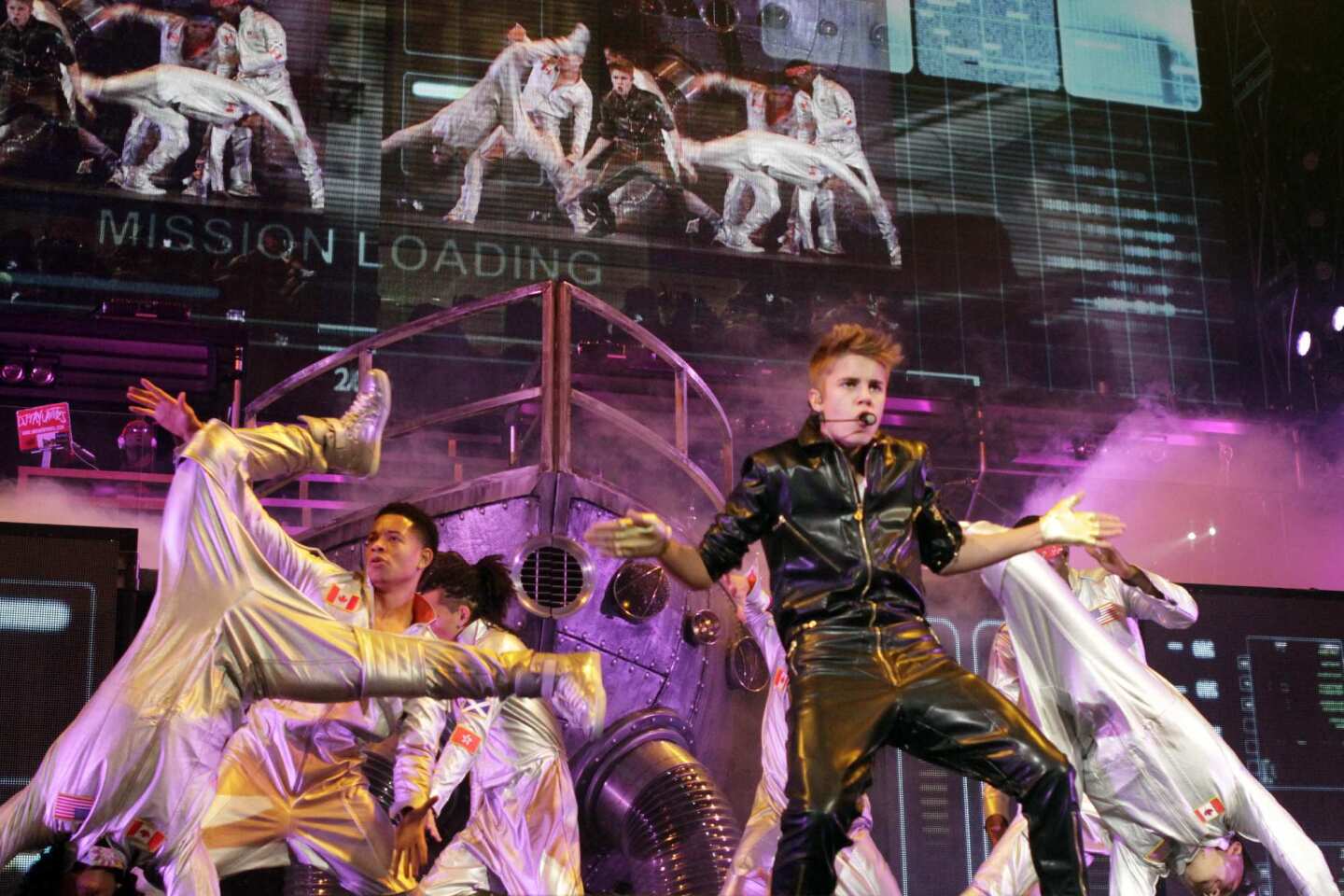 Briskly paced and intricately choreographed, this high-tech pop production (with a mixture of live and prerecorded singing) emphasized the idea of Bieber over the real-life person.
(Lawrence K. Ho / Los Angeles Times)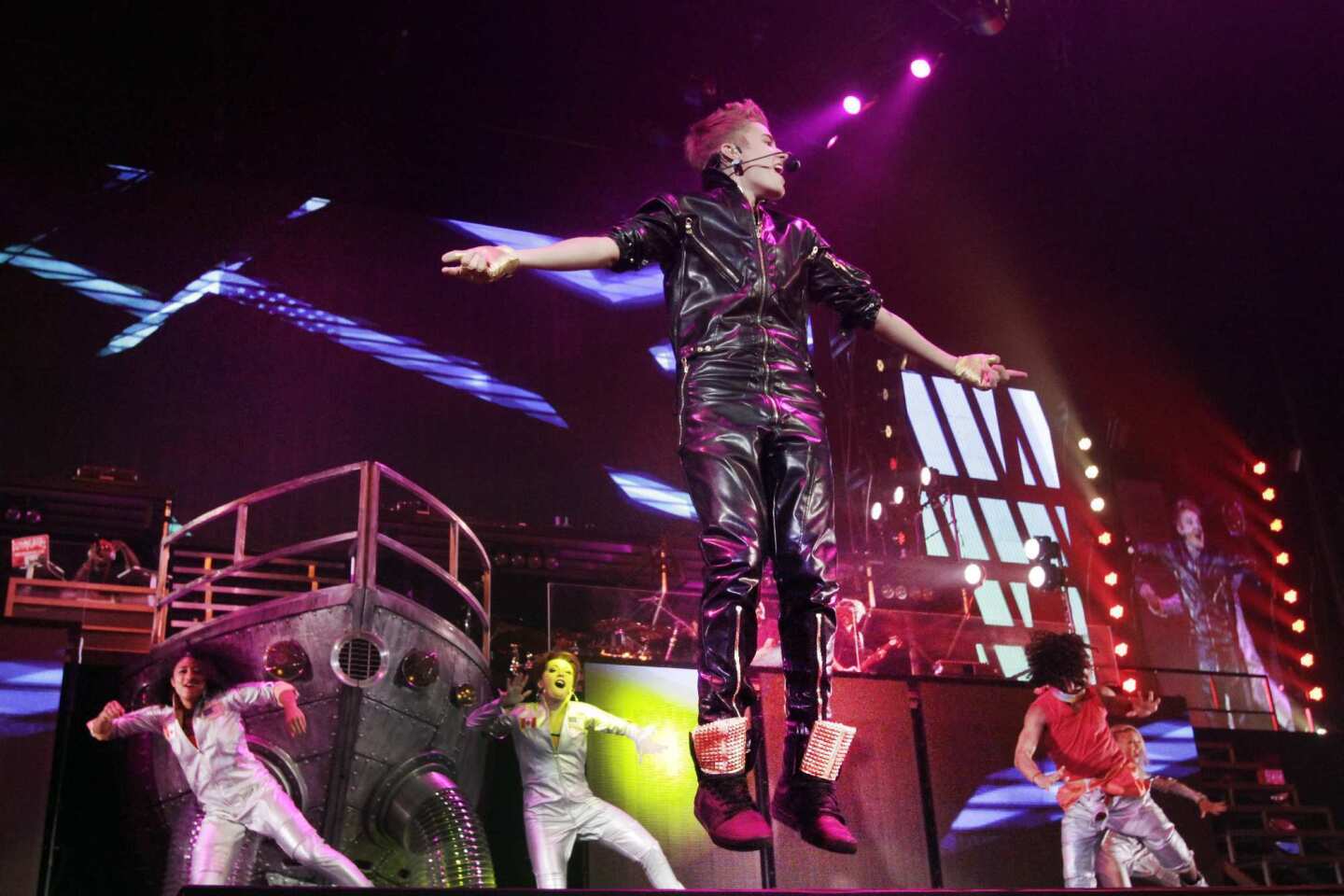 The 90-minute show included guest appearances by Carly Rae Jepsen, who opened the concert, and Jaden Smith.
(Lawrence K. Ho / Los Angeles Times)
Justin Bieber may sue guests who visit his home if they violate his non-disclosure agreement.
It's all so very hospitable.
The 19-year-old pop star is asking for $5 million in damages if guests violate a waiver he's having everyone who visits his Calabasas home sign, according to TMZ, which obtained a copy of the liability waiver and release form. So, basically, don't talk about the property or anything that goes on there ... ever.
Before you jump on the "Bieber is an egomaniac" bandwagon, just know that documents like this are fairly common among celebrities. But perhaps the year's flurry of bad press for the Biebs finally has the YouTube sensation putting his guard up.
PHOTOS: Justin Bieber in concert
The document will legally bind anyone who shares the goings-on inside his home to confidentiality. That includes "physical health, or the philosophical, spiritual or other views or characteristics of the Released Parties [Bieber], along with any and all photographs, likeness, tapes, films, videos and other recordings," which are all deemed confidential.
"Under no circumstances will you divulge the details of you entering and being on the Property or engaging in the Activities by any means or through any media whatsoever, including without limitation, through photographs, video, blogging, texting, 'Tweeting' or posting any such information on any social media site," the waiver said.
He's looking at you Twitter, Facebook, Instagram and all your offshoots. That particular part of the paragraph is underlined in the document. Any publication -- books, articles, media, etc. -- will require "prior written consent in each instance."
PHOTOS: Celebrity portraits by The Times
There's also a clause that limits Bieber's liability for any physical harm that happens on the property, warning visitors of activities that might be "potentially hazardous and you should not participate unless you are medically able and properly trained." You know, things like "minor injuries to catastrophic injuries, including death."
The agreement surfaces just months after photos circulated from a party on the property hosted by his pal Lil Twist -- he of paparazzo death infamy. The party took place while the Biebs was on tour in Europe and attendees snapped photos inside the home as they reveled with beer, weed and some other party favors, according to the Daily Mail and TMZ.
The "Beauty and the Beat" singer paid $6.5 million for the 7-bedroom, French-style property, which once belonged to Eddie Murphy's ex-wife, in 2012. It is set on 1.4 acres in a gated community and boasts a 10,000-square-foot main house and includes a library, private movie theater with stadium seating, wet bar, wine cellar and a pond.
PHOTOS: Justin Bieber in concert
Maybe the Biebs is just trying to protect himself, but you know what they say about parties with too many rules ... they're kind of lame. Especially if you can never talk about them again.
ALSO:
Pauly D debuts new hair, good-bye blowout!
Kim Kardashian hits Paris for final vacation before giving birth
Miranda Kerr's wardrobe malfunction bares much of the model
Follow Ministry of Gossip @LATcelebs.
Get our L.A. Goes Out newsletter, with the week's best events, to help you explore and experience our city.
You may occasionally receive promotional content from the Los Angeles Times.