Khloe Kardashian: Lamar Odom 'depressed,' has 'emotional issues'
Lamar Odom made headlines when he and Khloe Kardashian married in September 2009 after only a month of dating. In December 2013, they announced they were divorcing after allegations of drug use and cheating plagued the couple.
(Evan Agostini / Associated Press)
Grammy-winning rapper Kanye West is Kim Kardashian's husband. He appeared on a few episodes of her reality series while she was with NBA player Kris Humphries because they were friends, but later took their friendship into romance territory.The couple welcomed daughter North West in June 2013 and are currently expecting their second child.
(Zacharie Scheurer / Associated Press)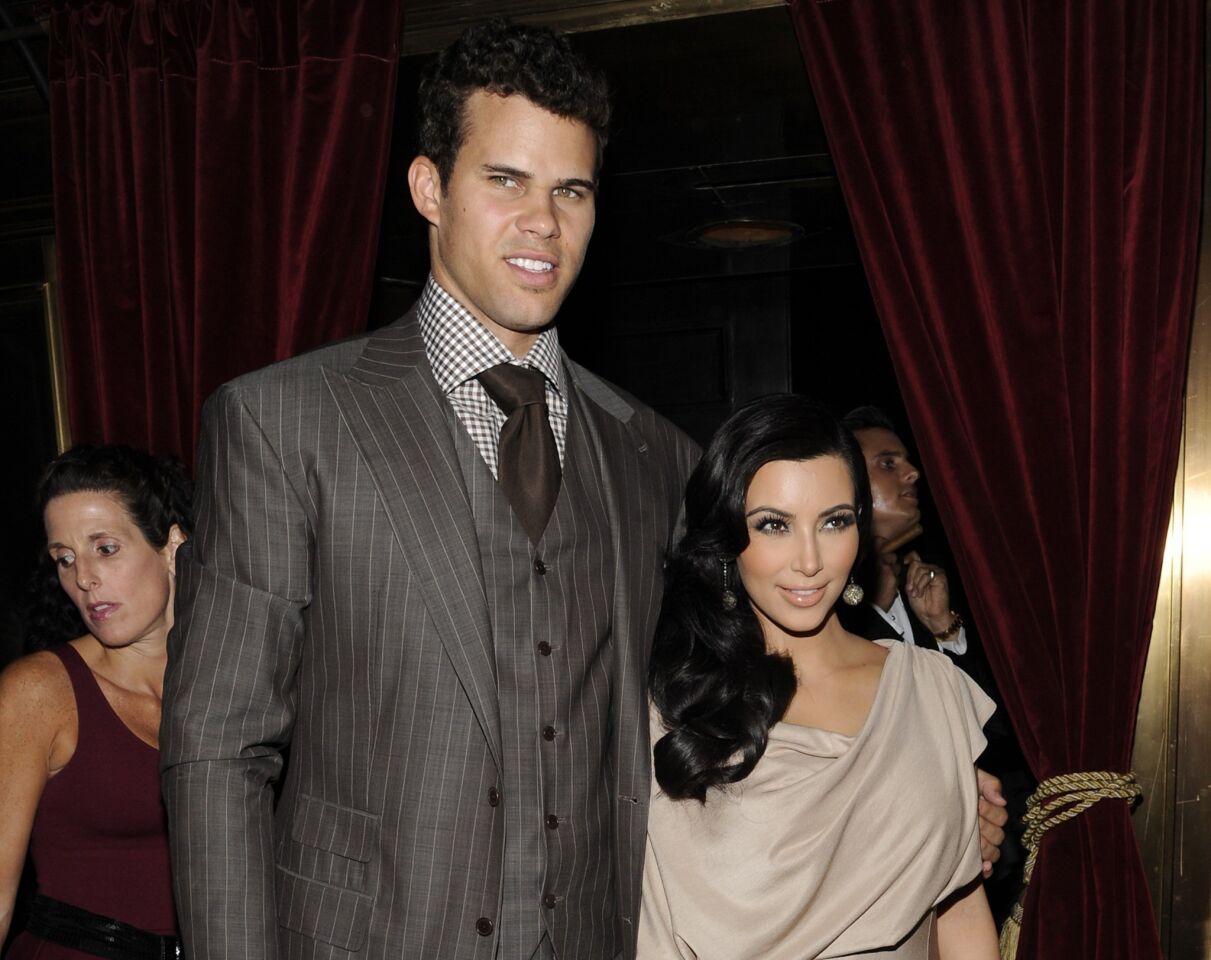 Kris Humphries is an NBA player who married Kim Kardashian in 2011 after about six months of dating. The couple became infamous after they televised their elaborate nuptials, then ended their marriage after 72 days. Kardashian filed for divorce, but Humphries sought an annulment, and the two have battled in court for far longer than they were married.
(Evan Agostini / Associated Press)
Brody Jenner is one of Caitlyn Jenner's four children from her second marriage. Brody has starred in MTV's "The Hills," in which he courted Lauren Conrad and later Kristin Cavallari, and his own short-lived series, "The Princes of Malibu." He has also minimally appeared in early seasons of "Keeping Up With the Kardashians," notably being called on by stepbro Rob Kardashian to babysit their half sisters Kylie and Kendall Jenner.
(Chris Pizzello / Associated Press)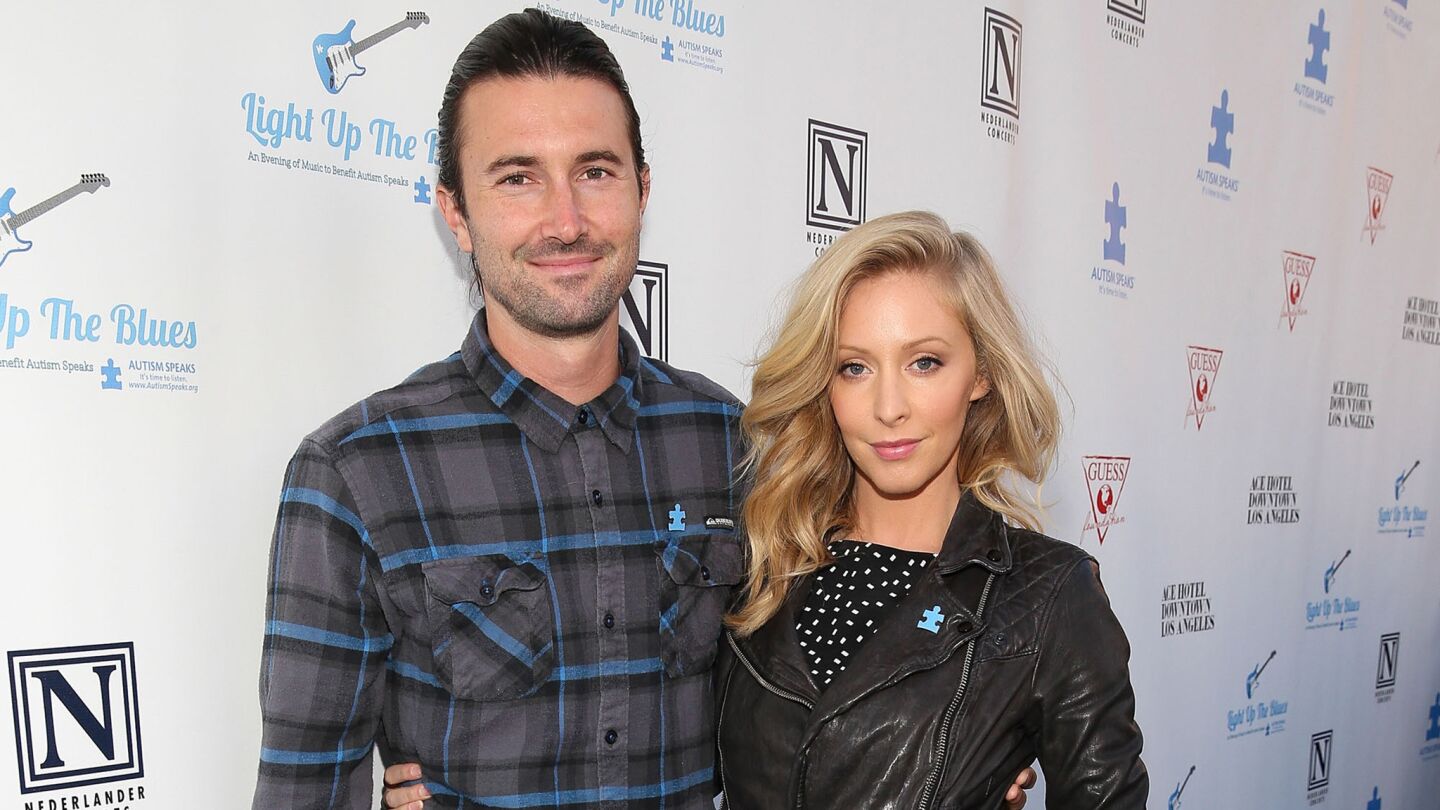 Brandon Jenner, eldest son of Caitlyn Jenner and actress Linda Thompson, wed Leah Felder in May 2012. The couple comprises indie pop duo Brandon & Leah.
(Imeh Akpanudosen / Getty Images for LUTB)
Khloe Kardashian opened up somewhat about her marital issues with basketball player Lamar Odom in Sunday's episode of "Keeping Up With the Kardashians" and on social media.
But the reality TV starlet, who married Odom in September 2009 after a month of dating, didn't specify what was troubling their marriage, instead making allusions to greater issues, his depression and emotional issues and her reservations about having a baby.
The 29-year-old also took to social media in the days after the episode aired to defend herself and family.
As rumors of an inevitable divorce, cheating, drugs and a new romance continue to plague their marriage, here are some of the cryptic statements she made during Sunday's episode:
PHOTOS: Meet the Kardashians and their extended family
"I'm not ready to continue with fertility treatments. There are some things that not everybody knows and me and Lamar are the only two people that need to know that."
Kardashian Odom's fertility struggles had been chronicled on the show previously and emphasized by her elder sisters' pregnancies. In the episode, which appeared to be filmed over the summer, Kim, pregnant with daughter North at the time, urged her to see an adoption lawyer to explore all her options.
"I don't know if I'm there yet," Kardashian Odom said, also telling the lawyer that she was concerned about mental illness in the child's family and Odom's traveling schedule.
"It's not that I'm against adoption but right now I'm in a place in my life where there are a lot of moving parts. Lamar doesn't know where he's going to play basketball and it's complicated."
PHOTOS: Celebrity splits of 2013
Kardashian Odom had previously been told by a doctor that she had no eggs, and decided to return to get checked up after a year. During her visit, she had a repetitive phone conversation with her husband, saying, "He's so weird right now, I have no idea" and that she had "anxiety" because he urgently needed to talk to her.
"I am not someone who really likes to, I guess, bore people with my problems, and I also think no one really understands what someone's going through unless they walk a mile in their shoes," she said in the testimonial.
Then, when it was time for her test, she said she was nervous.
"I'm a little nervous about being examined. I'm scarred from the last time. It was probably the worst time of my life. I'm putting on a brave face, hoping for the best. All we can do is see what happens."
When she was then told she "could be fine carrying a pregnancy," she wasn't exactly leaping for joy in front of the cameras either.
"My results are good, they're positive, but I'm just not at that place right now to get pregnant," she said.
RELATED: Lamar Odom fires back about 'dark time'
Then later, during lunch with her younger half-sister Kylie while at her mother's house, she had an irritated phone conversation with Odom. Odom called her repeatedly, and she said, "He's so annoying right now; go back to basketball." The athlete, who has been the focus of drug-use and cheating rumors for months, appeared to exhibit bizarre and not "logical" behavior, she said, so she told him, "I think you're tired, you're buggin' just a little bit."
"I mean there's a lot of emotional issues I think Lamar has," Kardashian Odom told the camera. "You know I do want to help or cater to Lamar but there's also only so much anybody could take."
"Lamar, he is a very depressed person, which is sad but understandable for everything he's been through in his life. And I do love Lamar with every ounce of who I am, but it's really scary when someone's in such a deep lull and you know they're relying on you to get them out and you're trying, and you're trying, and you're trying and nothing's really working."
The episode ended there, but Kardashian Odom continued her defense on in a series of tweets after live tweeting during the show's East Coast airing.
"Speculate all you want. The armor I put around MY family can't melt or even scratch. So continue to throw your daggers. (1)" she wrote Sunday, continuing with "You will never cut us, you will just tire yourself out. Strong and united we will still stand."
Then on Tuesday she posted more and sounded like she was standing by her man.
"Not all scars can be seen and not all love can be explained. The deepest love is also the hardest to express. Only those in it, understand," she added Tuesday, saying, "If I love u. Its a deep 4ever love. Ride til the end. Family/friend. Its simply called love. I take it seriously. Dont judge unless u r in it."
"We all have our own journeys in life. So even if u don't accept mine. Be kind....We all have a journey 2travel & I want to walk mine, my way"
"Two things define you: your patience when you have nothing and your attitude when you have everything."
And if that wasn't enough, she told people not to read too far into things.
"Why do peps take everything so literally?!? Relax...."
"Peps make up whatever THEY want to believe. Would rather stay quiet then have my words twisted," she said, adding, "My motto lately.... [expletive] you"
So will we see more about Kardashian Odom's woes on the show? Perhaps, but they still have the whole saga of her sister's giving birth to North West to deal with this season. It'll be interesting to see which storyline trumps the other.
ALSO:
Halle Berry throws way back for new baby boy's name
Scarlett Johansson is Esquire's Sexiest Woman Alive — again
Jaime King of 'Hart of Dixie' welcomes baby boy with husband
Follow Ministry of Gossip @LATcelebs.
---
Get our daily Entertainment newsletter
Get the day's top stories on Hollywood, film, television, music, arts, culture and more.
You may occasionally receive promotional content from the Los Angeles Times.