VMA boos: Lady Gaga's were fake, One Direction's were real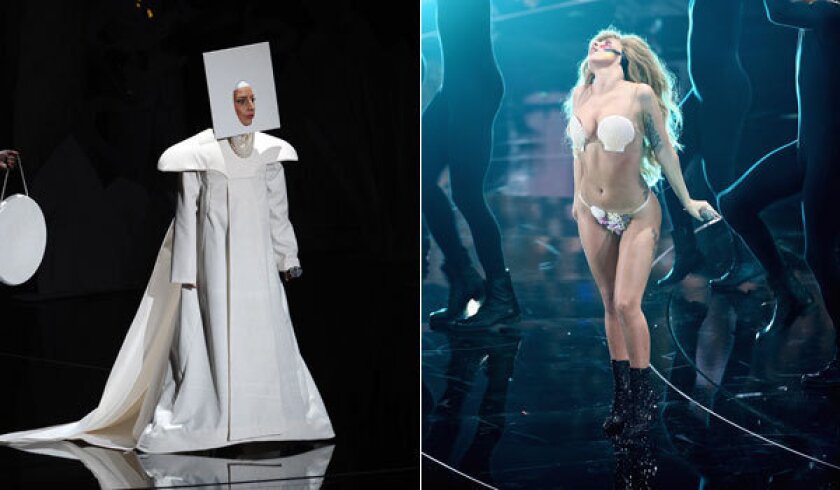 Lady Gaga kicked things off in customary head-turning fashion with the debut performance of her new single, "Applause." Despite a slow start, she soon kicked things into a higher gear. Though chances are most people will be discussing her multiple costumes changes rather than the actual song. Switching wigs and outfits more often than she changed tempos, Gaga went through a variety of looks before ending up in a string bikini and clamshell top, giving the audience a very brief flash of her bum while twirling on stage. Will that get blurred in subsequent airings?
(Invision / AP / Getty Images)
"SNL" cast member Vanessa Bayer appeared alongside "Divergent" star Shailene Woodley to introduce Miley Cyrus dressed as -- Miley Cyrus. Loving tribute or barbed jab? The jury's still out, especially after Cyrus' bizarro performance.
(Charles Sykes / Invision / AP)
Miley Cyrus' performance, in which she twerked with giant teddy bears, stripped to her underwear and attempted to do pornographic things with a giant foam finger, had audience members scratching their heads. (Or in the case of Drake, staring at the floor looking bored). Cyrus' performance was so strange, co-performer Robin Thicke, channeling his inner Beetlejuice in a black and white striped suit, seemed positively elegant by comparison.
(Rick Diamond / Getty Images for MTV)
There's no host of this year's VMAs, but comedian Kevin Hart kept coming out to do a few minutes of stand-up inspired by the show thus far. While not all of his jokes hit home, he did express one major concern among viewers: "Miley better get a pregnancy test after all that grinding."
(Rick Diamond / Getty Images for MTV)
Maybe fatherhood is making him tired, but Kanye West's performance of "Blood on the Leaves" was relatively sedate compared to everything that came before. Relying on a low camera angle and a large silhouette, West appeared to loom above the crowds like a giant, without having to show much of his face (despite an extreme close-up in low light at the beginning). Good job, Kanye. Now go catch some Zzzzs.
(Neilson Barnard / Getty Images for MTV)
Taylor Swift isn't letting the whole ex-boyfriend thing go. After picking up the Moon Man for best female video for "I Knew You Were Trouble," she made a point of thanking one of her many ex-boyfriends. "I want to thank the guy who inspired this song -- he knows exactly who he is -- because now I got one of these!" That'll show him.
(Rick Diamond / Getty Images for MTV)
Video Vanguard award winner Justin Timberlake isn't just popular with the fans, he also seems to be popular with his peers, judging by the cut-aways to Lady Gaga and Rihanna, both of whom were mouthing along to the words of Timberlake's greatest hits medley. Cycling through everything from his new single, "Take Back the Night," to "Sexyback" to "Four Minutes" and even delving back into his 'NSync days, Timberlake's performance seemed to almost be an audition for next year's Super Bowl halftime show.
(Neilson Barnard / Getty Images for MTV)
Speaking of 'NSync, Timberlake brought out his former performance mates, J.C. Chasez, Joey Fatone, Lance Bass and Chris Kirkpatrick for a brief mid-performance interlude of the '90s era 'NSync greatest hits. Coming at the end of Timberlake's performance would have been a touching reunion, but midway through his extended performance, it seemed like a career box was being checked. For a brief moment, they were back together, and then Timberlake quickly ushered them off the stage.
(Charles Sykes / Invision / AP)
How great was Jimmy Fallon's introduction for Justin Timberlake's Video Vanguard award bestowal? So epic and over the top that Timberlake could only respond, "I'm taking Jimmy on the road with me."
(Scott Gries / Invision / AP)
Did you hear Lady Gaga and One Direction get booed at MTV's Video Music Awards on Sunday?
For those tuning in from home, the boos may have been muffled by "woohoos" and audience cheers. But they were definitely there for both artists, although their authenticity was not.
Lady Gaga opened the show with a wig-enhanced performance of her latest single, "Applause." The visual singer started off garbed in an extreme nun's habit, fulfilled several costume changes and didn't break her focus throughout her performance despite chiding from the audience.
PHOTOS: MTV Video Music Awards | Show Highlights
It turns out those boos you may or may not have heard were done "purposely," the singer verified Monday.
"only @LadyGaga would purposely put booing in her performance hahah," one of her followers tweeted.
To which she replied and retweeted, "That is correct."
However, some of the evening's big winners were not so lucky, despite their global success.
PHOTOS: MTV Video Music Awards | Arrivals
One Direction, the British emsemble that boasts Harry Styles, Zayn Malik, Niall Horan, Louis Tomlinson and Liam Payne, took home the Moon Man for "Best.Song.Ever.," which was dubbed song of the summer. When the boy band surprisingly beat out Robin Thicke, Selena Gomez, Calvin Harris and Daft Punk, they took the stage but not without jeering.
A roar of boos was cacophonous among the chorus of cheers. So much for New York having the best fans in the world ...
Backstage, the boys ignored the diss and thanked fans. But she of the seashell thong didn't stand for it.
PHOTOS: Best & worst moments from 2013 MTV VMAs
"Don't you dare let those people boo you," Lady Gaga reportedly told the band, according to E! News. "If I did hear what I heard out there, I just want to tell you that you deserve every bit of success that you have. I want to leave right now. I don't want to stay anymore because I don't want to be in a room where people are booing."
And here we thought Taylor Swift was their biggest critic.
ALSO:
Gisele Bundchen is 2013's top-earning model
Rapper Fat Joe goes to prison following tax evasion sentence
Kate Gosselin sues Jon Gosselin over alleged hacking for tell-all
Follow Ministry of Gossip @LATcelebs.
---
Your essential guide to the arts in L.A.
Get Carolina A. Miranda's weekly newsletter for what's happening, plus openings, critics' picks and more.
You may occasionally receive promotional content from the Los Angeles Times.