Lamar Odom fires back at father's harsh words during 'dark time'
Lamar Odom made headlines when he and Khloe Kardashian married in September 2009 after only a month of dating. In December 2013, they announced they were divorcing after allegations of drug use and cheating plagued the couple.
(Evan Agostini / Associated Press)
Grammy-winning rapper Kanye West is Kim Kardashian's husband. He appeared on a few episodes of her reality series while she was with NBA player Kris Humphries because they were friends, but later took their friendship into romance territory.The couple welcomed daughter North West in June 2013 and are currently expecting their second child.
(Zacharie Scheurer / Associated Press)
Kris Humphries is an NBA player who married Kim Kardashian in 2011 after about six months of dating. The couple became infamous after they televised their elaborate nuptials, then ended their marriage after 72 days. Kardashian filed for divorce, but Humphries sought an annulment, and the two have battled in court for far longer than they were married.
(Evan Agostini / Associated Press)
Brody Jenner is one of Caitlyn Jenner's four children from her second marriage. Brody has starred in MTV's "The Hills," in which he courted Lauren Conrad and later Kristin Cavallari, and his own short-lived series, "The Princes of Malibu." He has also minimally appeared in early seasons of "Keeping Up With the Kardashians," notably being called on by stepbro Rob Kardashian to babysit their half sisters Kylie and Kendall Jenner.
(Chris Pizzello / Associated Press)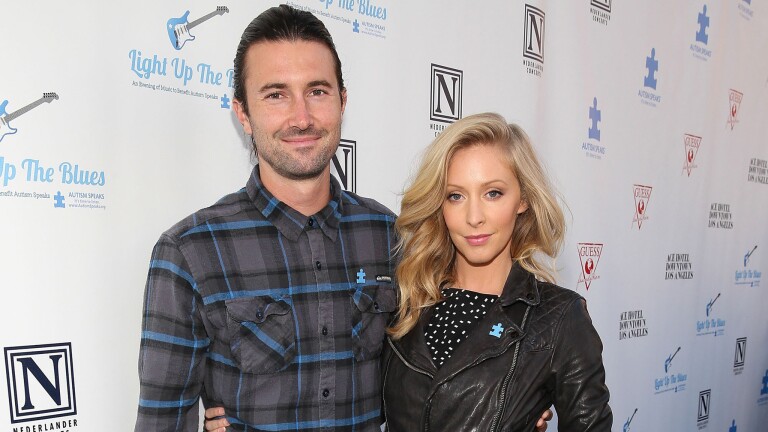 Brandon Jenner, eldest son of Caitlyn Jenner and actress Linda Thompson, wed Leah Felder in May 2012. The couple comprises indie pop duo Brandon & Leah.
(Imeh Akpanudosen / Getty Images for LUTB)
No matter what's up in Lamar Odom's life — and with all the chatter lately, it's sometimes hard to tell what exactly is up in Lamar Odom's life — he wants people to know that the Kardashian family is something he values quite a bit, especially during what he called a "dark time."
The former Clippers player and current husband to Khloe Kardashian Odom, who's been mum since rumors began swirling about his alleged drug use, took to Twitter on Wednesday to respond via Twitlonger to remarks made by his father Tuesday, blaming Odom's current state on the Kardashians.
"Won't continue 2 speak on this but I have got 2 let this out real quick," Lamar wrote. "I have let this man and many others get away with a lot.... He wasn't there 2 raise me. He was absent ALL of my life due to his own demons. My mother and grandmother raised me. Queens raised me.
"For the first time since they left, came a blessing of a FAMILY that I married into. FAMILY," he continued. "That man wasn't even invited to my wedding. He has never met my mother in law and some of my other family. How can a man who has NOT once called me to check on my well being have the nerve to talk so recklessly about his own "son". He is my downfall! His own demons may be the ONLY thing he gave 2 me.
"He disrespecting the ONLY FAMILY that has loved me without expecting anything in return. They are the ONLY ones that have been here consistently 4 me during this dark time. Only person 2 blame is myself. Say what you want about me but leave the ones who have done nothing but protect and love me out of this! This goes to out to everyone!"
The remarks that sparked Lamar's diatribe were pretty harsh.
"They brought him down," Joe Odom told Radar Online in part on Tuesday. "He would be better off without them. Let him go and get his life together. I think the best thing for him would be to have a clean break, divorce Khloe and as a single man try and get his life back together."
Of course, this is the same Joe Odom who told TMZ on Wednesday that his son doesn't have a drug problem and that he was sorry for what he said about the Kardashians. Joe said he lashed out because he was angry about a segment on "The Wendy Williams Show" in which he was called a heroin addict and his son was branded as having "hit rock bottom."
Lamar Odom's problems lately have included plenty of rumors about alleged drug use, maybe rehab and a possible divorce, plus the certain news of an arrest on suspicion of driving under the influence back in August, after which he refused chemical tests at the police station, thereby losing his license for a year.
ALSO:
Richard Gere, Carey Lowell reportedly headed for divorce
Leah Remini: Scientology is 'looking for me to fail' on 'DWTS'
Jada Pinkett Smith reveals addiction struggles, view on divorce
Follow Christie D'Zurilla on Twitter and Google+. Follow the Ministry of Gossip on Twitter @LATcelebs and on Facebook facebook.com/ministryofgossip.
---
Get our daily Entertainment newsletter
Get the day's top stories on Hollywood, film, television, music, arts, culture and more.
You may occasionally receive promotional content from the Los Angeles Times.