Kanye West's 'Famous' video makes Lena Dunham feel 'sad and unsafe and worried'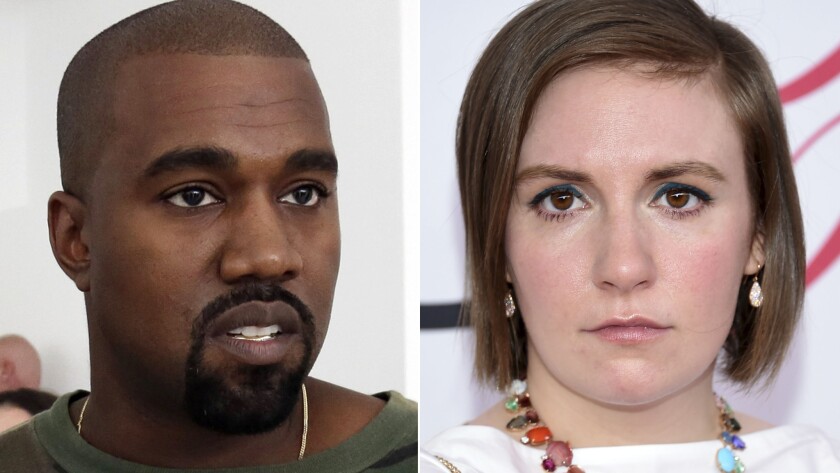 Lena Dunham loves art. She loves Kanye West. But right now, she doesn't love Kanye West's art.
In fact, she's calling the "Famous" video "one of the more disturbing 'artistic' efforts in recent memory."
Harsh words from a woman we know has no problem with nudity whatsoever. Dunham took the video – wait, Kanye calls it the "visual" for his song – in the context of acts of violence against women.
"Now I have to see the prone, unconscious, waxy bodies of famous women, twisted like they've been drugged and chucked aside at a rager?," she wrote Monday on Facebook. "It gives me such a sickening sense of dis-ease."
The video – ugh, again, the "visual" – includes a tableau of famous people nude and tangled in sheets, at least some of them faked, who have figured somehow in Kanye's life and the world of the famous: George W. Bush, Anna Wintour, Donald Trump, Rihanna, Chris Brown, Taylor Swift, Kim Kardashian, Ray J., Amber Rose, Caitlyn Jenner and Bill Cosby. West is at the center with Swift on his right and his wife on his left.
It sounds as if Dunham was hit on a personal level as well as a feminist one: "Famous" is the song where West says, "I feel like me and Taylor might still have sex," because, he says, he made her famous." And Lena and Taylor are BFFs.
"I know that there's a hipper or cooler reaction to have than the one I'm currently having," the "Girls" guru said. "But guess what? I don't have a hip cool reaction, because seeing a woman I love like Taylor Swift (… that one hurt to look at, I couldn't look), a woman I admire like Rihanna or Anna, reduced to a pair of waxy breasts made by some special effects guy in the Valley, it makes me feel sad and unsafe and worried for the teenage girls who watch this and may not understand that grainy roving camera as the stuff of snuff films."
The project debuted Friday in a couple of showings during a promotional event at the Forum in Inglewood that was attended by thousands, and there was a showing in downtown L.A. Sunday night, West tweeted hours before it happened. There's also a snippet of footage over at Rolling Stone, but other than that the video lives only on Tidal.
Well, it's on the streaming service and will also be on the E! Network, home of "Keeping Up With the Kardashians," at 7 and 11 p.m. Monday night, according to an afternoon tweet from the rapper. Guessing Dunham won't be setting her DVR?
I know that there's a hipper or cooler reaction to have than the one I'm currently having.
— Lena Dunham, talking about Kanye West's video for 'Famous'
"I was raised in the art world by a dad who painted aggro scenes of sexuality and war and a mom who, ironically enough, has photographed some butt naked life-sized dolls of her own. I live for the nude rabble rousing of Carolee Schneemann and Hannah Wilke, for Kathy Acker's arty porn, for Paul McCarthy's gnomes with butt plugs and Vito Acconci masturbating under the gallery floor and Carrie Mae Weems shedding a blinding light on the pleasures and terrors of black womanhood," said Dunham, hopefully to put her opinions in context and not just to drop a bunch of arty names. "If it's been banned, I'll probably love it. Because I know that art's job is to make us think in ways that aren't always tidy or comfortable. But this feels different."
The piece, West explained to Vanity Fair, is "not in support or anti any of [the people in the video]. It's a comment on fame."
That take would appear to be lost on Dunham.
"Here's the thing, Kanye: you're cool," she wrote. "Make a statement on fame and privacy and the Illuminati or whatever is on your mind! But I can't watch it, don't want to watch it, if it feels informed and inspired by the aspects of our culture that make women feel unsafe even in their own beds, in their own bodies."
ALSO:
Lena Dunham surprises fans with new book containing excerpts from her diary
Jesse Williams says black lives matter — we break down why his BET speech matters
Taylor Swift, Tom Hiddleston cut to the chase, bring their parents into the loop early on
Winona Ryder speaks out on relationship with Johnny Depp: 'Never abusive at all towards me'
Follow Christie D'Zurilla on Twitter @theCDZ.
---
Get our daily Entertainment newsletter
Get the day's top stories on Hollywood, film, television, music, arts, culture and more.
You may occasionally receive promotional content from the Los Angeles Times.