Kanye West's 'Famous' premiere is only skin-deep
When you're Kanye West, a music video is not just a music video, it's a "visual." And a premiere for your "visual" is not just a small-screen event, it's a ticketed spectacle at a Los Angeles arena in front of thousands.
On Friday, fans braved the 110 and 405 freeways at rush hour to get to the Forum to watch an early-evening premiere of "Famous," the first single off West's February release "The Life of Pablo."
The question as to why fans would pay $25 a ticket, plus $15 more for parking, to see a 10-minute video that also was streaming live on the subscription service Tidal became clear when West's in-laws entered the venue. Though the audience eventually would be shown a clip that purported to show celebrity skin, it was pageantry that West and his audience were after.
The Kardashians/Jenners — West's wife, Kim; her mother, Kris; her sisters Khloe and Kylie — arrived around 6:45 p.m. and sat in front-row mezzanine seats, perched on the balcony above the main floor. They were the focal point of the two-hour event, a literal celebrity mecca: All bodies faced the Kardashians.
Audience members on the floor turned their backs to the countdown clock on the huge video screen to watch the sequined and fur-clad entourage, as did the rest of the venue. The crowd (many still in their work clothes) cheered the famous family's every move. Kris waved, applause erupted. Kim stood up to adjust her dress, causing a cacophony of shrieks.
West, in fact, never took the central stage, which consisted of a 100-foot-high video screen that cut the venue's 18,000 seating capacity by half. He instead stood next to the Kardashians at a sound board, happy to be part of a main attraction that had little, if anything, to do with his video.
Friday's worshipers clearly were not the West fans of two or three albums ago ("The Life of Pablo," counting a collaborative work with Jay Z, is his eighth release), when the rapper and producer was considered one of hip-hop's most innovative and fearless artists.
West's career as a rapper kicked off nearly 15 years ago. Back then, he riffed about his faith in Jesus when it wasn't fashionable to do so and pioneered production techniques that brought rap into the new millennium. His spare, synthesizer-driven 2008 album, "808s & Heartbreak," went on to inform much of the production you hear in hip-hop and pop today (Drake, the Weeknd).
See more of our top Entertainment stories on Facebook »
And West has done what any savvy artist does today to keep the brand alive: He's gone multiplatform. He has a label (Good Music), a fashion line (Yeezy) and an unpredictable demeanor that made his appearance on "The Ellen DeGeneres Show" one of the most talked about of the year (he talked for 6 1/2 minutes straight, leaving her speechless).
On Friday, the Forum's hallways were turned into a giant pop-up shop filled with $30, white "Famous" T-shirts that were available only at the event and in "limited supply."
West delayed the premiere for 45 minutes (it was supposed to start at 7 p.m.) so people could get through the merchandise lines without being interrupted by the inconvenience of a video.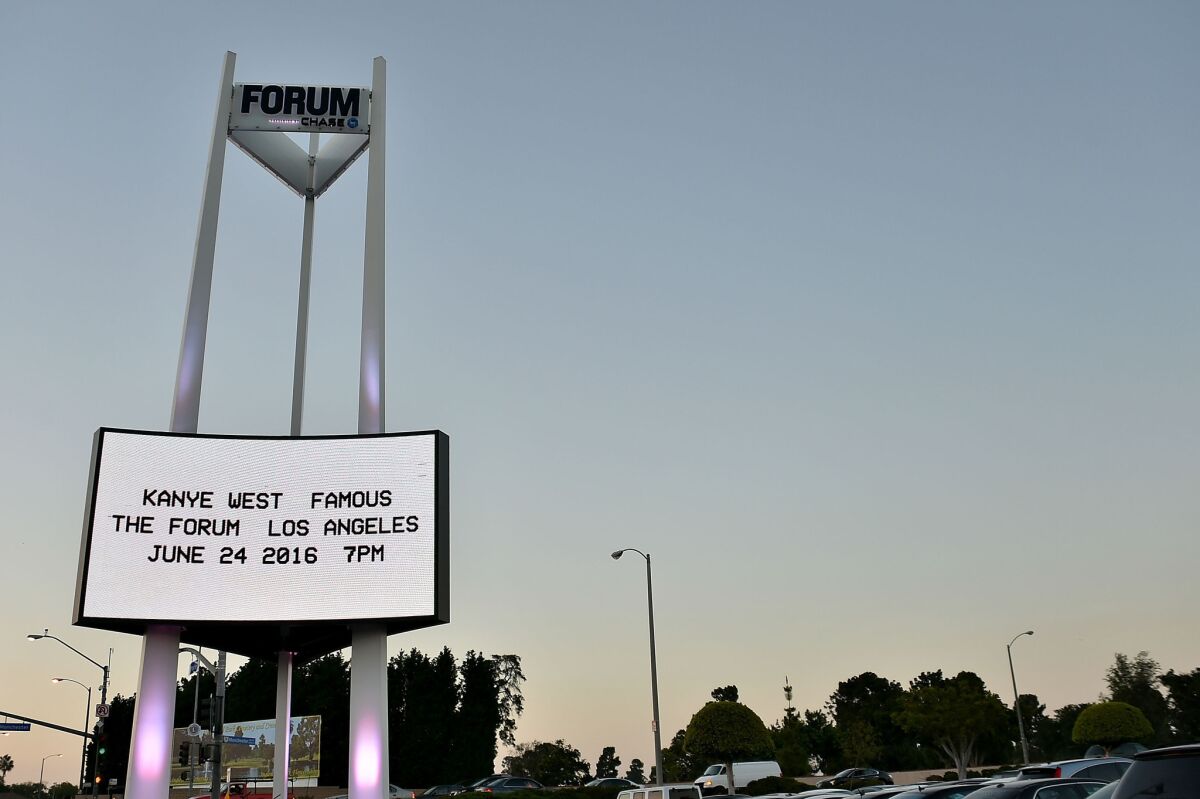 So the countdown clock on the big screen was reset, its visual of a rising sun rebooted so it was pushed back down below the horizon. The countdown was accompanied by distorted bass so alarmingly loud it drove people into the lobby where — voila! — there were more merch stands.
The video, which finally debuted around 8 p.m., capitalized on the idea of fame by featuring naked, sleeping celebrities all on the same long bed. Rolling Stone has a clip from the video. Warning: It contains graphic content.
In the middle of the slumber party were West, Kim K and her fully exposed booty. The couple was flanked on either side by Taylor Swift, Bill Cosby, Caitlyn Jenner, Donald Trump, Chris Brown, George W. Bush, Rihanna, Amber Rose, Anna Wintour and Ray J. All except West appeared to be expertly crafted wax figures (or something like that).
The song played out, and when complete was followed by breathing/snoring sounds as the camera panned over each figure — most notable personalities who'd been embroiled in controversy or scandal at one point or another: sex tapes, police arrests, a poorly planned invasion of Iraq.
West told Vanity Fair that the video was his commentary on fame and that it was based on a 2008 painting by American artist Vincent Desiderio called "Sleep." West also cited American sculptor Matthew Barney as an influence, stating that Barney "is my Jesus."
With the single "Famous," West gained attention because of provocative lyrics that mined his previous run-ins with Swift: "I feel like me and Taylor might still have sex / Why? I made that [expletive] famous," he rapped. He milked that mini controversy in the video by placing Swift's likeness next to him in bed.
In the clip, only West opens his eyes (the oft-used line on his albums, "Wake Up, Mr. West," came in handy here). Credits then rolled listing all the names in the video, reading "Special thanks," names here, "for being famous."
He played the video twice, and when the lights were back up, the crowd once again pivoted toward the Kardashians, with the rapper by their side.
Music by West and other artists such as Yo Gotti and Ty Dolla Sign blasted through the venue. The two rappers were guests of West on the celebrity balcony, along with 2 Chainz, Travis Scott, Tyga, Desiigner and Game. They shouted and jumped along to the music, while the Kardashians stared at their phones, immortalizing the moment on social media, or in texts, or whatever.
The audience stood under the balcony, filming on their phones, worshipping at the feet of reality-TV royalty. West once again had pulled off a spectacle that lit up Twitter, but the celebration of the music and artistry that once got him here was all but absent.
Call it a visual or a video, no one really cared, as long as Kim was in the room.
---
Get our L.A. Goes Out newsletter, with the week's best events, to help you explore and experience our city.
You may occasionally receive promotional content from the Los Angeles Times.