Oscars' 'Gary From Chicago' finished a 20-year stint in prison just before meeting Hollywood's A-list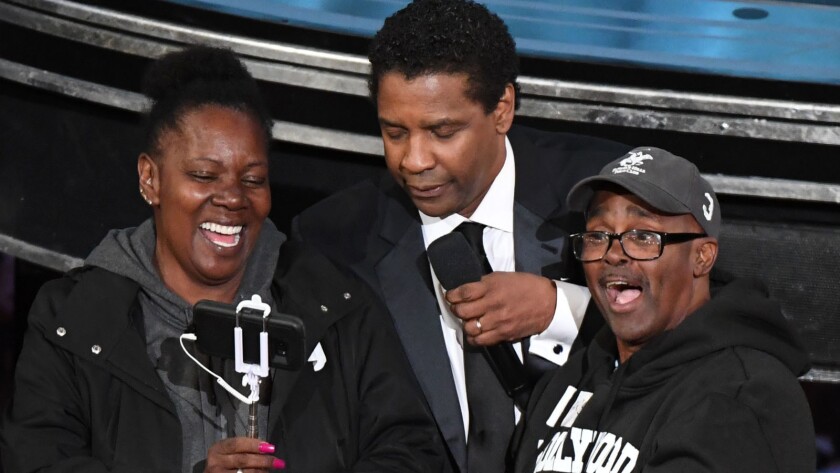 A trip to the Oscars would be cool almost any day of the week. But doing that days after being released from decades in prison? That's what happened to the Oscars' newest viral sensation, Gary Alan Coe, better known as "Gary From Chicago."
Coe, 59, and his fiancee, Vickie Vines, were the first of a dozen or so unsuspecting tourists to enter the Dolby Theatre while the Oscars were in progress.
"I spent this afternoon laughing and crying with Gary and Vicky," public defender Karen Nash posted Monday on Facebook. "For those of you who missed it, I spent years working on Gary's case. He got a life sentence for stealing perfume in 1997, and we finally won release this year. He got out on Friday, and was sight seeing with his lovely fiancé Vicky. If you watched the Oscars, you know the rest."
FULL STORY: From prison to the Oscars, 'Gary From Chicago' writes his own Hollywood ending
Coe was released Thursday after being resentenced earlier this year under California's Proposition 36.
Here's a look at his record:
Coe entered Corcoran State Prison in October 1994 for grand theft exceeding $400.
He was paroled in October 1996
In early 1997, he was convicted of petty theft after stealing from a South Bay Robinsons-May store on New Year's Eve 1996.
That conviction earned a three-strikes 25-to-life sentence because he had violent priors.
Those prior offenses were a 1985 robbery in Michigan, a 1982 robbery in Illinois and an attempted rape in 1978.
Coe was resentenced earlier this year under California's Proposition 36 and was released Thursday.
When he and his fiancee entered the Dolby on Sunday, host Jimmy Kimmel immediately introduced them to stars including Nicole Kidman, Octavia Spencer, Ryan Gosling and Emma Stone before getting Vines to admit that her favorite actor was "that man right there" as she pointed to Denzel Washington.
After Kimmel asked Washington if he would be the couple's best man, the actor popped out of his seat and "married" the couple, who are scheduled to wed in July.
"I now pronounce you husband and wife," the "Fences" star said. "Kiss the bride."
"I've been watching Denzel since he was on 'St. Elsewhere.' Oh, my God. I could die and go to heaven right now," Vines told the ABC affiliate in Chicago.
A person purporting to be Coe called the Chicago Tribune on Monday to explain what happened. He and his fiancee were holding hands, walking down Hollywood Boulevard, when they were offered a free sightseeing tour by someone he thought was a Starline Tours operator. There were about a dozen other passengers on the bus, the man said, and they had no idea they'd be stopping at the Academy Awards.
"When they opened the door, we were in the Oscars live," he said.
"It was a surprise for the customers," a Starline employee told People. "They thought they were just on a normal tour. A few people had made reservations, but others bought their tickets that day."
ALSO
The best picture show at the Oscars: the flub, the reactions, the blame
A view from backstage: How that big Oscars mistake overshadowed months of planning and precision
'What is happening???' Times photographer explains how he captured that viral Oscars moment
---
UPDATES:
1:15 p.m.: This article was updated with additional details on Coe's prison record.
4:10 p.m.: This article was updated with additional details on Coe's three-strikes offenses.
This article was originally published at 10:05 a.m.
---
For the Record
3:45 p.m.: An earlier version of this article said Proposition 36 was newly implemented. The proposition, which made changes to California's three-strikes law, was approved in 2012.
---
From the Oscars to the Emmys.
Get the Envelope newsletter for exclusive awards season coverage, behind-the-scenes stories from the Envelope podcast and columnist Glenn Whipp's must-read analysis.
You may occasionally receive promotional content from the Los Angeles Times.